Today I am adding another small Israeli company that is trading at a discount, in my opinion, and has the potential to rise significantly if it maintains its growth, especially in profit, as it did in its first quarter results - IncrediMail Ltd. (Nasdaq:MAIL).
The company's business model is unique, in that it is built primarily on revenue from Google (Nasdaq: GOOG), which means it has a lot of potential, along with not a little risk. Whenever a small company depends on one gorilla it is exposed to the mistakes of the gorilla.
At the same time, I am selling my portfolio's position in Kennametal (NYSE: KMT), my only traditional industry holding. Kennametal is a competitor of Israeli firm Iscar Ltd., which is owned by Warren Buffett.
I added Kennametal to the portfolio amid the euphoria of 2006 when Buffett visited Iscar, because I was sure his next move was to buy a US company in the same cutting tool field, and Kennametal seemed like a good fit. It didn't happen, because the recession broke out, and despite not mentioning it because Iscar's financial statements are not publicly available, I assume that Iscar, like Kennametal, is suffering from a low not seen in years.
For the exit from the recession, I prefer to invest in technology companies whose business model revolves around the still-growing Internet.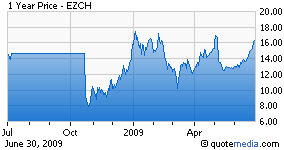 EZchip Semiconductor (Nasdaq: EZCH) stood out this past week, as it rose to around $16 per share. It hasn't seen that price since early May, when it issued a sharp profit warning for the second quarter. EZchip said then that the company's biggest customer, Juniper Networks (Nasdaq: JNPR), will significantly cut orders in the second quarter, so it is liable to report a big drop in revenue compared with the first quarter.
It is difficult to know why EZchip returned to a market cap of over $375 million, if it is expected to report sales of only $6-7 million in the second quarter, and a loss per share of a few cents. I hope that the rise in the share price is because of Marvell Technology Group (Nasdaq: MRVL), and not because of CNBC's Jim Cramer.
Ten days ago, Cramer pointed to EZchip as one of the small cap stocks that is worth paying attention to, because it is part of the video revolution that is taking place now on the Internet, and which is being led mainly by Cisco (NASDAQ:CSCO). Since then, EZchip has risen almost daily.
Cramer is right, and he said what tech guru George Gilder has been saying for ten years already, and which I have been saying for the past two and a half years. The problem is that it is not clear to me if Cramer, in recommending the share precisely now, is aware of the last warning, and if he is, does he know that it has been resolved, and that in the third quarter EZchip will return to the strong growth it has known in recent years, and due to which it was given such a high market value?
It is quite possible that the real reason for the share's rise is its second largest customer, Marvell, which since the beginning of the year has been providing Cisco with fast communications solutions based on EZchip processors.
As far as I know, there has been a recent acceleration in Cisco's orders for the EZchip processors, which can lead to a pleasant surprise in the upcoming quarterly results, or in guidance for the third quarter. In any case, on the basis of the assumption that next year the recession will really be behind us, and relying on these two huge growth engines Cisco and Juniper - the dream of earnings per share of over $1, and much more afterwards, can be realized for EZchip.
Apparently investors who are buying EZchip today at $16 per share and more, are looking to 2010 and beyond.
I assume that George Gilder's forecasting success with EZchip led him to write "The Israel Test", which relates the great technology successes of Israel, in the face of the great threats which it faced, and still faces. The book will reach the market next month, though it is already sold on Amazon. Among other stories, he tells of his first meeting with EZchip founder and CEO Eli Fruchter, whom Gilder considers one of Israel's most outstanding technology entrepreneurs.
Fruchter, known for his modesty, did not quite agree with that, and sent Gilder to write about more well-known entrepreneurs, such as Check Point Software Technologies Ltd.'s (Nasdaq: CHKP) Gil Shwed or the Zisapel brothers.
Published originally by Globes [online], Israel business news - www.globes.co.il
© Copyright of Globes Publisher Itonut (1983) Ltd. 2006. Republished on Seeking Alpha with full permission.