After gaining 7.2% thanks to four consecutive weeks of gains, the market finally took a well-deserved break, falling 1.1% last week. The move still didn't technically snap the uptrend, though last week's modest pullback could end up being the beginning of a more significant correction. Then again, the rally has survived worse.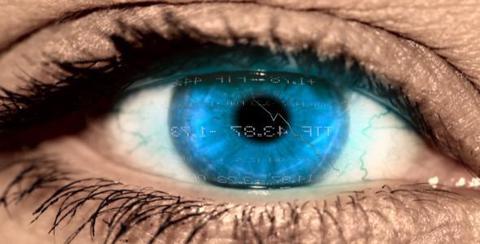 We'll look at what's good and bad about the broad market in a second. Let's first run-down what was good and bad about the economy last week.
Economic Calendar
Frankly, there wasn't a great deal of market-moving economic news last week. But, we did get a fairly good look at the real estate market via the existing home sales and new home sales numbers. Existing homes sold at a pace of 4.97 million, and new homes sales reached an annual pace of 454,000 units last month. Both were solid numbers, and continue to confirm the real estate market is firm.
Existing and New Home Sales Chart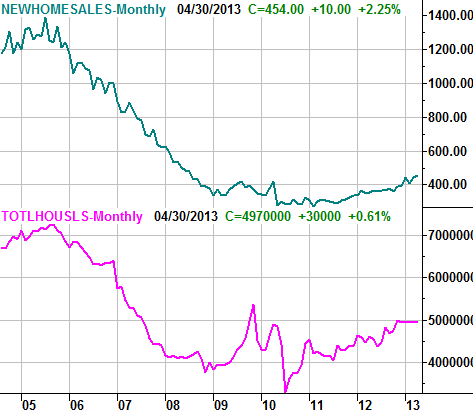 On the jobs front, the continuing claims figure fell to under three million, hitting 2.912 million last week. Both it and the initial claims figure continue to drift lower, though the number of Americans who are actually working is still rising at a slower pace than unemployment claims are falling.
Durable orders - with or without transportations orders - came in much better than expected, providing some needed fuel to a stalling rally. Overall, orders were up 3.3% for April, and were up by 1.3% when taking planes, trains, and automobiles out of the calculation. It was a much-needed turnaround from March's disastrous durable orders figures.
Economic Calendar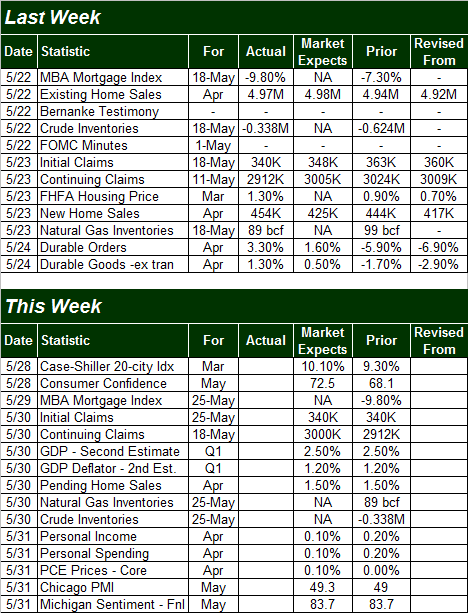 The coming week will be a little busier, but even less meaningful. In fact, the only item of any real significance we see in the lineup is a good look at consumers' mood; the Conference Board's consumer confidence score will be released on Tuesday, and the final Michigan Sentiment reading for May will be posted on Friday. Both are projected to be a little higher from the prior month's readings. Both confidence measures are also in bigger-picture uptrends, which bodes well for the market. But, if either (or both) stumble, it could be a problem for this vulnerable market. The Michigan Sentiment reading will be the third and final reading for May, which is up from April's final score of 76.4. It's unlikely the third reading will differ much from the prior (2nd) May reading, but anything's possible.
We'll also hear the second reading for Q1's GDP growth, but it's not apt to deviate from the first estimate of 2.5% either. That's good news, though at this point a little dated... we're now 2/3 of the way into Q2. There's not much else of interest this week in terms of scheduled economic releases.
Stock Market
As they say, if you play with fire long enough, eventually you'll get burned. The S&P 500 (SPX) (NYSEARCA:SPY) had been playing with the fire of its upper 20-day Bollinger Band (blue) since late April, testing it and brushing it that whole time. Eventually - last Wednesday - it pushed a little too far, brushing the upper Bollinger Band and opening the flood-gates of selling. By the next day (Thursday) the index had given up as much as 3.0%. Granted, it bounced a little that day, and even bounced off of Friday's lows. But, even with Friday's intraday bounce it closed at a small loss for the day. Interestingly, the S&P 500 never even had to test the 20-day moving average line as a support level.
So now what? Well, we're still in limbo land, so above all else we need to employ some patience and let everyone else tip their hand. We do have some key lines in the sand we're watching though.
Above all else, the key to any real bearish opinion lies in the aforementioned 20-day moving average line at 1633.71 (versus the S&P 500's close at 1649.60). Until the index actually closes under that key short-term indicator line, then there remains enough hope to keep the bulls interested in buying. And on something of a side note, the 1598 mark (dashed) is also apt to be a key floor, even if the 20-day moving average line fails to hold the market up. That was a key ceiling in April, and is where the 50-day moving average line (purple) and the lower 20-day Bollinger Band will both be within a couple of days. Take a look.
S&P 500 & VIX - Daily Chart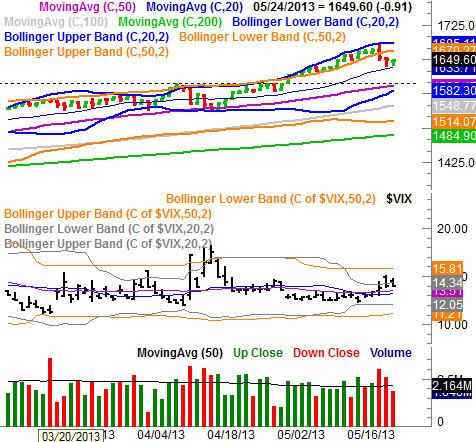 On the other side of the table it's pretty clear the bulls have a ceiling to contend with...the upper Bollinger Band at 1685.11. Though the S&P 500 managed to dance with it for a short while after rebounding in late April, it was the prompt for last Wednesday's sharp reversal. No big deal, except if you look closely, you can see that upper Bollinger Band is flattening out rather than rising. It's a problem for the bulls because, in general, a falling Bollinger Band makes it tough to keep pushing up and into it. In other words, falling Bollinger Bands tend to make for a string of lower highs.
The CBOE Volatility Index (VIX) (NYSEARCA:VXX) is also drifting a little aimlessly in the middle of its Bollinger Bands, telling us nothing about what to expect.
It's a conundrum to be sure, as each side has an equal technical chance of winning this battle. Just for the record though, we're still leaning towards the bearish side of the fence. We're not looking for a bull-market-killing correction, but after a 24% rally in just the past six months (NYSEARCA:DIA) (NASDAQ:QQQ) (NYSEARCA:IWM), odds are good that a lot of would-be profit-takers have their finger on the 'sell' button.
And where might such a minor correction take us? No surprise here...it's the weekly chart of the S&P 500 that offers some real perspective.
We've mentioned it before, but it's worth repeating now that the S&P 500's rally since November has been framed quite reliably by a rising support line (dashed). It wouldn't be unreasonable to think it will act as a floor again. The rising 100-day moving average line (gray) will also be right around that rising support line by the time it could be tested, somewhere near 1595.
S&P 500 & VIX - Weekly Chart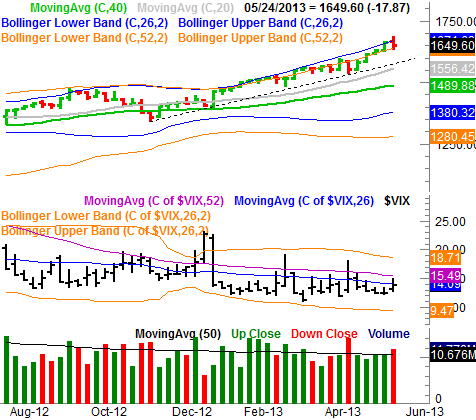 This week will clearly be a critical one. If the bulls want to keep things going for the foreseeable future, they'll have to establish a base this week, and stave off the slightest of technical stumbles.
Disclosure: I have no positions in any stocks mentioned, and no plans to initiate any positions within the next 72 hours. I wrote this article myself, and it expresses my own opinions. I am not receiving compensation for it. I have no business relationship with any company whose stock is mentioned in this article.