This report from Business Insider written by Doug (no kidding) Short caught our eye: "Investors Are Borrowing Like Crazy To Leverage Up Their Stock Market Bets". The article alludes to the use of margin leverage only for the long side of the market. A purportedly bearish chart from nyxdata.com shows that margin has increased year over year: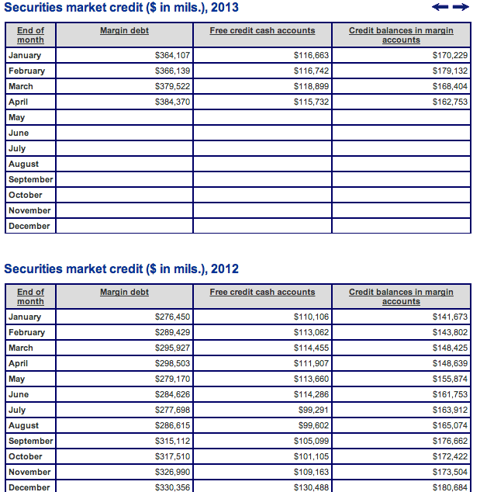 Since the 2008 financial meltdown, we have all been programmed to think of leverage only with respect to buying stocks. But, truth be told, leverage is used shorting stocks as well, so the premise of this article does apply to short positions. Therefore, the corresponding short position leverage ends up in the margin ledger above. Leverage is not segregated as to long or short.
Friday night, as investors were already en route to disparate destinations to celebrate the first weekend of summer, we laboriously (not really) looked over the last Nasdaq short interest report for our favorite 'hard to borrow' stocks - HTB - which we are long. Clearing firms, such as Pershing, handle most of the back-office operational paperwork for brokerage firms and typically hold all stocks for the margin customers of the brokerage firm. Those margined shares, labeled to be in "street name" are lent to short sellers who sell them as they are banking on a price drop. As more short sellers put on positions, availability of shares on margin can dry up making the borrow-ability of shares more difficult and more expensive. The cost of HTB stock is called the "negative rebate". This rebate is quoted in annual percentage rate virtually identical to an interest rate.
Nasdaq reports short interest data on mid-month and end-of-month settlement dates. It is then released on a dissemination date after 4 p.m. ET.
The most notable stock which enraptured markets in May is Tesla Motors (TSLA). The short interest actually went down in the last two week reporting period, and this doesn't count their recent well timed secondary offering of 3,393,793 shares of common stock at a price of $92.24 per share. We love TSLA for their products and their leadership in changing the motor vehicle energy source to renewable electric. Here is a snapshot of their short interest:

The 32.3 million shares short on 3/15 was actually the high point of short interest in for the company over the last 12 months. Here is the corresponding stock price chart for this period: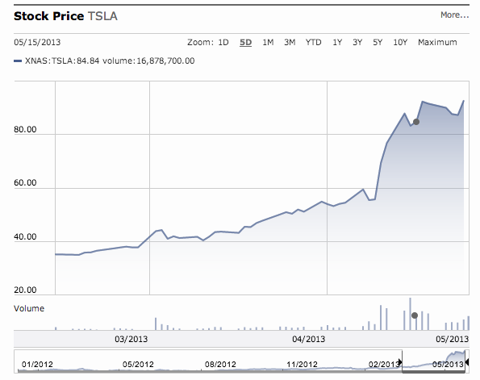 For TSLA, we now like the method of being long the stock by selling in the money puts and capturing the volatility premium in the name. The stock is still hard to borrow but has eased since the secondary and still has a negative rebate (cost to borrow annually) around negative 20%. Important note here is TSLA closed Friday night at $97.08 a smidgen below its all time high price of $97.95 reached during Thursday's trading session.
Next up, BlackBerry (BBRY). We think the company is just about to blossom here in the US with the release of the Qwerty physical keyboard Q10 product on Verizon (VZ). We are seeing Verizon Wireless commercials on FIOS cable television channels and have reported we think the companies are getting cozier, especially with VZ picking BBRY handsets for their 10,000 employees. We have also reported the stock is getting harder to borrow, with some wire houses rationing availability of the stock for borrowing and the negative rebate is 8.5-9% and rising. We must highlight this excerpt from fellow SA writer Michael Collins' most recent BBRY report "BlackBerry Q10 Outselling Galaxy S4 At The Leading U.K. Retail Location":
I would like to close on a sad note. I have learned of physical threats to a leading long analyst. A certain hedge fund has also pulled its entire business from a bank because it wouldn't fire another long analyst. This should give investors a sense of how nasty this struggle has become...
As you can see things are getting rather desperate in 'short-ville', especially as 'BearHunter Ben' rages onward.
Here is a snapshot of BBRY's short interest:

As you can see, the short interest keeps on climbing every reporting period. If this were a canary, it would be singing pretty loud about now.
Stock performance chart for the corresponding period: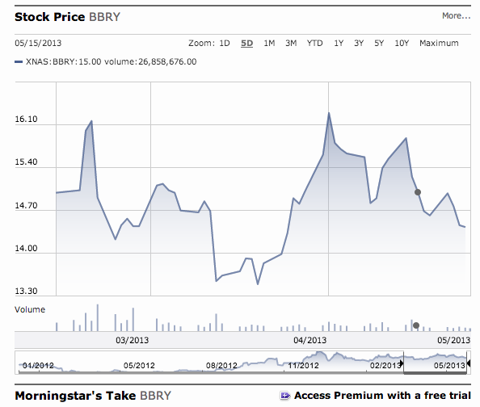 BBRY has held a pretty close trading range and not broken out in either direction. We think it is poised for a move to the upside with the new Q10 release on the horizon with Verizon.
Next we have NII Holdings (NIHD). We think this stock is a winner and not fully appreciated by the street. With all the strategic jockeying between Softbank, Sprint, Dish and Clearwire, NIHD is has an enviable operating footprint with ample spectrum licenses for mobile wireless computing in Mexico, Brazil, Argentina and Peru with Chile being sold off recently. Let's take a look at their short interest:

And the corresponding stock price: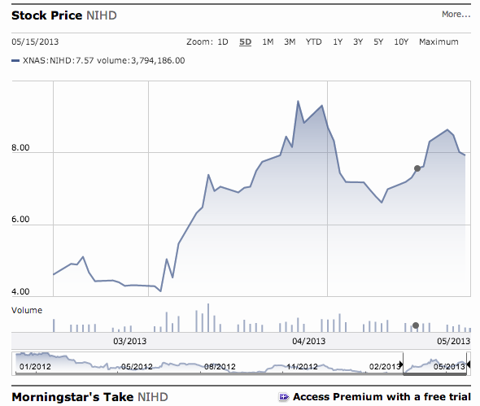 Yes there has been a big move, but for good reason. The company has been on a roll with network upgrades, a new CEO and several financing deals that have lowered their borrowing costs and freed up tower assets for sale to potential suitors including American Tower (AMT). The shorts still don't buy the turnaround story and have therefore increased their short bets in the last reporting period by roughly 14% or 7 million to 56 million shares. We disagree with the shorts on this name and have written extensively here on SA about why.
Next on our list is our newest name, magicJack (CALL). CALL is a controversial company. The company is the product of a reverse merger with Vocaltec which developed VOIP and Ymax which owned the magicJack product which merged in July 2010. Short sellers are very wary of reverse mergers. We remember Vocaltec demonstrating their VOIP in New York in the mid 90's and therefore know its background research and development is sound. Moreover, we are a user of magicJack and are impressed with the service and have witnessed its popularity at retail locations. Snapshot of short interest:

Here is the corresponding stock chart: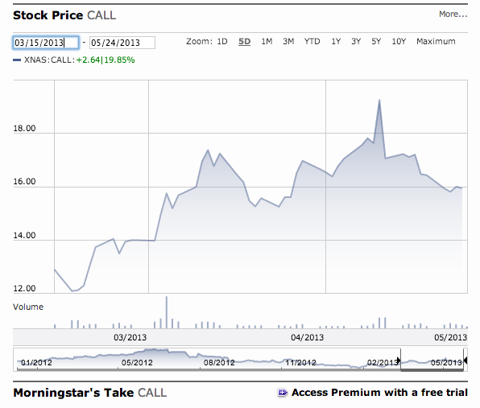 Of all the names in this article, CALL is the toughest to borrow. In fact the stock is being recalled daily by stock loan departments at big wire houses. The cost to borrow is at least 65% annually but it is meaningless because there is none available to borrow. CALL has $50 million in cash and no structured debt on its balance sheet, trades at just over 2 times sales and would make an accretive acquisitions candidate for a company that has under utilized telecom/internet infrastructure and staff like AOL (AOL). We like CALL and think it is a melt up waiting to happen.
We conclude with Vringo (VRNG) which is also a hard to borrow stock with a negative rebate of 30% and limited availability. Here is VRNG's short position:

And the corresponding stock chart: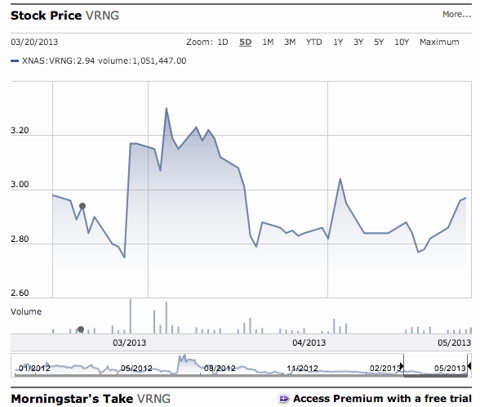 VRNG shares have recently been very active, and it seems the long awaited decision by Judge Jackson is quickly coming, and the last two articles on VRNG have added more optimism in it's share price as seen above.
In conclusion, we think the risk of QE3 coming to an abrupt halt is remote. We therefore are focused on buying shares that have already been synthetically sold via short sales and therefore will benefit more as the bull market continues its run.
Disclosure: I am long TSLA, NIHD, CALL, VRNG, BBRY. I wrote this article myself, and it expresses my own opinions. I am not receiving compensation for it. I have no business relationship with any company whose stock is mentioned in this article.