Apple Inc. (NASDAQ:AAPL) has come under heavy criticism in recent months for its "suspicious" tax avoidance strategy along with its declining stock price. Long investors in the stock have grown wary about the company's future.
The MarketPysch Data graph below illustrates the fear surrounding Apple, derived from text analysis of news and social media, compared to its stock price: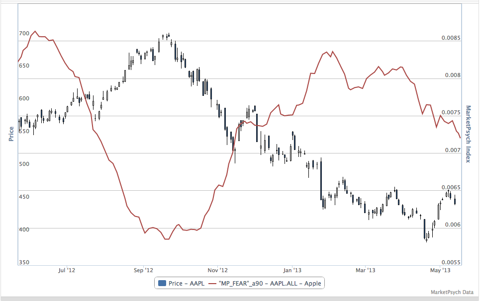 Why fear Apple?
Fear is a forward-looking sentiment aroused by impending danger; fear is an extremely contagious compelling feeling. As you can see from the graph illustrated above, the relationship between fear and stock prices is inversely related. When fear-sentiment starts to rise people are predicting that an event/threat can negatively affect the company's well being.
August 2012: fear-sentiment plunged resulting in a positive spike in stock price.
Announcement of a new iPhone 5 along with rumors of a slimmer iPad3 will be coming out in September 2012. The iPhone 5 frenzy has consumers excited for the future of the company.
November 2012: fear-sentiment exploded resulting in a continual decline in Apple's stock price.
Traders are afraid that the stock prices and profit margins have stopped growing and would start to reverse. (see figure below).
"Innovation distinguishes between a leader and a follower" - Steve Jobs. The lack of innovation on Apple's end has made them follow the herd instead of leading it. The new products in 2012 were just slimmer faster versions of the old ones. The lack of innovation has made investors afraid of what the company holds in the future.
Today: fear-sentiment remains relatively high. However, the downward trend in fear-sentiment may result in an upcoming upsurge in the stock price for Apple.
Fear-sentiment is downward trending because threats to Apple have already passed.
Samsung has already surpassed Apple in the mobile industry with the Samsung Galaxy S4.
Threats that the company is no longer disruptive have become old news.
Sentiment Analysis: Go long in Apple and hold it for about two months, as it is likely to rise versus the S&P 500. That said, longer term Apple is still in a deflating bubble.
Fear the tech giants?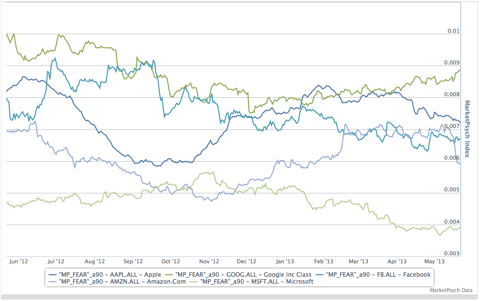 The graph above illustrates fear-sentiment for Apple, Google, Microsoft, Amazon, and Facebook by MarketPysch Data. When comparing fear-sentiment with these tech giants it is important to note the momentum. Here is a breakdown:
Google (NASDAQ:GOOG)
Fear-sentiment is on an upward trend for Google and may result in a decline in stock prices.
Microsoft (NASDAQ:MSFT)
Microsoft is a high dividend growth with low volatility company. As a result, it has relatively constantly low fear-sentiment.
Facebook (NASDAQ:FB)
Amazon (NASDAQ:AMZN)
Amazon has seen a huge uptick in fear-sentiment and is currently struggling to climb a "wall of worry."
Apple's stock price has seen moderate growth of .55% after releasing earnings in April which beat analyst expectations by 1.10%. Revenue for Q2 of 2013 amounted to $43.6 billion while Apple projects revenue to be around $33.5-$35.5 billion. Gross margin was 37.5% compared to 47.4% in the same quarter last year and is expected to be 36-37% next quarter.
Disclosure: I have no positions in any stocks mentioned, and no plans to initiate any positions within the next 72 hours. I wrote this article myself, and it expresses my own opinions. I am not receiving compensation for it (other than from Seeking Alpha). I have no business relationship with any company whose stock is mentioned in this article.