Summary
The market moved lower last week after the Fed threw a wrench in the market by saying that it was considering plans to make a move to limit/lower its QE. Many had expected a cut at the end of 2013, but the Fed may end up moving that date forward if employment and economic data improve. The market this week will continue to digest that news and may be cursed. Good news means that QE cuts are more likely while bad data also harms the market. Overwhelmingly good news is definitely a positive but will have to be taken with a grain of salt. We have a healthy slate of data to watch this week.
Chart Overview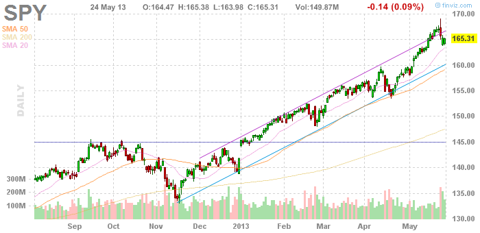 As we can see from the chart above of the SPDR S&P (NYSEARCA:SPY), we broke the key resistance line that had held since March. Yet, we have moved back to test the breakout line, 20-day MA, and upward channel trend line. Right now, the market needs a good week or it will lose these key support levels, which will only fuel the downside even more strongly. The Dow Jones (NYSEARCA:DIA) looks very similar to this chart.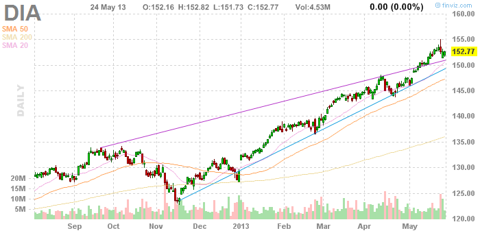 Economic Data
| | | | |
| --- | --- | --- | --- |
| Date | Data Report | Market Expectations | Previous Report |
| May 28 | Case-Shiller 20-City Index - March | 10.1% | 9.3% |
| May 28 | Consumer Confidence - May | 72.5 | 68.1 |
| May 30 | Initial Claims - 05/25 | 340K | 340K |
| May 30 | Continuing Claims - 05/25 | 3000K | 2912K |
| May 30 | GDP: Second Estimate - Q1 | 2.5% | 2.5% |
| May 30 | Pending Home Sales - April | 1.5% | 1.5% |
| May 30 | Crude Inventories - 05/25 | N/A | -0.338M |
| May 31 | Personal Income - April | 0.1% | 0.2% |
| May 31 | Personal Spending - April | 0.1% | 0.2% |
| May 31 | Chicago PMI - May | 49.3 | 49.0 |
| May 31 | Michigan Sentiment - May | 83.7 | 83.7 |
It is a busy week for the market with lots of important data. The key reports to watch will be those that give information about April and May. We start the week with the important Consumer Confidence reading on May that is expected to rebound strongly from April. On Thursday, we will get jobless claims, GDP estimates for Q1, and Pending Home Sales. Jobless claims, if they stay low, continue to suggest less QE, which will not be positive for the markets. GDP should be a non-story unless it drops below 2.5%. Friday, though, is the big day with Personal Income/Spending for April, Chicago PMI for May, and Michigan Sentiment for May. All four reports will be very important to getting an idea of consumer confidence, spending habits, and manufacturing activity.
Foreign Markets
Outside of the USA, Europe and Asia will not have quite the same impact as the past week (we hope). Last week, Japanese markets fell strongly on Friday after their nation's bond yields skyrocketed on QE cut talks, but the country will look to right the ship this week. The key for international markets this week will be BOJ Governor Kuroda's speech on Wednesday and the meeting. Kuroda's speech will be parsed in the same way Bernanke's speeches are, and it is important for Kuroda to bring confidence back into Japanese markets. Other important news is German Unemployment Change on Wednesday and a large slate of slightly less important reports on Friday including Japanese industrial production and consumer price information, German retail information, and GBP Consumer Credit.
Earnings
| | |
| --- | --- |
| Date | Key Company |
| May 28 | Seadrill (NYSE:SDRL) |
| May 28 | Tiffany (NYSE:TIF) |
| May 29 | Michael Kors (NYSE:KORS) |
| May 29 | Avago Technologies (NASDAQ:AVGO) |
| May 30 | Costco (NASDAQ:COST) |
| May 30 | Joy Global (NYSE:JOY) |
This week is still light on earnings, but we still have some interesting reports from Tiffany Michael Kors, and Costco. The three reports are all going to give us interesting looks at different consumer classes with TIF unveiling luxury spending. KORS gives us a great look at high earners that are just outside of luxury, while COST will be a stronger barometer of the entire consumer classes from rich to poor. COST is definitely the most important report for the week and can move the market on Friday if they say something very strong or weak.
Fed Outlook
The Federal Reserve was the main reason for the market failing last week, and they will be key to this week as well. There are two manufacturing reports on Tuesday with Dallas and Richmond reporting with several speeches on Thursday and Friday. The speeches will definitely be parsed for major news if anything interesting is said. Overall, though, we would expect that the market would be watching these developments most closely this week.
Conclusion
It is an important week for the market to get itself back on track, but we are not sure how that happens. Good data may give us some boost, but it will also signal QE tapering. Bad news may actually be more beneficial in the near term to upside as it will quell some fear of a QE taper. Overall, though, it's a tough spot for the market, and we would suggest staying away from the market this week, as things look very unpredictable.
Trades
Equity Alpha
Ticker: Ford (NYSE:F)
Ford has been on fire as of late, and we believe that the stock has more potential moving forward from here. The stock is up 16% YTD, and it has powered up the majority of that move over the last two months. We believe there is still a lot of potential in shares, and we have a Buy-rating in the stock with a $20 price target. In mid-February, we noted in a report that we believed F has 50% upside over the next twelve months for a number of reasons including growth in emerging markets, solid auto sales in the first couple months of the year, and tons of value in shares. F is still trading with a sub-10 P/E, sub-0.5 price/sales ratio, and PEG under 1. All three indicators show very strong value. Here are some notes from our most recent report:
One of the best ways to interpret Ford's value is by looking at other automotive/truck manufacturers. The average forward multiple in the industry is 15x and the median is about 11.3x. The median is a better tell because large and small numbers can skew an average. Ford trades safely below its industry average and median multiple at just over 9x, giving it room for multiple expansions. Despite this discount, Ford also performs better than most of its peers in profitability metrics. The average net margin, for the industry, is 3.15% and the median is 4.7%. Ford is below the median at 4.4% and above the average. Ford's ROE (return on equity) is better than 96% of its peers as well, showing a lot of strength in making money off shareholder equity.
Additionally, we note some important catalysts moving forward:
North America only represents about 19% of global auto sales. The remaining share comes from other countries. 80 - 85 million cars are expected to be sold in 2013. A specific example of Ford increasing its global footprint is the EcoSport entering the marketplace. South Africa, Middle East and Indonesia, have confirmed the EcoSport for 2013. Indonesia, for example, is currently experiencing 6% GDP growth and is actually home to the fourth largest population in the world and a part of the next generation of emerging markets (MIST: Mexico, Indonesia, South Korea, and Turkey). A presence here is absolutely essential for Ford.
Moving forward from here, we like F as the company has seen green shoots in Europe, is doing great in North America, and has momentum. Additionally, as the market gets further away from 2008, automotive companies continue to look better and better.
Buy Point: Under $15
Target: $17.50, $20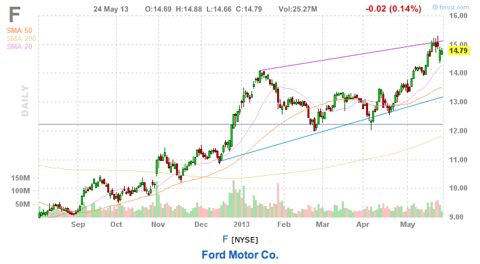 Ticker: Lennar (NYSE:LEN)
It is time to start thinking more carefully about positioning in this market, though, with a lot of potential downside if the Fed does make a taper move for QE and/or continues to suggest that will happen. Housing may be one of the spots of weakness for the market if this does occur. QE tapering and ending will hurt interest rates most likely, which will detract housing buyers. Housing stocks, furthermore, have made drastic moves to the upside, and when shares have made such strong gains, if the market starts to move risk-off, those stocks will start to lose some interest. We recently posted a report on LEN that suggested the stock was a Sell. Our first argument looks at value comparisons to competition:
LEN's current P/E is 11.7, higher than the industry average at 0.0. Their future P/E is 16.0. In comparison to competitors, which we will flesh out later in the article, LEN is towards the lowest stockholders are willing to pay for residential construction investment thus is undervalued. In their fourth quarter presentation LEN reported a 313% increase in net earnings YoY for the quarter bringing them to $124.3 million, or $0.56 per diluted share.

Key ratios like ROA, ROE, and ROIC level the playing field so companies are more comparable. Let's look at how LEN compares to the same competitors, DHI and RYL, in these areas. LEN reports ROE at 22.2% while DHI reports 30.8% and RYL at 8.5%. Here LEN lands in the middle of these two competitors though DHI has a much higher return on equity ratio. For ROA LEN reports 7.0%, DHI 15.2%, and RYL 2.3%. We see the same comparison here with LEN between competitors. Lastly, LEN reports ROIC at 8.5%, DHI at 15.2%, and RYL at 1.7%.
Additionally, there is a catalyst issue for housing stocks:
Contrary to the progress the housing market made over 2012 the first three months of 2013 have not been as optimistic. While in many areas the demand for housing is there, Jerry Howard, CEO of the National Association of Home Builders explains the problem, "The home builders themselves are worried about their ability to provide the housing in a lot of instances". Why this worry? There is an overall lack of land, labor, and credit that are preventing homes to be built. Costs of materials, especially lumber, which have skyrocketed, are frustrating small and mid-sized builders that cannot keep up with these elevated prices. LEN finds itself in a market that is still not fully recovered and now has to battle rising material prices. Even though they have performed well during 2012 there is not enough opportunity for LEN to out perform the market.
Right now, we believe the 56% in gains over the past year suggests that investors may start to take some gains if the Fed pulls the plug on the market, and we like the looks of a bear call spread to hedge a long position or start a potential long-term short. Right now, we can make over 20% writing the 48/50 Aug2013 bear call spread in LEN.
Trade: LEN, Aug17, 48/50 Bear Call Spread
Max Gain: 22%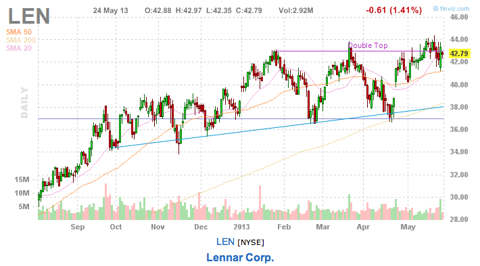 One stock to watch is Yahoo! (YHOO). This company is making moves. Last week, the company acquired Tumblr for $1.1B. The acquisition was positive because of several reasons. Tumblr has loyal users that will continue to use the service as long as YHOO does not inject the feeds with ads. YHOO has not done well with previous acquisitions like Flickr, but we believe that Yahoo is smart in their approach, as they want to let David Karp, CEO and founder of Tumblr, to continue to run the show. Additionally, there is news out now that YHOO has made a bid for Hulu for $600-$800M. That acquisition is another smart move as it continues to develop the offerings of the Yahoo portal to compete with the surge of other portals like Google (NASDAQ:GOOG), Facebook (NASDAQ:FB), and Amazon (NASDAQ:AMZN).
The deal, if worked out, would be a steal as Hulu was looking for $2B in 2011. Further, Hulu could be a big deal for YHOO, as it has literally zero video exposure at this time. The company made almost $700M in revenue in 2012, and as TV/movies continue to change in how they are viewed as the digital revolution takes place, the acquisition seems very cheap to us. We are actually more bullish on Hulu over Tumblr as monetizing the prior seems more likely than Tumblr. Though, the latter can offer a more unique, loyal fan base; that is, it has firmer switching capabilities.
Overall, we believe YHOO is a definite stock to watch right now. More to come soon.
Disclosure: I have no positions in any stocks mentioned, and no plans to initiate any positions within the next 72 hours.
Business relationship disclosure: The Oxen Group is a team of analysts. This article was written by David Ristau, one of our writers. We did not receive compensation for this article (other than from Seeking Alpha), and we have no business relationship with any company whose stock is mentioned in this article.