Value is hard to find these days, as a frothy market continues to post new highs. One sector that is a marked exception to that trend is gold and silver mining. In fact, all things related to gold and silver are down considerably from the highs reached in 2010 and 2011, declining more or less steadily since then, punctuated by a huge drop in mid-April 2013, as gold prices collapsed. Consider the 2010, 2011 highs and current levels of several of the major indexes and ETFs from the sector:
NYSE ARCA Gold Miners Index (GDM): High 9/9/11 - 1855.09, 5/24/13 - 761.80
PHLX Gold Silver Index (XAU): High 12/7/10 - 232.73, 5/24/13 - 100.58
Market Vectors Gold Miners ETF (NYSEARCA:GDX): High 9/9/11 - 66.98, 5/24/13 - 27.50
Market Vectors Jr. Gold Miners ETF (NYSEARCA:GDXJ): High 12/7/10 - 44.86, 5/24/13 - 11.14
SPDR S&P Metals & Mining ETF (NYSEARCA:XME): High 4/6/11 - 77.44, 5/24/13 - 37.82
SPDR Gold Trust ETF (NYSEARCA:GLD): High 9/7/11 - 185.85, 5/24/13 - 133.76
iShares Silver Trust ETF (NYSEARCA:SLV): High 4/28/11 - 48.35, 5/24/13 - 21.61
Since I normally focus on dividend stocks available at a value price, the mining sector has not been on my radar in recent years, as the sector was bouncing along at the highs of 2010 and 2011, with low or non-existent yields. Even though these stocks were a bit lower in 2012, they had not declined enough to warrant attention. But now, as a value investor seeking opportunities with a margin of safety, and facing a roaring bull market offering very few such opportunities, a sector that has suffered such a dramatic decline deserves consideration. There are several major miners now yielding over 4%, including Newmont Mining (NYSE:NEM), the largest gold miner of them all. In this article, I will make a case for why I believe NEM is a worthy candidate for a speculative position.
Before I continue, I must point out that I am not a financial professional, nor am I certified in any way as a financial advisor. I am an independent, individual investor, focusing on dividend-paying stocks exclusively. The case being made in this article is for a limited speculation, with a one to two year time frame, of a stock that has declined dramatically in the recent mining sector sell-off. While each investor needs to define the limits to any single bet considering his/her own resources and risk tolerance, in my case I am capping my commitment to this speculation to less than 2% of my available capital. My reasoning for this speculation is that I believe Newmont will survive the gold price decline, will continue to pay a dividend unless the bottom really falls out on gold prices, and if and when gold prices recover, I believe the stock has significant upside potential. Remember, Graham did not say to never speculate - he only said not to speculate while believing one was investing.
Newmont Mining - Overview, History, and Recent Price Movement
Newmont Mining Corporation is a major gold producer, with operations in the United States, Mexico, Peru, Australia, New Zealand, Indonesia, and Ghana. The company is also a significant copper producer. Headquartered in Denver, Colorado, the company was founded in 1916, was incorporated in 1921, became a publicly-traded company in 1925, and began trading on the NYSE in 1940. In 2002, after a three-way merger with Normandy Mining of Australia and Franco-Nevada of Canada, Newmont became the world's largest gold producer. Today, Newmont has a market capitalization exceeding $15 billion, making it a large-cap stock. The firm is the only gold mining stock in the S&P 500 and the Fortune 500. (Note: these data points are from the history section of the firm's website.)
Newmont has paid dividends regularly since its earliest days, only suspending payments for a time during the Great Depression in the 1930's. In April 2011, the company instituted a gold price-based dividend policy. Under the policy, the quarterly dividend will be based upon the average realized gold price for the preceding quarter, varying up or down by $0.05 for each $100 variance in the realized gold price, with $0.25 being the payment for an average gold price in the range $1,400 - $1,499. Thus, per the most recent dividend declaration press release on 4/24/2013, with an average realized gold price of $1,632 for the first quarter of 2013, the upcoming dividend will be $0.35. Of course, dividends are always granted at the discretion of the Board of Directors, and are not guaranteed to continue per the policy, or at all, going forward. Note that even if the policy is followed unswervingly, dividends will cease if the average realized gold price for a quarter drops below $1,000.
The most recent quarterly earnings release was on 4/29/2013, when Newmont reported net income of $315 million, or $0.63 per share. This was a 44% decline from the comparable year-ago quarter, primarily due to lower grades and production and higher production costs. Reacting to the shortfall and recent gold price declines, the firm is reducing capital expenditure plans for 2013 by $100 million, and reported reduced consolidated spending by $217 million during the quarter, compared to the first quarter of 2012.
The stock price reached a high of $72.42 on 11/9/2011, and has declined in a somewhat volatile fashion since then, to $31.97 on 5/24/2013. As late as 4/11/2013, the stock was holding in the $38 to $39 range, but then in just a couple of days, coinciding with the recent gold price crash in mid-April, it fell down to the current range, in the low $30's.
To get a broader perspective, I reviewed the company's earnings history for the past several years, debt levels, and several other fundamental measures to try and determine what the company's staying power might be if the gold price decline continues.
Revenue and Earnings, Financial Position, and Valuation
Note that all fundamental values and ratios as presented were obtained from the MSN Money website.
The most recent earnings history, in the context of the high gold prices of recent years, is less relevant than the longer-term earnings history. More than anything else, earnings depends upon gold prices, and what matters most is how the company navigates periods when gold prices are depressed. Revenue, earnings, and EPS by year, for the most recent ten years, are as shown in the following table: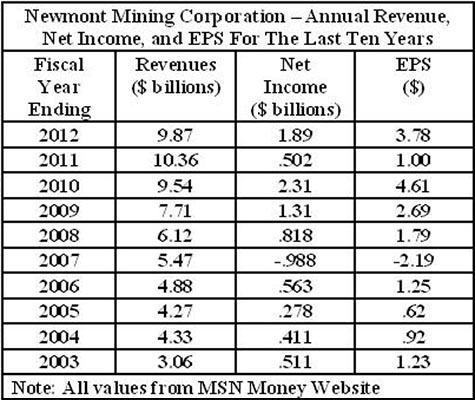 As can be seen, revenue has been steadily increasing over the ten year period, while net income and EPS are somewhat more erratic. Still, there has only been one year, 2007, with a reported loss.
With the earnings volatility and dependency on gold prices, a strong financial position is essential. Looking at Newmont's relevant numbers, the Debt/Equity Ratio is .46, the Leverage Ratio is 2.1, the Times Interest Coverage is 14.7x, Long Term Debt is only 21.7% of Total Capitalization, and Stockholders' Equity is 47% of Total Capitalization. Reasonably conservative values one looks for are Debt/Equity less than 1.0, Leverage under 5.0, Interest Coverage greater than 4, Long Term Debt under 25% of Total Capital, and Stockholders' Equity at 50% or more of Total Capital. Newmont meets or exceeds these desired parameters in most cases, and would seem to be in a strong financial position to get through tough times. Further, the Book Value per Share, supported by substantial reserves in the ground, is $27.96. The company's debt is rated as Investment Grade, BBB+ by S&P, and Baa1 by Moody's.
As would be expected for a stock following a huge decline, especially one still making money, the valuation parameters are very favorable, indicating that NEM is a bargain from the standpoint of these measures. Specifically, PE is 9.5, Price to Cash Flow is 4.7, Price to Sales is 1.65, and Price to Book Value is 1.12. Ideal value stock readings are PE less than 12, Price to Cash Flow less than 10, Price to Sales less than 1.5, and Price to Book Value less than 1.5. So, Newmont scores as a value stock on most of these price-based ratios. Just keep in mind that these measures are favorable because the market price has declined so dramatically, and the price very well may have further to fall before it reaches a bottom.
Dividend History
The gold price-based dividend policy was explained previously. The current payout ratio is 44%, and with the dividend automatically adjusting to gold price declines, the payout should remain manageable. To get a better perspective of how the company has managed the dividend over the years, the actual dividends paid over the past 20 years is presented in the following table: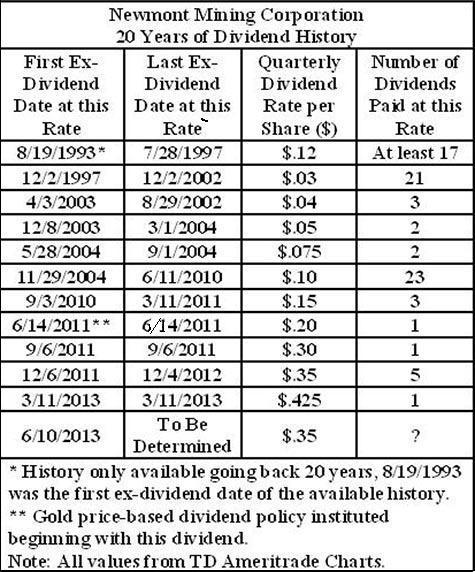 The firm has paid a quarterly dividend over the entire 20 year period, with no omissions. While the Board and Management have responded to adverse conditions as they arose in the past, the new gold price-based dividend policy makes it automatic going forward, so shareholders know what they can expect, as gold prices fluctuate. Of course, as noted earlier, any common stock dividend is only paid at the discretion of the governing Board of Directors, and if the situation is dire enough, any dividend is likely to be eliminated. Still, as can be seen, NEM has paid out something every quarter for the past 20 years, which certainly encompassed periods when gold prices fluctuated considerably.
Ratings and Sentiment
As a variable dividend payer, Newmont is not on the list of income stocks to consider by the conservative, dividend-focused advisory newsletters I subscribe to, and usually rely on. These are the Morningstar Dividend Investor, Investment Quality Trends, and Weiss Income Superstars, all of which I find very informative and useful. Thus, as previously alluded, I am going off the reservation with a speculation on Newmont, bypassing the guiding hand(s) of three income stock newsletters I normally rely on before buying a stock. Looking further to other ratings sources, Newmont is rated at three stars by both Morningstar and S&P, which translates to a Hold rating, and is also rated at Neutral or Hold by Credit Suisse, Ned Davis, Thomson-Reuters, Smart Consensus, The Street, Ford Equity, Jaywalk Consensus, Ativo Research, EVA Dimensions, and Zacks. Argus Research is the lone voice saying to Buy, while Market Edge says to Avoid, Schwab has a D rating (not good), Research Team says to Reduce, and Columbine Capital and Jeffries both say to Sell. The Analyst Consensus from MSN Money has 9 Strong Buys, 1 Moderate Buy, 6 Holds, and 1 Strong Sell. The Thomson-Reuters Consensus Distribution has 2 Strong Buys, 6 Buys, 8 Holds, and 2 at Under Perform. I think it is safe to say that the stock is not strongly recommended by most rating services. One positive is that Newmont's approach to accounting and governance is rated as better than 67% of the companies reviewed by GMI Ratings, a corporate governance and accounting risk ratings firm.
Conclusion
I believe the recent weakness in NEM shares makes for a worthy speculation opportunity, with the dividend providing some insurance while waiting for gold prices, and NEM, to recover. There are two factors adding weight to the argument in favor of the speculation: central banks worldwide are debasing their respective currencies on a scale not seen in my lifetime, which should result in higher gold prices eventually, in dollar terms at least, and there are very few income stocks available at anywhere near a value price in the present market environment. Further, I believe Newmont has demonstrated survivability under various gold price scenarios, and will likely keep paying out something to shareholders, barring a significant further decline in the gold price. What could go wrong? Gold could keep on going down, below $1000, the dividend could disappear, and the stock price could retreat accordingly. I started a position when the stock broke below $34, added to it below $32, and will add further if it goes below $30. I plan to hold at least until the upcoming ex-dividend date, 6/10/2013, and will then re-evaluate at that point. I will stop averaging down upon achieving my maximum allowable position size, and will consider bailing upon a further decline of 20% to 25% below my average price. I will take profits upon an advance back above $40. If after a year or two I have not sold, either via a stop-loss or via profit-taking, I will consider selling out as a time exit. I can't wait forever.
Jim Cramer stated in one of his books that a little speculation is OK, it is in our nature. Just be sure that it is recognized as such and strictly controlled, as far as possible damage to one's account. I believe that by recognizing what is being undertaken is a speculation, and defining the parameters ahead of time, no serious damage will occur, and it just might actually work out well. Of course, that may not really be a plus in the long run, if it encourages the speculative impulse too much!
Disclosure: I am long NEM. I wrote this article myself, and it expresses my own opinions. I am not receiving compensation for it (other than from Seeking Alpha). I have no business relationship with any company whose stock is mentioned in this article.