Cirrus Logic (NASDAQ:CRUS) is a former hot tech component play whose rise to glory was tied to Apple's (NASDAQ:AAPL) reversal-of-fortune. As a result, Cirrus' shares have, following the release of the iPhone, significantly outperformed the broader tech sector over the last several years. It's an interesting parallel to Apple actually, since Cirrus itself went through a dramatic transition to becoming an analog/mixed signal semiconductor company after divesting itself of graphics chips, magnetic storage controllers, and wireless networking products. This transition positioned it well to become the Apple supplier that it is today, which has unfortunately been a double edged sword. After losing well over half of its share price from the peak, is this a company worth buying?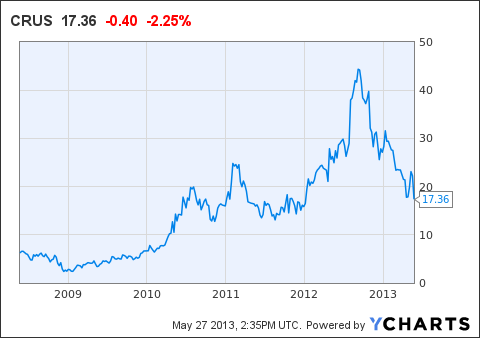 A Value Trap In Hindsight
When a "value" stock like Cirrus blows up in the faces of investors, it is helpful to understand why, especially when it seems to have duped so many people. The problem is actually quite simple: everybody focused on the unreliable "Price to Earnings" metric. The common argument was that it was cheap on a TTM basis, and even cheaper on a forward basis, and as a result the "pullback" from $45 -> $30 represented a "buying opportunity".
Unfortunately, "forward estimates" for a small tech-component vendor with very heavy reliance on Apple for ~70% of its revenues are hardly reliable. While all of the sell-side analysts were busy drinking the Kool-Aid and claiming a price target of $56 (I've seen this so many times), a few more bearish individuals (such as myself) warned the following:
Now, whenever a retail investor screams, "but it's trading at a super low P/E", I shake my head, knowing that when these kinds of stocks trade at low P/E ratios despite making plenty of cash, it usually means that the Street (often rightfully) sees a lot of risk to those earnings. There's plenty of risk here. As Apple's margins shrink, it will continue to pressure the margins of its suppliers - that's to be expected. The problem is that Cirrus is so incredibly concentrated at Apple that Apple has Cirrus by the neck. What can Cirrus do if it doesn't agree to lower its component prices, chop off 60%+ of its revenue base?
While the price has now been cut roughly in half, the business itself hasn't really changed. While Cirrus bulls point to the company's LED solutions and attempts to diversify its revenue base, at the end of the day, Apple is what keeps the lights on for this company. Now, while I have been "doom and gloom" on this name since $30, it is time to reevaluate this stance to see if there is money to be made here.
The Recent Decline
The first thing that needs to be explained and understood before anybody touches this stock is why this happened:

23% lost in two days. What happened? It was this little gem at the Barclay's investor conference that triggered the sell-off: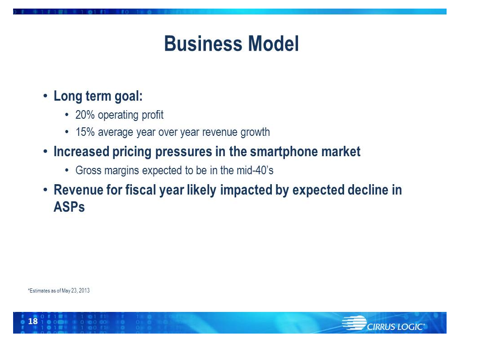 This means over the long term, Cirrus expects operating margins in the 20% level which is well below FY2013 operating margin of 28% non-GAAP and 25% GAAP (I wouldn't be surprised if the 20% mark is "non-GAAP" so GAAP could be lower).
Bulls will point to the "15% average year over year revenue growth" and say that this could improve gross margin dollars enough so that gross margin % won't matter, and this is true. However, Wall Street is now very much in "show me" mode. Many, many things could go wrong, and that 15% target could even prove to be lofty in the event of a significant slowdown in the smartphone space, a potential dual sourcing at Apple, failure to gain market share at the other smartphone vendors that are taking share from Apple, and so on. There is still a lot of risk here, so don't think that buying shares here is a "guaranteed" play. That being said...
Is It Time To Buy?
The best time to buy one of these stocks is when gross and operating margins look like they've bottomed. Another problem with Cirrus is that management has almost no credibility with investors at this point. The firm wasted money on buybacks when the share price was well over $30 (all while insiders sold), and then warned that FQ1 revenues would be pretty bad and that it may even need to take a loss on some inventory. But that's the past.
Further, the sell-side is also off the ship (albeit in true sell-side fashion, far too late), with a recent downgrade from Canaccord Genuity calling for an $18 price target (gee guys, real helpful...who pays you?). Now, it is this last part that awakens the contrarian in me. The sell-side was screaming for $56+ when the good times rolled, and now that the problems that were obvious to anybody who had taken Economics 101 are now actually playing out, the sell-side wants to put useless price targets on the name?
Now, the sell-side isn't totally useless. They tell you exactly what drives sentiment and, ultimately, multiples. Right now, the sell-side expects margins to continue to crater, they expect dual-sourcing at Apple, and they expect that no new Apple product will come out to reinvigorate sales/market share. The margins will (eventually) bottom (and if you can time this, you'll make good money) and that fear eventually goes away. You will never be able to do anything about dual-sourcing fears, but if it actually were to happen, then following the share price "reset", I would be a buyer as literally the worst would be priced in. An unexpected Apple product release could help get people excited, but who can really guess that outside of a Cirrus or Apple employee?
A Stock For Risk Takers
I wouldn't be a buyer here; I'd wait for $13 - $15, but if you want to be brave and try to play a bounce, then I'd maybe wait for a few more days of bloodletting and then try to buy in. This could be profitable, and most of the really terrible risk is mitigated by the fact that the share price has been cut to about a third of its peak, but this is by no-means a "sure fire" buy. The risks to the business are real, shareholders have no confidence in management, and the share price may go well below the bearish "$18" price targets before there's enough of a margin of safety to draw in buyers.
Good luck!
Disclosure: I have no positions in any stocks mentioned, and no plans to initiate any positions within the next 72 hours. I wrote this article myself, and it expresses my own opinions. I am not receiving compensation for it (other than from Seeking Alpha). I have no business relationship with any company whose stock is mentioned in this article.