The second quarter of 2009 ended yesterday, with the markets showing gains for the quarter. Not many earnings reports are due in this shortened week (the market is closed Friday, July 3rd for Independence Day): Apollo (NASDAQ:APOL) and H&R Block (NYSE:HRB) reported Monday after the close and General Mills (NYSE:GIS) is due Wednesday morning before the open.
The major upcoming economic event this week is the monthly Employment Report due Thursday morning, July 2nd. Also due this week is Consumer Confidence, PMI, and Auto Sales.
As I mentioned above, the April to June quarter of 2009 ended yesterday. You can see on the following price performance chart that it has been a positive recovery quarter for the major indices. The Nasdaq 100 (NDX) continues to be the outperformer of the major indices, with S&P 500 (SPX) next in line, and the Dow Jones Industrial Average (INDU) (NYSEARCA:DIA) a relative laggard.

NDX/SPX/INDU Performance Chart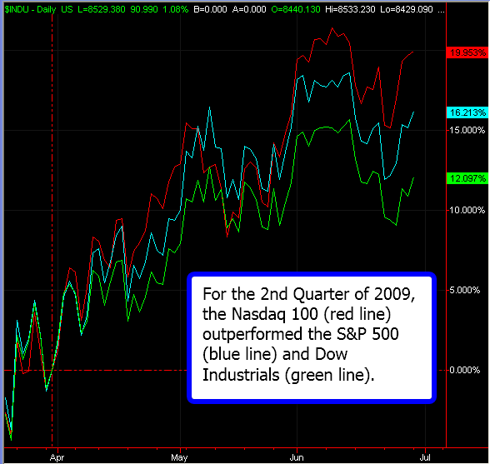 The NDX (QQQQ) has been uptrending since the March 2009 bottom. You can see on the daily chart below that percent R has moved back above the 80 level after a recent test of the 50 mid-level, which is sign of strength. One caveat to the bullish view of this chart is potential overhead resistance from the key 1500 level. Big "round" numbers such as 1000, 1500, 2000, etc, are often important psychological and technical levels for major indices, and you can see that we have been unable thus far to take out 1500 on the NDX.
Stepping back to a longer-term weekly SPX (NYSEARCA:SPY) chart, you can see below that percent R and efficiency ratio are showing strength. However, the recent rally somewhat looks like a bear market rally when the bigger down moves are seen in context. The SPX faces potential resistance overhead from the key 1000 level, as well as the 40 week Exponential Moving Average (green line), which is just above current levels at around 937 currently.

Bottom Line: With the CBOE Volatility Index (VIX) breaking below the 27 level, the underlying short-term trend appears bullish. But the major indices face potential overhead resistance, and we must keep in mind the bigger picture of this being a rally within a bear market/trading range.
Disclosure: none