"Never short a stock founded by Elon Musk." - Dan Zanger
This statement speaks for itself. We have witnessed the massive upside moves in Tesla (NASDAQ:TSLA) and SolarCity (SCTY), and both companies were founded by Elon Musk. SolarCity had an IPO in mid-December 2012 at $8, and its share price has increased more than 500% since, badly burning anyone who tried to short it. Tesla is up 177% year-to-date, driven by good news surrounding the company in April and May. SolarCity has caught the positive trends in the solar industry, and its shareholders were rewarded handsomely, but the focus of this article will be on Tesla.
Recent developments
Tesla announced a mixed shelf offering on May 15th to take advantage of the stock's large price increase. And after everyone conceived the news as bad for the share price, here comes Elon Musk. He announced that he would be buying $100 million worth of shares. Although the share price did not advance after it was announced that Musk will be buying shares in the offering, at least it stopped the price correction that might have happened. This is another move in a string of announcements and pre-announcements that were brilliantly made by Elon Musk.
The proceeds of the offering were used to repay the Department of Energy loan nine years early. The outstanding debt was $451.8 million. The interesting part of the statement was: "Following this payment, Tesla will be the only American car company to have fully repaid the government." A reaction from Chrysler (FIATY.PK) followed, saying that the Tesla statement was "unmistakably incorrect," since Chrysler repaid U.S. and Canadian government loans more than six years ahead of schedule. Elon Musk replied through his Twitter account that Chrysler is a division of Fiat, an Italian company, and that the Tesla announcement specifically said: "the only American car company." It is a bit controversial, but controversy brings attention.
Supercharger announcement
There is a supercharger announcement coming this week, and it will be interesting to find out what exactly it is about. And this announcement might be big. One of the greatest problems of electric vehicles are range and battery charging. Tesla currently has just nine supercharger stations active, with a plan to expand to 100 stations in 2015. They are designed to give half a charge in about half an hour, a 150 miles of range with the 85kWh battery. Seven of those nine stations are in California. Musk tweeted on May 9th that "There is a way for the Tesla Model S to be recharged throughout the country faster than you could fill a gas tank." One way to do it might be the battery swap. There is a technology to do that, and it might take less than 60 seconds.
A company that does battery swapping already exists, and it apparently has not done very well. Better Place has raised almost $1 billion, and has focused on markets in Israel and Denmark for its battery switch stations. Subscribers buy electric Renault Fluence Z.E. sedans, but Better Place owns the batteries and charges a monthly fee for the kilometers driven. Renault's CEO Carlos Ghosn delivered a blow to the company by saying that: "When you look at the overall trends, we must conclude that replaceable batteries are no longer the main track for electric vehicles." He also said in the interview that faster charging is the future rather than battery swapping. Better Place has burned much of the raised funds, changed two chief executive officers, and eventually filed a court motion in Israel for appointment of a temporary liquidator, as the company failed to raise more funds.
But the battery swapping might not be dead. And a potential huge market is - China. The Chinese government intends to have 5 million electric vehicles on the road by 2020, but it has yet to decide whether fixed or swappable batteries will be the standard. There is no way of knowing what Tesla will announce, but the evidence points to the battery swapping technology.
Short interest
The latest short interest data (as of May 15th) indicates a 4.5 million decrease in short interest. The short interest also declined by 3.2 million shares in the previous reporting period. The decrease is now significant, but the short interest is still elevated, with 31.5% of free float held short.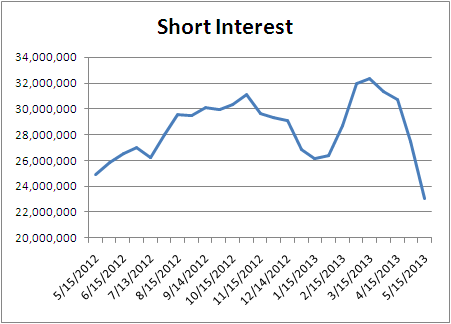 Source for data: Nasdaq.com
Price action
Tesla's share price seems extended and overbought, and may need time to consolidate. If the supercharger announcement does not prove as important, the stock might run out of steam in the short term. However, a price consolidation and/or a retracement of the part of this huge move would be very normal, and perhaps desirable. There are no stocks that move straight up, and Tesla will not be the exception. The stock made new all-time highs on Friday, and the $100 level might be a psychological resistance level.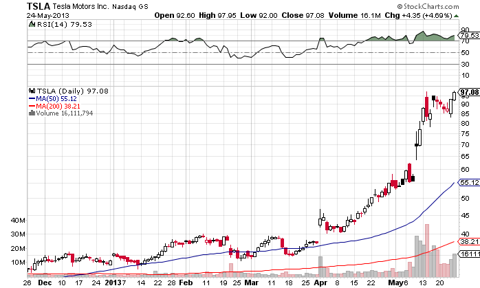 Source: Stockcharts
Final thoughts
I started coverage of Tesla in early April, right after it moved through the $40 price level, which served as long-term resistance. In my article two weeks ago, I wrote that the latest move in Tesla's share price is just the beginning. The price was just below $70 then, and we see it now above $90. Tesla is the first stock among my potential 'superperformance' stocks to reach triple digit gains. Elon Musk is certainly a large part of the reason for the massive move and the overall success of the company. The supercharger announcement might prove as a new catalyst for the stock to move higher. If it does not prove as a game changer, we might see a short-term top in the share price, and a consolidation of the large move the stock made recently.
Disclosure: I have no positions in any stocks mentioned, and no plans to initiate any positions within the next 72 hours. I wrote this article myself, and it expresses my own opinions. I am not receiving compensation for it (other than from Seeking Alpha). I have no business relationship with any company whose stock is mentioned in this article.