To say that American Superconductor Corporation (NASDAQ:AMSC) has had a rough couple of years would be a huge understatement. In a little more than two years, the company has dropped from about $30 to the current market price of $2.68. The company now trades at only 1.1x tangible book value, when it was about 5x this level two years ago.
The primary reason for the company's fall from grace has been the loss of a major Chinese customer due to a scandal involving bribery and theft of intellectual property. Although it is entirely unclear at this point whether the company will be awarded anything from the Chinese courts, where it has several lawsuits pending, the downside risk for AMSC seems to be minimal now as the negative sentiment is well priced into the stock. Meanwhile the core business around the wind turbine market is set to rebound in 2013 and 2014, and the power grid technology business continues to be strong. With losses from operations shrinking on improved business prospects, a recent upward revision to the company's outlook, and a potential legal settlement on the horizon, AMSC seems poised for a strong turnaround.
Investment Thesis Summary
My thesis for a long investment in AMSC consists of the following points:
Long Term Growth Prospects are Bright - Both the Wind and Grid market are set to grow in the high single digits or even low double digits in the coming few years. Growth is being driven by increasing power demands in emerging markets, and is not expected to subside in the near term. With AMSC's strong patent portfolio and experience it seems well poised to stay relevant in these markets. The past few quarters have shown positive signs of a turnaround, and further improvements in 2013 will be a strong catalyst for significant improvements to the share price.
Insider Buying - Super investor Kevin Douglas has been scooping up shares the past several months as the share price dipped to 52 week lows.
There are Recent and Upcoming Catalysts for Value Creation - The company has recently raised its outlook in April, as the Wind market continues to rebound. This has also been fueled by the extension of the US tax credits for wind projects. Furthermore any positive signs of lawsuit settlement will also be a positive for the stock. A hearing on one of the smaller lawsuits is scheduled in Chinese Courts on May 29th.
Downside Risk is Minimal in the Near term - With a price hovering just above tangible book value for several months now, it would seem the company has hit bottom and the recent negative events are well priced in. In addition management has stated confidently in the most recent quarterly results that they have at least enough cash on hand to finance operations through calendar 2013. This reduces the near-term risk of any need for financing which could cause shareholder dilution.
Quick Company Background
American SuperConductor operates in two main segments - Windtec and Gridtec Solutions. In fiscal 2011 (which ended in March 2012), Windtec made up about 58% of revenues and Gridtec 42%. In the most recent quarterly results released in February, this had essentially flipped as Gridtec made up about 62% of revenues and Windtec 38%. This change in mix was a result of continued strength in the grid business, which saw double digit growth amidst global weakness in the wind turbine market, which was particularly hard hit in China as gigawatts installed declined for the first time in many years.
A recent investor presentation summarizes the primary products of the two business segments: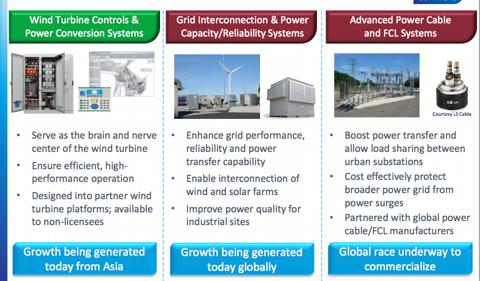 The primary products of Windtec Solutions are focused on advanced electronics and control systems which serve as the "brain and nerve center" of the wind turbine. It's important to realize that AMSC does not manufacture the turbines themselves. Windtec also has engineers who design wind turbines and license these designs to manufacturers, which often includes the sale of associated electronic control systems. Windtec also provides a variety of consulting and customer support services including supply chain and manufacturing plant design.
Gridtec solutions provides several products for the Grid market. This includes D-VAR systems, which help to stabilize power grids and also make it easier to connect Solar and Wind farms to traditional power grids. Gridtec also provides superconductor wire and power cables, which can carry ten times more power than traditional cables and are growing in importance as overall power demands continue to grow every year.
Reasons for Recent Price Weakness
Digging into the company for a few minutes and the underlying reason for recent troubles becomes quite clear. In March 2011, Sinovel, the largest wind turbine manufacturer in China and AMSC's biggest customer at the time, refused a substantial contracted shipment. It turned out that an Austrian employee of AMSC had taken a bribe from Sinovel in exchange for handing over intellectual property. The AMSC employee has since been jailed for the crime, and the company currently is progressing on 4 different lawsuits in Chinese courts worth a potential $1.2B. This includes $770m for past shipments and enforcement of contracts as well as 3 civil cases where the company is suing for copyright infringement and a loss of trade secrets. With a current market cap of only $145m, the money involved here is substantial. As Sinovel made up 62% of company revenue in 2010, losing its business had a profound impact on AMSC, which has since seen revenues drop from $315m in 2010 to $76m in 2012. Compounding the loss the past few years has been the general weakness in the Wind Turbine industry globally due to project delays and cash flow constraints of major manufacturers.
State of the Market and Future Growth Opportunities
The Wind Turbine Market
The wind turbine market is looking brighter as we move deeper in 2013. In 2012 the Chinese and Indian markets were both quite soft due to market consolidation and policy lapses, as reported by the Global Wind Energy Council. Both saw a decline in gigawatts (GW) installed, with China at 13.2 and India at 2.3. In the US, the market was very strong, which was attributed to fears that the US' Production Tax Credit would expire at the end of 2012. This led to a surge in production in the 4th quarter (8 GW installed). The US Government did make a last minute deal to extend the tax credits for 2013, however, the huge surge in demand at the end of 2012 will likely mean a softer 2013 in the US market. The good news though is that growth in the Asian markets is expected to return, and this should more than offset any weakness in North America. Back in February, AMSC forecasted that it would increase revenues by more than 25% this year in Windtec, and in April it increased its outlook for the first quarter of the year by another 10%.
In the coming year, global wind turbine installations are forecasted to increase at a CAGR of 17%. In the upcoming decade, the annual growth is expected to remain around 5%. Ionx in India and JCNE in China are two of the company's major customers in this market. In the most recent quarter, they represented 19% and 10% of revenues respectively. Ionx recently signed a deal with AMSC worth more than $30m. Although the market is crowded and competitive in both India and China, the overall growth expected in the coming years should benefit AMSC and its customers. AMSC estimates that the electronic control systems in a wind turbine represent about 10% of the cost, which implies that the addressable market for Windtec is more than $3B annually. AMSC has to date been involved in about 9,000 turbine installations totaling around 15GW. With a total of about 282GW installed from 1996 to 2012, this is a worldwide market share of roughly 5%. Clearly there is lots of room to grow for AMSC.
The Grid Market
In the most recent quarter, the grid business grew sales by more than 30% to $10.6m. Power grid operators face many challenges worldwide mostly around stability, reliability, capacity, and efficiency. For a period of several decades in the US, transmission power grid investment suffered a prolonged decline. As demand has increased awareness of the problem has slowly been growing. According to the company annual report, studies have shown that blackouts and grid inefficiencies still are costing the US more than $80B annually. Recent natural disasters, such as Hurricane Sandy, are helping to increase awareness of the problem. A recent report from the PJM Grid operator in the Mid-Atlantic states highlights also how the rapid increase in natural gas usage in the United States has also put an increased demand on transmission grid improvements. PJM, which serves an area of nearly 60 million people, had to deal with the retirement of 14MW of generation in only 1 year - enough to power the entire state of Indiana. This is largely driven by low natural gas prices and environmental regulations.
Going forward, this market and the growth opportunities for AMSC look bright. The company has estimated that there is an addressable market for superconductor cables and Flexible AC Transmission Systems (FACTS) of more than $6.5B. The company has also released a new product recently, a superconductor fault current limiter (SFCL), which helps utilities limit damages during a fault. With grid related revenues of only $32m in 2012, the company seemingly has a lot of potential to expand.
Company Strategy & Business Model
The corporate strategy of AMSC is summarized in a few key points:
Provide Solutions from Power Generation to Delivery
Focus on "Megawatt-Scale" Power Offerings
Pursue Emerging Overseas Markets and Serve Key Markets Locally
Product Innovation
Pursue Targeted Strategic Acquisitions and Alliances.
A key part of the model is to pursue emerging market growth where demand for Wind Turbines has been the strongest. The company uses local sales teams, and has a competitive advantage in many instances where the local country has laws stating that the majority of materials to produce the turbine must be produced locally from within the country. This creates opportunities for Windtec to form partnerships with certain local manufacturers both to enable them via design expertise to produce turbines locally and also for potential sales of electronic control systems. The company is also keen to form partnerships to expand in the grid market. A recent example is the new SFCL product produced with Nexans.
Insider Share Ownership
AMSC currently has about 29% insider ownership. What's interesting in this case, is that the majority of this is not held by executive management. The major holder is outsider Kevin Douglas. For those who don't know him, Douglas has been described as the greatest investor you've never heard of. Douglas was the founder of Douglas Communications, a VoiP company. In the past decade, he has been an extremely successful investor, having made out big with investments in IMAX (NYSE:IMAX) and Monster Beverages (NASDAQ:MNST) to name a few. With Monster in particular, he turned an investment of $190k into an impressive $36m. Douglas has been substantially increasing his stake in AMSC the past months, having brought big sums in both December and February nearly doubling his ownership interest. He now owns more than 10m shares of the company.
Besides Douglas, there are no big well-known hedge fund managers or institutional investors who currently own shares. Although with a market cap of less than $150m, it is difficult for the big investors to play here.
The CEO of AMSC is Daniel McGahn. He has held the post since 2011, but was already at the company for 5 years prior to this in several executive positions. McGahn is 40 years old and is a trained MIT engineer. He has taken the helm at a very difficult time for the company, and now that the end of the legal issues with Sinovel is in sight it will now be time to see how he brings the company back to growth. So far so good in 2013.
Key Catalysts for 2013-2014
Resolution to the Sinovel Lawsuits - AMSC is progressing on its lawsuits against Sinovel. Although the history of Chinese courts in protecting domestic companies is well known, AMSC at least has some chance of receiving compensation here. There are also a lot of unanswered questions on the case however, and politics for sure is playing a role. I won't go into the legal details of the case here, and for sure nothing is certain, but any financial compensation at all will be a big positive for the stock.
Production Tax Credit Extended in the US - The US government recently extended the production tax credits for wind power through 2013. This will help to increase revenues further in both Windtec and Gridtec than expected previously. The company already raised guidance for Q4 of FY2012, and it expects revenues to be 25% higher than in FY2011. With about 25% of revenues coming from the US, the extension of the tax credit is an important boost for the company.
Continued turnaround in the Chinese Wind Market - Due to changes in government policies requiring more approvals, the Chinese market for wind slowed considerably in 2011 and 2012. However, the trend is now reversing quickly in 2013, with the Chinese Wind Energy Association expecting 30% growth in turbines installed. At more than 20% of company revenues, this should also be a positive for AMSC.
Financial Analysis & Forecast 2013-2015
The table below shows the key financials for the two most recent fiscal years and my projections through fiscal 2014. The company's fiscal year ends March 31st. FY2012 ended March 31st 2013 and the company will report results in the coming weeks. AMSC has recently stated that they expect to be cash flow positive by the end of fiscal 2014 (a little less than 2 years from now). I think this is achievable looking at the expected strong revenue growth in the near term for both Windtec and Gridtec, combined with continued reductions in operating expenses. This also assumes no financial settlement in relation to the Sinovel case. Margins will continue to be pressured, but these estimates could be quite conservative if the company secures any larger contracts (which tend to be lumpy).
AMSC Financial Forecast

(in thousands)

FY2010

FY2011

FY2012E

FY2013E

FY2014E

Revenue Windtec

$231,761

$44,642

$46,321

$55,585

$65,143

Revenue Gridtec

$54,842

$31,901

$40,679

$44,757

$55,267

Total Revenues

$286,603

$76,543

$87,000

$100,342

$120,410

Revenue Growth

-

-74%

13.7%

15.3%

20%

Cost of Revenues

$308,200

$82,900

$69,800

$75,000

$80,000

Gross Profit Margin

(7.5%)

(8.3%)

19.8%

25%

34%

R&D

$32,517

$27,271

$14,000

$12,000

$14,000

SG&A

$72,400

$72,100

$45,000

$35,000

$25,000

EBITDA

-$118,000

-$121,000

-$41,800

$-21,658

$1,410

EBITDA Margin

(41%)

(158%)

(48%)

(21%)

1%

Total Capex

$43,380

$15,120

$5,000

$7,000

$5,000

Interest

$830

$200

$300

$400

$500

Taxes

$16,000

$1400

-$500

-

$400

Free Cash Flow

-$66,197

-$156,154

$-51,620

$-35,000

-$5,000

Shares Outstanding

47,100

50,840

53,000

56,000

60,000

FCF/Share

-$1.41

-$3.07

-$0.97

-$0.62

-$0.08
Valuation
Earnings and free cash flow will continue to remain pressured in the near future for AMSC. Even looking at the ten year EBITDA history, the company has hardly been predictable, and in fact has had negative margins for most of it: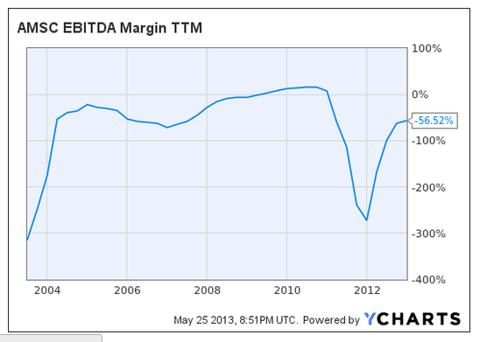 Clearly traditional valuation metrics such as a DCF model are not very useful in this case. What I like here is that the company is trading close to tangible asset value and at a historically low P/S multiple: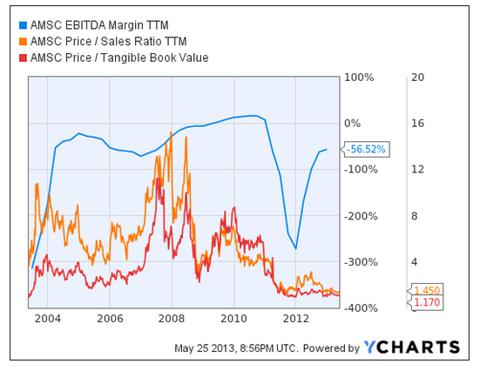 With all of the troubles with Sinovel, this would make some degree of sense; however, now that the company seems to have bottomed and is showing signs of growth again, it appears the market has not yet caught up to this. The company expects to be cash flow positive 2 years from now, and the last time that occurred in 2010 the company traded about 4-6x P/S. A multiple of 4x FY2014 revenues would be a price of about $8/share, almost 300% upside from current prices. Although the company is still a long ways off from this happening, I see a compelling risk/reward situation here in the coming year. Priced at tangible book, there is minimal downside near term, and a few more quarters of improving results could easily cause the shares to double.
Key Investment Risks
Share Dilution - In early 2012 AMSC raised capital by selling $25m of 7% convertible notes. The buyers received warrants for more than 3m shares at a strike price of $5.45. The company has also not been repurchasing any shares, and the total share count has slowly been increasing in the past few years. This is something that should be watched closely, and I see further dilution being one of the primary risks on the downside.
Customer Concentration - Even after losing Sinovel, the customer base is still very concentrated, especially on the Wind side. The new $30m purchase order from IONX is significant, as the FY2012 yearly revenue is expected to be just over $80m in total. This shows that there remains a risk of very lumpy orders from quarter to quarter, leaving the general business still rather unpredictable. The entire Windtec business is made up of less than 10 customers, and IONX Wind and Doosan Heavy Industries made up 29% of sales last year. The operating results from recent years speak for themselves, and clearly on the longer term it is not easy to predict where this business will go.
Government Policy changes on tax credits and other incentives for Renewables - A lot of the sales volume for renewable energies such as wind is driven by government subsidies and tax credits. When the US government temporarily did not extend the tax credits beyond 2012, the market was expected to slow down dramatically. Similarly, China also made policy changes recently that made it much more difficult to get approval for manufacturing turbines, and as a result revenues dropped 30% in a year due to this. These kind of polices could impact revenues in any given year adding to the unpredictability of the business long term.
The Bottom Line
AMSC is not a "good" business in terms of recent operating results. Looking at the financials alone and a case can be made that the company is downright ugly. However, when you look at the complete picture of the company, I view this as a special situation turnaround investment which has the potential for very big upside with minimal downside risk. For sure the business remains unpredictable long term, so I would not advocate this as a buy and forget kind of investment. My thesis here is to buy the company now while it is beaten down and showing signs of life, which includes: improving operating results, insider buying, and the end of the Sinovel incident. With enough cash on hand to fund operations in the coming year and double digit revenue growth, there is a significant chance the company returns to P/S and EV/Revenue multiples seen in 2010 before Sinovel. This would imply a stock price of $6-8/share and more than double from the current price. If, however, results turn in a bit lower than expected in the second half of 2013 and the stock remains depressed, then I would sell as the risks of unpredictable operations will likely outweigh the upside potential.
But where it stands now, I see the possibility of asymmetric upside and minimal downside risk in the short term, making AMSC a compelling turnaround play to consider.
Disclosure: I am long AMSC. I wrote this article myself, and it expresses my own opinions. I am not receiving compensation for it (other than from Seeking Alpha). I have no business relationship with any company whose stock is mentioned in this article.