One difficulty of investing in blue-chip stocks is trying to find dividend companies that are simultaneously executing an underrated stock buyback program. Using the S&P 500 as a reference, most companies fall between two extremes of buyback efficiency.
On one hand, you have the bulk of companies that run mediocre buyback programs that do not even manage to mop up executive compensation or other forms of share dilution. As Barron's pointed out, this is probably the worst statistic on the general effectiveness of stock buyback programs I have ever heard: last quarter, 219 of the 317 companies in the S&P 500 engaged in a stock buyback program that failed to reduce the share count. This partially explains why many retail investors prefer dividends to stock buybacks-using our recent sample size, 69% of companies that engage in stock buybacks actually fail to reduce share count in practice.
At the other end of the spectrum, we have companies that are notorious for buying back shares. Most blue-chip investors know that ExxonMobil (NYSE:XOM) is retiring about 6% or so of its outstanding share count each year, effectively reducing the size of the oil giant by 1.25% every ninety days (subject to the actual price of the stock at the time of the buyback). Likewise, we know that an extensive stock buyback commitment will play a meaningful role in IBM's (NYSE:IBM) efforts to reach $20 per share in earnings by the end of 2015.
Today, I'd like to highlight the stock buyback program run by the "Rodney Dangerfield" of carbonated beverages: Dr. Pepper (NYSE:DPS). A lot of times, it is difficult to get the conversation started with Dr. Pepper as a potential investment simply because it is not Coca-Cola (NYSE:KO) or PepsiCo (NYSE:PEP). Nevertheless, I wanted to highlight how Dr. Pepper has been methodically reducing its share count since beginning a buyback program in 2009, one year after becoming a publicly traded company on the New York Stock Exchange (May 7, 2008).
At the present time, Dr. Pepper is buying back roughly 8-10 million shares of stock each year, subject to the prevailing stock price.
In 2009, Dr. Pepper had 254 million shares outstanding.
In 2010, Dr. Pepper had 223 million shares outstanding.*
*Note: Dr. Pepper received a one-time cash infusion as the result of arranged licensing agreements with Coca-Cola and Pepsi, and the company used this cash (plus profits from current operations) to aggressively reduce the amount of outstanding stock by 31 million shares.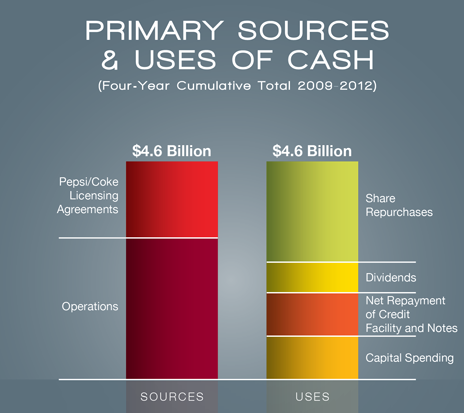 In 2011, Dr. Pepper had 212 million shares outstanding.
In 2012, Dr. Pepper had 205 million shares outstanding.
By year end 2013, Dr. Pepper will have somewhere around 197 million shares outstanding (note: most search engines and stock screeners report stock screeners by using the discounted weighted method. This means that, at the end of 2013, most databases will report a blended average of Dr. Pepper's share count over a particular period of time, rather than the company's true share count at the end of the period).
Judging the 2009 through 2013 period, it looks like Dr. Pepper will have reduced its share count by 25-30%. A lot of that was fueled by a strong buyback in 2010. But going forward, I would expect to see annual share count reductions in the 5-6% range, subject to prevailing stock market prices and the continued generation of strong cash flow per share over time.
A lot of times, when I am screening for stocks, I like to see companies that have the triple-threat symphony of earnings per share growth, annual dividend growth, and effective buyback programs combining together to reward shareholders. Unfortunately, 69% of the S&P 500 companies that engage in stock buybacks do not actually succeed in reducing the share count, judging by the last quarter of available information. On the other end of the spectrum, you have companies like IBM where everyone knows they are conducting large stock buybacks each quarter. Dr. Pepper is one of those companies that is conducting a stock buyback program that does not get a whole lot of attention, but the company is quietly taking 5-6% of its shares off the market each year as earnings and dividends per share hum along. Compared to the 69% of companies not actually reducing share count, that's not bad.
Disclosure: I am long DPS, XOM, IBM. I wrote this article myself, and it expresses my own opinions. I am not receiving compensation for it (other than from Seeking Alpha). I have no business relationship with any company whose stock is mentioned in this article.