Last week, I wrote about how these are unusual times for Apple (NASDAQ:AAPL). Apple now has a real dividend, a real stock buyback plan, and growth estimates are at low levels that we haven't seen in quite some time. There is even a possibility that Apple could report a year over year decline in quarterly revenues when they report fiscal Q3 in July. Additionally, short interest in Apple has soared over the past year.
Over the past three months, Apple shares were basically flat, as you can see from the chart below. Those shares have bounced higher (and mostly lower) at times, but if you bought three months ago, you're basically unchanged.
(Source: Yahoo Finance)
Despite the low growth estimates and high short interest, Apple sentiment seems to be on the rebound thanks to that dividend and buyback. Add in the fact that many new product launches are expected later this year, and everything seems fine. The problem for long-term investors is that many of the reasons that pushed Apple up in the short term are not really short-term benefits. Today, I'll explain why when it comes to Apple, waiting is the hardest part.
Dividend payments are nice, but infrequent:
Sure, it is extremely nice to receive a dividend payment. Having one of your stocks throw some money your way can feel rewarding. I'm not trying at all to minimize or degrade dividend payments here. But in the fast paced world we live in today, they are infrequent. Once a year, twice a year, or four times a year, you do have to wait. In the three months between Apple's May and expected August payments, the New York Yankees will play roughly 80 games, half of their season. That's a lot of games for the team, and a lot of time to wait for your next dividend payment.
The table below shows the four dividend payments Apple has made since they restarted their dividend program. Do you notice something? While Apple has paid $11.00 in dividends, the stock has moved $200! Imagine if you bought Apple in September around $700. Since then, you've received $8.35 in dividends, but the stock has lost more than $250. The dividend has cut your losses, but very slightly.

*Actual closing price - not adjusted for dividends.
Apple may soon become a dividend favorite for investors, but you have to remember that payments do come with a price. That price is time, which sometimes is not on your side. Apple is not like Altria (NYSE:MO), a company whose dividend is large but stock doesn't move that much. Most likely, if Altria's stock declines a bit, the dividend will soften a large portion of that fall. For Apple, that hasn't been the case. I'm not recommending that investors avoid Apple's dividend, but if you are in the bear camp and think the stock will be at $350 in a couple of months, you shouldn't be holding the name just for a $3.05 dividend.
The $50 billion buyback:
Before you jump all over me on my mistake in this section's title, I encourage you to re-read the following quote from my last article about Apple's original $10 billion "buyback" plan.
The repurchase program is expected to be executed over three years, with the primary objective of neutralizing the impact of dilution from future employee equity grants and employee stock purchase programs.
The original $10 billion was to be used to stop the share count from going any higher, not to get the share count down. The chart below shows Apple's share count over the past few years.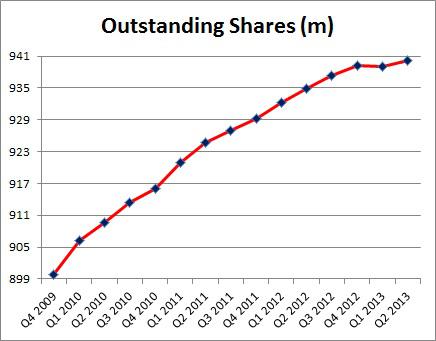 The $10 billion over three years, started in the fourth calendar quarter of 2012 (Apple's fiscal Q1 of 2013), was supposed to make sure that the share count did not rise any further. Thus, anyone who tells you how many shares Apple can buy back with $60 billion is partially mistaken. Yes, Apple is expected to purchase $60 billion worth of shares, but if they don't tell you about the share count increasing to begin with, they aren't giving you the entire picture.
So if you really want to look at the true reduction in the share count, you have to look at only the $50 billion of the "true buyback". At a $400 per share average, Apple could get the share count down by 125 million. At $450 per share, you're looking at roughly 111.1 million shares, and at $500 per share, it's an even 100 million. Those that are even more bullish on the stock might wish Apple buys back less than 100 million shares, because then the stock would be much higher. At $550 per share, Apple could get the share count down by about 91 million, while at $600 per share, the number is 83.33 million.
Again, like the dividend, it comes down to waiting. This is a three year program, so don't get ahead of yourself and think Apple's share count will be dramatically dropping over the next couple of weeks. Using last Friday's close as an average, the share count will be reduced by roughly 9.36 million shares per quarter, if the program were to be executed evenly over the three years. That probably won't be exact, but Apple's 3-month trading volume is about 16.7 million shares. So Apple will be buying back less than one day's volume per quarter, not a lot when you really think about it. The share count will come down, and earnings per share will improve, but it will take time.
No new cash plans:
Apple shareholders had been demanding for more than two years that Apple return some of its large cash pile to shareholders. In March 2012, they began that process with a $2.65 quarterly dividend and a $10 billion plan to stop the share count from rising further. Recently, that dividend was increased, and the share repurchase plan was upped to $60 billion.
Apple shareholders have essentially gotten what they wanted, but that means that there can be no more complaining for a while. Apple investors must realize it will now be a while before any new cash plans are announced. It could be another year before the dividend is raised, and there may not be anything new on the buyback front for a couple of years. That means that if Apple's quarterly results don't impress over the next few quarters, there probably won't be some "white knight" to soften the blow. There won't be any dividend raise or increased buyback, meaning it will all come down to Apple's results. That's the focus of my next section.
Waiting for new products:
By now, everyone knows that Apple issued weak guidance for fiscal Q3. The midpoint of that guidance implied a year over year decline in quarterly revenues. I'm not going to detail the specifics of how a decline is possible, since I've already done that in multiple articles, including my last one mentioned above.
But that gets us back to the waiting game. Everyone is waiting for Apple to deliver at least three new products sometime this year. A new iPhone is expected, along with a new regular iPad and a new iPad mini. Some expect a fourth device, a cheaper iPhone, but that is not a guarantee as of yet. Apple could also come out with something entirely new, like the iWatch you keep hearing about. Don't be surprised if Apple launches some sort of music service as well.
But until we get an actual launch, investors are left to wait. The good news is that a kitchen sink quarter for Q3 wasn't a total surprise, but now the question turns to fiscal Q4, which runs from July through September. Apple analysts currently expect a 6.2% rise in quarterly revenues. To me, that implies that most analysts expect some sort of product launch during fiscal Q4. It's possible that Apple launches the new iPhone sometime in September, like they did with the iPhone 5 last year. That would certainly help boost revenues.
Since we are nearly two-thirds complete with fiscal Q3, essentially a throwaway quarter for Apple in my opinion, it's time to start looking forward. Here's what Apple is up against for fiscal Q4:
Revenues of $35.97 billion, EPS of $8.67.
Gross margins of 40.04%, Operating margins of 30.43%, Net Profit margins of 22.86%.
4.92 million Macs sold.
5.34 million iPods sold.
26.91 million iPhones sold.
14.04 million iPads sold.
Analysts are currently looking for $38.20 billion in revenues and $8.25 in earnings per share. That implies 6.2% revenue growth and a 4.84% decline in earnings per share.
Are current expectations reasonable? Well, let's look at a couple of items. First, the iPod will show a year over year decline, but that will be small. I think Apple could have a hard time meeting the 14 million iPad number without a new model being launched. There will be a number of consumers holding back their purchases, waiting for the new models. Don't forget, those 14 million units sold in Q4 last year were all regular iPads, as the mini had not gone on sale yet. That means that Apple needs to sell even more units just to match the revenue number, which probably won't happen (without a refresh).
In this extremely difficult PC market, I think the Mac number will be a tough one to match as well. Apple will probably do some sort of Mac refresh before Q4, but I don't know if it will be enough to match a 4.92 million unit mark given current industry conditions.
So it appears, like most quarters, that it will come down to the iPhone. Can Apple sell almost 27 million iPhones in fiscal Q4 without a new version coming out? I don't think so. Also, selling prices have been down as older models of the phone have been selling well. Don't forget, the iPhone 5 has been out for more than 8 months now. I'm sure that Apple isn't getting the same pricing power on the 5 today that it was on launch day, not with a phone that old. A refresh would be needed, and the new phone would probably need an early to mid September launch to post a strong sales number.
So in my opinion, current expectations are too high for fiscal Q4 if there is no product launch. I just don't see a way Apple can increase revenues by $2.25 billion over last year's period without anything new. That probably also means that earnings estimates are too high, but depending on the above buyback, I'd have more faith in them meeting the earnings mark. While we won't definitely know about product launches until August or September most likely, we should get some insight from Apple's quarterly guidance. If Apple guides to revenues in a range around $33 billion to $35 billion, it probably means nothing is coming. If they are around $36 billion to $38 billion or higher, that probably means something is coming.
Again though, Apple investors are left to wait. We're about two months from that next earnings report, and 3-4 months at least until a significant new product launch. At this point, I don't consider a Mac refresh major because the revenues in that segment just aren't as important as those from the iPad or iPhone. While you'll get a small dividend payment between now and then, it won't matter much if the stock is back at $400 then.
Final Thoughts:
Apple investors have gotten what they wanted with a dividend raise and huge buyback plan. But these investors must remember that dividends come only four times a year, and the buyback plan will be executed over three years. Also, we still appear to be a number of months away from any new product launches, which will lead to some lower than expected growth for another quarter or two.
For Apple investors, you are now in a waiting period. Another dividend isn't coming anytime soon, and neither are new products. While the buyback was a large plan overall, it won't reduce the share count as much as some people think. Additionally, it's a small amount of shares per quarter, so even if Apple accelerates the plan a little at first, you're not talking about a large impact on shares.
The focus of my last article was that these are unusual times for Apple, and that's the same theme that I'm echoing today. Over the last couple of years, Apple investors haven't been waiting very much. Product launches have been plentiful, and even when they weren't, you still had a company that was growing very quickly. Today, that growth is offset by a dividend and buyback, but those aren't items that shareholders really benefit from on a daily basis. Yes, Apple could buy back shares each day, but the number would be extremely small.
When it comes to Apple, you are definitely in a holding pattern. I'm not arguing that fact is necessarily a bad one, but it is something that may impact your view on the stock. My recommendation has been to buy on pullbacks, and the one from $465 to $419 was a great chance. Also, don't buy Apple just for the $3 plus dividend (that is a few months away) if you think shares will drop in the meantime. That may seem like common sense, but those that bought Apple at $700 have received some dividends, as well as a large drop in the value of their shares. In today's world, many people are impatient. But when it comes to Apple, you are currently playing the waiting game, and that means you have to have patience.
Disclosure: I have no positions in any stocks mentioned, and no plans to initiate any positions within the next 72 hours. I wrote this article myself, and it expresses my own opinions. I am not receiving compensation for it (other than from Seeking Alpha). I have no business relationship with any company whose stock is mentioned in this article. Investors are always reminded that before making any investment, you should do your own proper due diligence on any name directly or indirectly mentioned in this article. Investors should also consider seeking advice from a broker or financial adviser before making any investment decisions. Any material in this article should be considered general information, and not relied on as a formal investment recommendation.