CVS Caremark (NYSE:CVS) and Walgreens (WAG) are two of the largest retail pharmacies in the industry, we decided it was time to pit them head to head and decide who the winner was once and for all.
The Landscape
According to Barclays Capital, U.S. drug retail stocks increased by approximately 5% month-to-date (through April 26), greater than the S&P 500's 0.8% and the PBM index at 1.7%. CVS Caremark was the best performer with a 5.4% advance, while Walgreens increased by 3.3%. WAG's March comps were stronger than expected due to solid front-end comps, while pharmacy comparable same-store sales were below consensus.
Drug Retailers* vs. PBM Index vs. S&P500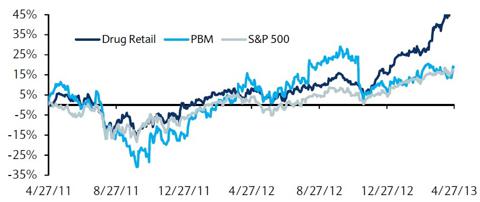 *Drug retailers include CVS, RAD and WAG. PBM includes ESRX and CTRX. Source: Factset.
Cardinal Health (NYSE:CAH) and McKesson (NYSE:MCK) announced that both had renewed their drug distribution agreements with CVS on April 25. CAH distributes for the retail side of CVS, while MCK serves Caremark's mail order facilities. There were some speculations that CVS might try to copy the deal that WAG and Alliance Boots did with AmerisourceBergen recently. It can be recalled that a strategic relationship between WAG/Alliance Boots and AmerisourceBergen (NYSE:ABC) was announced early this year.
Walgreens' relationship with ABC includes a 10-year agreement whereby the latter company will be the sole drug distributor for WAG, effective September 2013. WAG will transition the distribution of generic products to ABC that WAG had previously been self-distributing. Because of this agreement, WAG did not renew its $22 billion distribution contract for branded drugs with CAH, and ABC will have access to generics sourced through the Walgreens Boots Alliance Development joint venture.
Tale of the Tape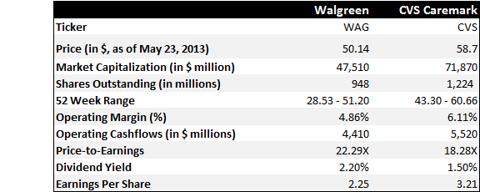 Source: Capital IQ
In the Blue Corner: Walgreen Company
Comparable Same Store Sales. WAG achieved a 1.9% increase in pharmacy comps for March 2013, though cough, cold and flu activity had no impact on these numbers. WAG confirmed that the percentage of former Express Scripts Holding (NASDAQ:ESRX) customers returning to its pharmacies continued to increase in first quarter of 2013.
Customer Traction. It began to win back ESRX customers in November and December, as shown by the sequential improvement in script comparables. Large incremental script gains are unlikely going forward as most maintenance scripts would already have moved due to changes in pharmacy coverage.
Industry Entrants. New generic medicine pressured pharmacy dollar comparable sales by 480 basis points. Many big generic drugs are available now from multiple generic suppliers. This led to lower product costs and a decline in pharmacy revenues.
Alliance Boots. Sales and operating earnings in WAG's 45% owned European pharmacy Alliance Boots were soft, reflective of a challenging macroeconomic environment. The markets in which Alliance Boots operates remain challenging; however, the company's clever cost control strategy enabled it to manage its financials.
In the Red Corner: CVS Caremark Corporation
EPS Guidance. CVS manifested strong second quarter earnings guidance with an EPS of $0.94 to $0.97, placing analyst consensus estimate of $0.94 at the low end of the range. Much of its earnings power will come from the gross margin line. Investors who are interested in the long-term positive changes occurring within the U.S. healthcare industry should be attracted by CVS' initiatives to increase adherence, optimize spending on pharmacy while also lowering total healthcare costs, and provide services more conveniently and cost-effectively than can be done at other healthcare venues.
CVS' convenient store locations give it a competitive edge over other healthcare providers. Moreover, its focus on developing new technologies and understanding how to change consumer behavior puts it in a very strong competitive position versus other drug retailers.
Business Sequestration. CVS is undergoing a remediation process associated with implementation issues that arose earlier this year as a result of the company's effort to transition all of its Medicare Part D plans onto like systems. It resulted in the Centers for Medicare and Medicaid Services (CMS) imposing immediate intermediate marketing and enrollment sanctions on Caremark's SilverScript plans.
CVS noted its expectations for the impact of sequestration on its Medicare Part D business. The company expects a 2% slash to the direct subsidy payments received from the Centers for Medicare and Medicaid Services for Low Income Subsidy (LIS) and Employer Group Waiver Plans (EGWPs) beneficiaries.
The company's management estimated that the monthly subsidy payment is approximately $50 per affected member per month. The 2% sequestration cut would directly impact the bottom line within the PBM segment, driving an EPS decline of $0.02 from April to December 2013. The cuts will not be charged to retail pharmacies but instead will be concentrated within the PBM segment for CVS.
Risks. The outlook for the second half of 2013 looks quite subdued. This period will manifest the impact of sequestration on Caremark's Med-D plans, ongoing Med-D implementation issues and diminishing benefits from generic drug launches and retail market share gains.
Goldman Sachs expects a steady deceleration in earnings before income tax (EBIT) for the remainder of the year, bottoming in the fourth quarter of 2013. This would occur before accelerating again on renewed generic launches and the expected increase in the insured population because of healthcare reform.
And the Winner Is…
Overall, we favor CVS over WAG.
CVS' combined retail and PBM business model not only provide value to clients, but also nicely diversifies its business in a constantly changing industry. CVS has a strong commitment to driving shareholder returns and has been a steady buyer of its own stock using its strong free cash flow while also raising its dividends.
WAG's acquisition of Alliance Boots and USA Drug incurred large acquisition costs that include the unusual accounting method of including 45% of Alliance Boots' net income into WAG's earnings. In addition, its narrow networks, high costs related to ESRX script reclamation, and Alliance Boots earnings pressure and reimbursements are keeping us away from WAG's corner for now.
Disclosure: I have no positions in any stocks mentioned, but may initiate a long position in CVS over the next 72 hours.
Business relationship disclosure: Black Coral Research, Inc. is a team of writers who provide unique perspective to help inspire investors. This article was written Hans Centena, one of our Senior Analysts. We did not receive compensation for this article (other than from Seeking Alpha), and we have no business relationship with any company whose stock is mentioned in this article. Black Coral Research, Inc. is not a registered investment advisor or broker/dealer. Readers are advised that the material contained herein should be used solely for informational purposes. Investing involves risk, including the loss of principal. Readers are solely responsible for their own investment decisions.