Since mid-April, the stock market has roared higher. Until the recent weakness, the market either moved higher or sideways; selling was brief and most dips led to higher highs within a span of hours. I gave my reasons for a bullish outlook in this article. Since then, the S&P 500 has climbed 150 points higher in a month before recently backing off almost 30 points based on Chairman Bernanke's comments alluding to future tapering.
This rally has been truly remarkable in its ability to lift the majority of stocks and sectors. This is evidence of strong demand for stocks and an avalanche of liquidity entering the market. Based on market conditions and intermarket analysis discussed in this article, there were some signs of this brewing liquidity.
In the article above, I concluded in the early stages of the rally that further weakness would be a buying opportunity and that shorting such a strong move would be dangerous. Based on recent evidence, I believe market conditions have shifted and a change in strategy is appropriate. The strategy that has been so lucrative the last month - buying the dips - will no longer be rewarding for this current period. In this article, I will explain the best strategy for these changing conditions and my reasons.
Anticipation of "Tapering"
WSJ reporter John Hilsenrath, who is the best source for "Fed thinking", released an article on May 10 explaining that the Fed has begun the process of thinking about "tapering" bond purchases. Statements by Fed members and testimony from the Fed Chairmen provided more support for this future eventuality - shifting the consensus from if to when. Although Bernanke's comments sent ripples through the market, the process of the market discounting the effects of decreased Fed purchases had already begun.
The effects were most evident in corporate bond markets: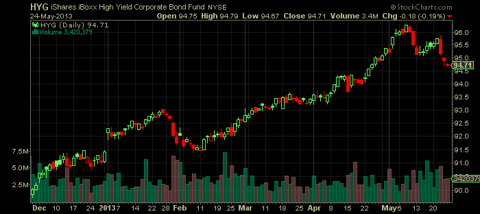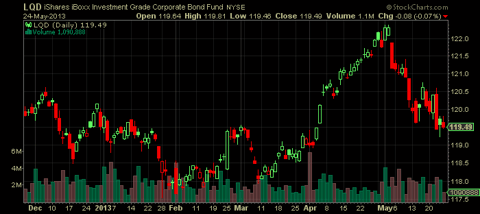 In contrast to the equity markets which have stayed somewhat resilient, the high yield bond market (NYSEARCA:HYG) and corporate bond market (NYSEARCA:LQD) have taken a hit following the Hilsenrath statement and made lower lows following the Bernanke testimony. As long as this dynamic continues, I believe that the "melt up" conditions of the past month should not be expected. Therefore, taking long positions with expectations of huge profits and without tightly managing risk is ill-advised.
"Risk On" Indicators
Another note of caution is that market internals over a longer term timeframe remain depressed despite a strong run over the past month. This divergence with all time highs in stock prices point to the effects of liquidity and undercuts arguments that increases in price are due solely to economic conditions improving. Although, it is clear that economic conditions have marginally improved. Equally important, the concerns about catastrophic scenarios have eased.
I will be highlighting the ratio between small caps and large caps and persistent weakness in commodities.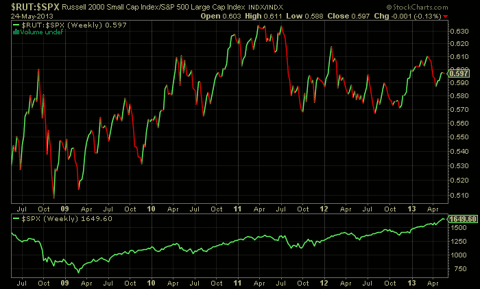 This ratio tends to outperform when market participants are becoming optimistic about future conditions. Thus, the strong sustaining uptrends in the market have been positively correlated to this ratio. Small caps are more leveraged to the domestic economy, therefore their underperformance is another indication that considerable doubt remains about future economic prospects despite conflicting signals from an ebullient stock market.
An ETF for the small caps index is the iShares Russell 2000 Index (NYSEARCA:IWM) and for the S&P 500 is the SPDR S&P 500 ETF Trust (NYSEARCA:SPY).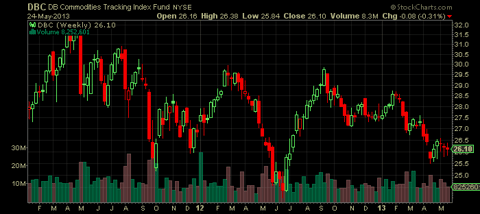 Another sign of economic strength resides with the PowerShares DB Com Index Tracking Fund (NYSEARCA:DBC) which remains mired in a downtrend. Demand for commodities is a reflection of the Chinese economy. It has underperformed expectations, with its stock index remaining near 2009 lows and locked in a similar downtrend as commodities. The lack of bid for commodities is another divergence not confirming the record highs in stock prices.
Both of these divergences have been and can be overwhelmed by the tide of liquidity. These divergences have not precluded me from being bullish for periods of time. However, until these can display strength, I believe the market will be vulnerable when the liquidity does recede.
Risks of an Overbought Market
The market's nearly parabolic thrust higher has decimated the bears and moved many market participants to the bullish side. In fact, margin debt levels have risen to record levels. The charts below show the bullishness and margin debt levels.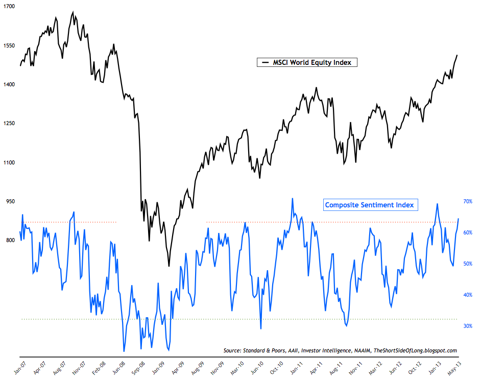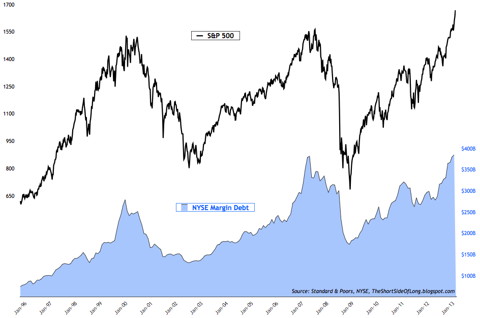 This is another factor which makes the market vulnerable at this juncture to a swift retracement, as the high sentiment indicates that there are not many buyers left. Further, the margin levels indicate that even mild pullbacks would be painful for many overleveraged and long. It is important to note that these factors coincide with sharp pullbacks, they do not cause selling.
Conclusion
Despite the caution I expressed in this article, I have no intention to fight the uptrend. Instead, I am going to remain patient and closely watch this correction. My stance will not change unless we begin to see some signs of accumulation or deeply oversold conditions to reset the overbought conditions generated by this parabolic rise.
The ensuing bounce will be the real measure of whether or not the uptrend has been terminated or whether this was a healthy pause to reset sentiment as money rotates into lagging stocks and new sectors to lead the market higher. My hunch is that last Wednesday did not mark a top as these huge surges in liquidity tend to persist over long timeframes.
Of course there is a risk that I am wrong and the market will bounce from here and continue powering higher. I am sure the bulls are emboldened by the relatively constructive action of the last two trading days in which prices gapped down based on global markets but were steadily bought through the day. Given the factors discussed above, I am comfortable with taking this risk.
Disclosure: I have no positions in any stocks mentioned, and no plans to initiate any positions within the next 72 hours. I wrote this article myself, and it expresses my own opinions. I am not receiving compensation for it (other than from Seeking Alpha). I have no business relationship with any company whose stock is mentioned in this article.