Everyone knows a good investment opportunity when they see it, right? Well, not so fast. Investments can be complicated, especially speculative investments. Occasionally, when trouble visits a company, the market tends to overreact and creates value. Bazaarvoice (NASDAQ:BV) is one of those rare and complicated opportunities, attractively valued and too cheap to ignore.
Bazaarvoice has a prestigious and highly sought after customer base. Many companies like General Electric (NYSE:GE), Whirlpool (NYSE:WHR), HTC, Xerox (NYSE:XRX), Nation Wide, Best Buy (NYSE:BBY), Lowe's (NYSE:LOW), and Johnson & Johnson (NYSE:JNJ) (see full client list here), all rely on Bazaarvoice. Their proprietary software empowers clients with powerful customer experience feedback. Bazaarvoice employs a sophisticated custom data mining process of algorithms, key words, filtering, ratings, rankings, etc. and utilizes the data towards maximizing a company's effectiveness and profitability. They believe their software and services are the best in the world.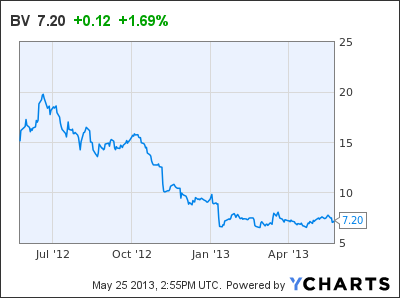 Last quarter, Q3, Bazaarvoice reported quarterly revenue of $40.7 million, $105 million in cash and no debt. EPS is still negative, but has handsomely beat analysts' consensus over the past four quarters by an average $0.05 per quarter. Since 2010, Bazaarvoice's annual revenue has been growing at a steady clip, about 70% YOY. Revenue growth is highly impressive, but it is not reflected in the share price. Shares have continued downward 65% from their 52-week high, bottoming at $6.36 and bouncing back to $8.00. In mid July 2012, shares were trading between $16 and $17, just below the 52-week high of $20.20. The current share price, $7.20, reflects the role fear plays in underpricing value. This "fear" flows from the following antitrust litigation.
THE LEGAL CHALLENGE
On June 12, 2012, Bazaarvoice acquired PowerReviews for $168.2 million. Approximately five weeks after the merger, July 18, 2012, the U.S. Department of Justice (hereinafter referred to as "DOJ") announced it was launching an antitrust investigation to challenge the merger of Bazaarvoice and PowerReviews. On January 10, 2013, after a protracted six-month long investigation, the DOJ filed what can only be characterized as an enigmatic civil complaint against Bazaarvoice, alleging antitrust violations over its acquisition of Power Reviews. The DOJ is asking the court to order Bazaarvoice:
to create a separate, distinct, and viable competing business that can replace PowerReviews.
It should be noted that PowerReviews' annual gross revenue was $12 million when acquired by Bazaarvoice.
The DOJ views Bazaarvoice's merger as a monopoly that will virtually eliminate any viable competition in the social reviews and ratings market. I believe the DOJ is grossly misinformed about the social media markets and customer engagement software, and I am not alone in my opinion. Attorney David Balto, former Federal Trade Commission Policy Director, has decades of experience in antitrust law and believes the DOJ's case will fail, calling it "misguided." Balto's article explains in no uncertain terms exactly why the DOJ's case may fall apart. Balto concludes:
Antitrust enforcement in high tech markets poses special challenges -- to recognize the dynamic fast paced nature of competition, the fluidity of product markets, and the opportunities for new forms of rivalry. Unfortunately, the complaint in the Bazaarvoice case takes a static approach hinged to a few outdated documents. Without more it is unlikely a court will take the draconian step of unwinding this merger.
Bazaarvoice also weighed in on the DOJ's misguided action, accusing the DOJ of painting "an inaccurate picture of the marketplace." Furthermore, the company said they "expect to be fully vindicated."
SHARE PRICE RECOVERY
There is a strong probability that Bazaarvoice will succeed in its defense and cause the share price to substantially recover. Currently, the share price is undervalued at $7.20 and should be trading above $10.00. Technicals indicate that a quick pop to $9.00 is very possible on earnings news.
The table below indicates that the short interest continues to shrink as we approach the June 4, 2013 Q4 earnings report - a positive sign. The public float is thin at 32.19 million shares and a short squeeze may be imminent. Traders may not be able to resist the short seller's stop-loss orders hiding just above $8.00. This week should prove to be very interesting.

BAZAARVOICE AND THE COMPTETION
Far from being a monopoly, Bazaarvoice faces a world of hungry competitors. Google (NASDAQ:GOOG), Yahoo (YHOO), Facebook (NASDAQ:FB), Pinterest, and many other social media companies provide strong competition utilizing their own proprietary reviews and ratings software. Thousands of companies and millions of consumers are engaged in this market.
Yelp (NYSE:YELP) and Angie's List (NASDAQ:ANGI) are two of the most powerful social reviews and ratings companies and often the consumers' first line of defense against getting ripped off. However, Yelp is free service that encourages business to open accounts and engage the community (defend ugly reviews). Angie charges a membership fee to consumers for what they call "Reviews You Can Trust". Angie is focused on the service industry while Yelp allows you to review and rate just about anything.
Companies like Clarabridge service Dell (NASDAQ:DELL), PetSmart (NASDAQ:PETM), Marriot (NYSE:MAR), Wendy (NYSE:WEN) and a host of other companies. Look at their mission statement:
At Clarabridge, our mission is to enable organizations to intelligently collect, analyze, operationalize, and measure the voice of the customer. We call this Intelligent Customer Experience, or ICE.
Confirmit, offers a broad array of services that mirror Bazaarvoice.
Confirmit Voices" is a customer engagement model that gives you the power to listen to the voice of the customer, integrate it with existing data to generate powerful insight, and take action that will deliver real business change.
For a list of more competitors click here.
The commonality running through all these companies is their core focus in the social reviews, ratings and engagement markets. Each has a unique approach in how they collect, analyze, interpret, filter, share, and monetize the data feedback from consumers. Bazaarvoice has carved out a small niche in this vast global market and believes they are the best of the best.
CONCLUSION
The question that keeps going through my mind is this. At what price would Bazaarvoice be trading today if the DOJ never filed the antitrust complaint? My feeling is somewhere north of $20 per share.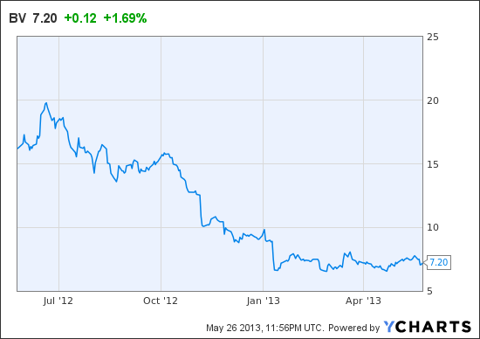 Disclosure: I am long BV. I wrote this article myself, and it expresses my own opinions. I am not receiving compensation for it (other than from Seeking Alpha). I have no business relationship with any company whose stock is mentioned in this article.