Salesforce.com (NYSE:CRM) has been playing an interesting accounting game for the past 2 years. Despite the non-stop exuberance on the company's conference calls, Salesforce has been struggling by most traditional financial metrics.
1. The Numbers
This chart from Google Finance pretty accurately depicts the Salesforce short thesis.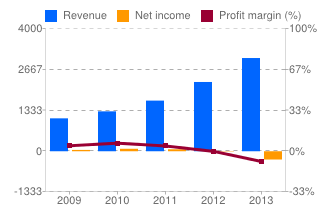 Although revenue has been growing at a healthy pace since 2009, profits and margins have been diving.
Here is a table outlining Salesforce's key profitability metrics from FY10-FY14.
| | | | | | |
| --- | --- | --- | --- | --- | --- |
| Year | FY10 | FY11 | FY12 | FY13 | FY14* |
| Revenue $M | 1,306 | 1,657 | 2,267 | 3,050 | 3,875 |
| YoY Revenue Growth | 32.6% | 26.9% | 36.8% | 34.5% | 27% |
| Gross Margin | 80.2% | 80.5% | 78.4% | 77.6% | 76.6% |
| Operating Margin (Loss) | 8.8% | 5.9% | (1.5%) | (3.6%) | (4.6%) |
| Operating Income $M (Loss) | 115.27 | 97.5 | (35.09) | (110.71) | (177.6) |
*Projected numbers based on management's guidance & annualized Q1 numbers for GM.
2. Q1 FY14: Operating Loss Doubles
After 2 full years of operating losses, investors must be eagerly awaiting some sort of reversal in profitability. Salesforce stock has climbed over 400% since the beginning of 2009, even with declining profitability. Apparently revenue growth north of 30% has sustained the share price, which has clearly been fueled by a consistent P/S multiple of around 8-10.
Salesforce's rapidly declining operating income is showing no signs of slowing down. Q1 FY13 was a particularly brutal quarter in which the company lost $22.25M (operating income). Besides Q3, that was the biggest operating loss Salesforce reported in FY13.
Q1 FY14 confirmed that Salesforce's losses will continue to expand for a 3rd year in a row. Salesforce reported an operating loss of $44.54M in the quarter. In other words, Salesforce is losing twice as much money as it was this time a year ago.
3. Consistently Missing GAAP Profitability Projections
No one seems to notice or care that Salesforce has been consistently, and horrifically, botching its own GAAP earnings estimates.
| | | | | |
| --- | --- | --- | --- | --- |
| Year | FY11* | FY12* | FY13* | FY14 |
| Initial GAAP EPS Guidance ($) (Loss) | 0.145-0.15 | 0.02-0.0275 | (0.1375-0.1275) | (0.305-0.295) |
| Final GAAP EPS (Loss) ($) | 0.1175 | (0.025) | (0.48) | ?? |
| EPS Surprise/(Miss) ($) | (0.03) | (0.04875) | (0.3475) | ?? |
*GAAP EPS numbers/guidance are divided by 4 to adjust for Salesforce's recent stock split.
Salesforce has reported lower GAAP earnings for the past 3 years. Not only are Salesforce's GAAP earnings declining (and negative since FY12) but it's been at an accelerating pace. In FY13 Salesforce guided to lose between $0.55-$0.51 per share, and ended up reporting a loss of $1.92 (unadjusted for the recent split). For some reason Salesforce guided to lose less in FY14, and report a GAAP loss of $1.22-$1.18 (still unadjusted). Q1 guidance was for a GAAP loss of $0.44-$0.42 per share. Guess what? Salesforce missed those numbers and reported a GAAP loss of $0.48 per share.
Salesforce has already missed Q1 EPS, but luckily provided very safe guidance for Q2. Salesforce has guided to lose between $0.06-$0.07 (or $0.24-$0.28 adjusted) for the quarter, which would be more than triple the GAAP loss of $0.07 it reported in Q2 FY13.
Let's recap. Salesforce missed GAAP guidance in Q1 and doubled its losses from the prior year. For Q2 Salesforce is guiding to triple its losses from the previous year on a GAAP basis. Either management has finally come to its senses about GAAP guidance and is showing real projections for Q2, or the company is sandbagging another, much bigger loss than we are expecting. We'll just have to wait and see.
4. Bad Acquisitions and Mounting Goodwill
Salesforce's recent growth strategy has been acquisitions. This by itself isn't necessarily a bad thing, but it has become a weak point for Salesforce.
It's no secret cloud computing companies are fetching sky-high valuations across the public and private markets. Who's paying these nosebleed prices for companies with negligible revenue and exponentially growing customers/losses? Salesforce.
Let's take the recent purchase of Buddy Media as a recent example. Salesforce bought the company for about $730M, at 12-15X sales. Buddy Media isn't profitable, and Salesforce guided that the acquisition would add between $20-$25M in revenue in FY13.
So, how much additional revenue did Buddy Media end up adding to Salesforce's topline in FY13? $19.646M. Salesforce also recorded over $700M in Goodwill and Intangibles for the purchase. Does this mean that $700M listed as an asset on Salesforce's balance sheet is already impaired?
Any hypergrowth tech company missing revenue estimates by 10% (from midpoint of guidance) in the first 6 months is in trouble. What does this say about Salesforce's ability to make smart acquisitions? This is of particular importance considering the company just raised $1B in debt to fund even more purchases like the one of Buddy Media.
5. Dilution and Insider Selling
Saleforce has persistently been diluting its stock for the past 5 years. Even after adjusting for the recent split, Salesforce's OS (Outstanding Shares) has quintupled since 2003. This dilution has actually been accelerating and is showing no signs of stopping in FY14 or beyond.
This dilution is mainly a byproduct of Salesforce's non-GAAP accounting game, which allows it to pay employees in stock. This compensation isn't an expense according to Salesforce (I have no idea why). This is the main reason for such a huge divergence between Salesforce's GAAP and non-GAAP earnings. Either way, as a result of paying employees in stock, current shareholders are being continually diluted.
Insiders have been selling relentlessly for the past several years. In May 2013 insiders have already sold over 55,000 shares, amounting to around $2.5M. At this point Salesforce has become notorious for the amount of insider selling that goes on. In retrospect, after a major share price correction, the market may finally catch on to what this insinuates.
Conclusion
Each quarter that passes where Salesforce increases its losses year over year, dilutes its shareholders and insiders sell, is a confirmation of the Salesforce bear case. Q1 FY14 was a strong indicator that we have at least another year of these headwinds.
For the first time in many quarters, the stock actually fell after reporting earnings. Could this be the start of a much overdue reversal for Salesforce?
Disclosure: I have no positions in any stocks mentioned, and no plans to initiate any positions within the next 72 hours. I wrote this article myself, and it expresses my own opinions. I am not receiving compensation for it (other than from Seeking Alpha). I have no business relationship with any company whose stock is mentioned in this article.