Lumber Liquidators (NYSE:LL) shares have soared over 65% this year on the back of the housing recovery and renewed investor optimism. Lumber Liquidators is the largest specialty retailer of hardwood flooring in the U.S. and offers its consumers a broad selection of high-quality, premium hardwood flooring products at everyday low prices. The below chart shows the current price to earnings multiple overlaid over the current market price for the last few years.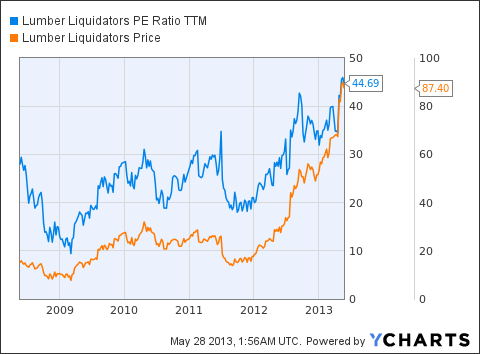 Since 2012, we have seen shares of Lumber Liquidators rise as a result of a drastically expanding price to earnings multiple, not increasing earnings. The industry stands to do well as interest rates stay low and real estate investors refurbish the market for rental. Flooring is one of the most significant factors and cosmetic value determinants of a property which bodes well for the company. Yes, the multiple does deserve to expand as the growth prospects for the housing industry look strong but at these levels investors should be careful. Both shares and the price to earnings multiple sit at all time highs after rising drastically this year. If we begin to see any hints of rising interest rates, the demand for investment properties will fall as the spread between rental yields and interest rates yields tightens. As a result, the investor demand for new flooring will fall.
Conclusion
Should we begin to see any signs of a slowing housing recovery, I am watching companies with above industry multiples, like Lumber Liquidators, to underperform the entire sector. This underperformance will result largely from the multiple contraction which will take place as future expectations decline.
YCharts provided the above chart
Disclosure: I have no positions in any stocks mentioned, and no plans to initiate any positions within the next 72 hours. I wrote this article myself, and it expresses my own opinions. I am not receiving compensation for it (other than from Seeking Alpha). I have no business relationship with any company whose stock is mentioned in this article.