Every once in a while, a stock breaks the barriers and totally changes its category. It moves from small cap to mid-cap to large cap and so on. In that process it increases its market cap by many folds perhaps even 20 times. Research in Motion (RIMM) did that from June 06 to Oct 07 and First Solar (NASDAQ:FSLR) did the same from Jan 07 to Jan 08. For such a sustained stock run to happen, it has to be based on a fundamental change in company itself or in the company's perception.
Recently, Palm (PALM) is showing a similar trend. It has grown almost 10 fold over the last 6 months with its current market cap at ~2.2 billion. The question remains "Is this for real?" and "can it continue?" Can Palm break out from its current levels again and reach a market cap of $10 billion? Palm has come out with its new smartphone (Palm Pre) which is considered a very competitive offering against "iPhone from Apple (NASDAQ:AAPL)" and "Blackberry from RIMM". So far, reviews on Pre have been great. Reviewers are bullish on Palm's new WebOS, true multitasking capabilities and of course cordless electromagnetic charging capability for Pre. Here is a link to a CNET smartphone comparison.
Other companies planning new smartphone entries are Garmin's (NASDAQ:GRMN) Nuvifone G60, T-Mobile's Google (NASDAQ:GOOG) Android-based myTouch G3 and Dell (DELL). It's not clear how Dell is going to do it though resell, acquisition or joint development. The new entrants lack years of experience and market understanding that these three main players have and they may not dramatically alter current market share scenario.
Palm has sold almost 500,000 Pre units in the first month of its launch. Assuming Pre continues to follow this trend on average throughout this year, Palm will sell almost 6 million Pre units in its first year. Based on smartphone market growth projections at ~20% for the next 3 years that we see from multiple sources, it would sell 7.2 million units next year and 8.6 million units the year after. Although these may sound like small numbers compared with iPhone 3G S's "million unit" performance just over a weekend, this would certainly bear a tremendous impact on Palm's financials. Palm is currently selling just 3 million units per year in total for the total revenue of $1 B on average for the last two years on its existing phones. Palm is going to use subscription accounting (it's going to provide free of cost app and software upgrades to end users) for revenue and cost recognition on a useful life assumption of 2 years for Pre's product line and hence initial revenue impact may be less prominent in the financial results in the first two years until we get to the full 24 months rolling revenue impact from unit sales each month.
Palm Pre, as a premium product, should be able to generate higher per unit revenue than the $300 per unit we see on existing Palm products. Assuming conservative revenue impact of $200 per year per Pre unit (total $400 for the unit with active life of 24 months for subscription accounting) for OS license, apps and hardware combined and 3.25M effective full year revenue equivalent units sale estimate, the total revenue impact of Pre should be $650 million in the first year. The number of effective units in the second year would be around 9.9M with total revenue impact to Palm of $1.98 billion. Even assuming substantial cannibalization of Palm's other phone sales of 60 to 70% by year two, this would result in more than 50% growth for a couple of years to come.
All this analysis is based on the assumption that the total smartphone market share picture does not changemuch. iPhone and Blackberry maintain their supremacy and overall market dynamics remain the same with Nokia smartphones and existing mobile phones losing market share to smartphones. However if Pre alters that equation, which it should based on its strong OS and multitasking abilities, all that is left for Palm to do is execute properly.
Here is PALM's recent stock price performance. It looks like lot of Pre's impact may have already been built into the stock price.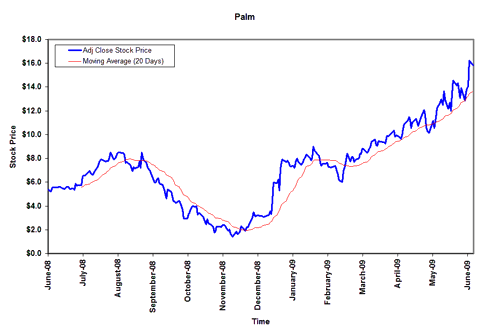 As we can see, Palm is tracking above its 20 days moving average consistently over the last 6 months, with one or two minor exceptions. If one can get Palm close to its 20 day moving average,e it should be a good price to enter the stock. We will also have to see whether Sprint (NYSE:S) can do the same thing with Pre that AT&T (NYSE:T) did with the iPhone and Verizon did with Blackberry. If Sprint can only support Pre in reaching its potential, there is no reason for Palm to not realize revenue numbers we just talked about above. And if Palm does that, there is no reason it should not triple or quadruple its stock price from the current levels.
Disclosure: Long PALM, no position in Sprint.