As someone who covers a lot of short ideas on this site, one of the most important items I follow is short interest data. One must always be aware of the short interest in a stock. A large short base could spark a short squeeze on good news, while low short interest could spark a huge drop on bad news. Every couple of weeks, we get an update from Nasdaq on short interest data, and I report on what I am seeing. Today, I'm here to discuss the middle of May numbers. Today, I'll discuss five names that short sellers are aggressively going after, whether just recently or over the longer term.
Amazon (NASDAQ:AMZN):
After recently hitting a low point in short interest, Amazon saw a sharp rise in short interest during the first few weeks of May. Almost 940,000 additional shares are now short, a rise of 15%. Short interest in Amazon still represents a small portion of the float, just 2%, but this is a sharp rise in short interest. Will it continue going forward?
That may depend on how you view Amazon. I've been telling investors for some time now that Amazon should be valued on a price to sales basis. This is because Amazon continually tries to increase sales, which has cost them a lot on the bottom line lately. The company has even lost money in some recent quarters, and Amazon usually disappoints when it comes to guidance. The price to sales argument could explain why Amazon is less than $20 from its 52-week daily trading high, despite a stock trading at 200 times this year's expected earnings. Those earnings forecasts continue to be cut, as Amazon invests more in itself. Their recent Prime Instant Video milestone is one example of that. As long as Amazon's revenues continue to grow as a somewhat decent pace, expect short sellers to be few and far between.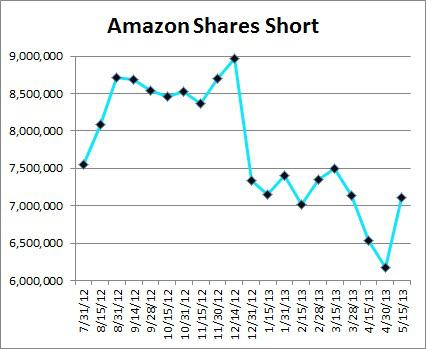 BlackBerry (BBRY):
When it comes to short interest rises, I feel like BlackBerry makes the list every single time. For the most part, it really has. Short interest in the name hit another new high at the latest update. Just look at some of the "milestones" we've passed in the last year.
June 2012 - 85 million shares short
November 2012 - 104 million shares short
End of 2012 - 137 million shares short
March 2013 - 155 million shares short
Current update - 170 million shares short
For those that need a little math exercise, short interest has doubled since we passed 85 million shares short in June (and again in September after a brief pullback). In fact, BlackBerry short interest has risen from 63.5 million to 170.6 million in a year. That's a tremendous rise, and it seems like it will keep going.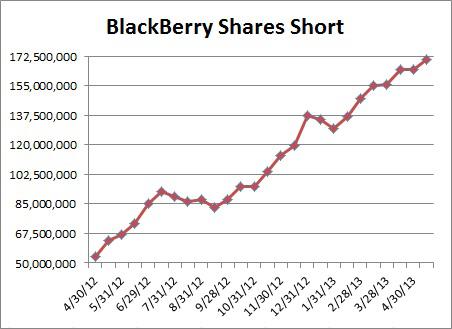 We are roughly one month from BlackBerry reporting fiscal Q1 earnings, and this company has something to prove this quarter. It's been four months now since the launch of the BlackBerry 10 phones, and it is time for the company to generate some sales. This could be the best revenue quarter in a year and a half, and maybe that will get the shorts to start covering. More than 35% of the float is now short, meaning a squeeze could be massive on good news. Will this be the quarter where it happens? We'll see, but we'll still get two more short interest updates before BlackBerry does report. Does that mean a possible run at 200 million shares short? Only time will tell.
VMware (NYSE:VMW):
VMware has now seen four straight increases in short interest, which have really added up. In just two months, short interest has risen by nearly 3.5 million shares, a rise of 53.22%. The number of shares short is now back above 10 million for the first time since the end of January. We've now had three straight updates where the increase was about a million each time.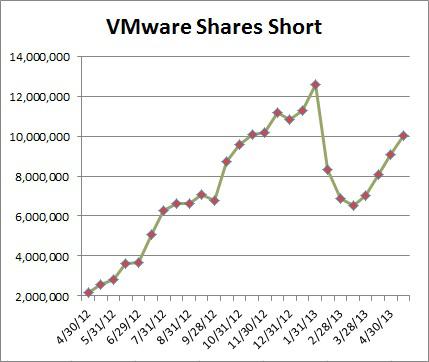 Like BlackBerry, VMware was on my list of names with something to prove this quarter. When I wrote that article, VMware was the worst performing stock over the past 12 months amongst all names with a $30 billion market cap or more. That's saying something. This company has issued disappointing guidance two quarters in a row, which has knocked shares down again and again. Last Friday, shares were less than one dollar from the 52-week low. With shares dropping into the low $70s again, I wouldn't be surprised to see short interest decline at the next update. The short case isn't as good at $72 as it was at $78.
Google (NASDAQ:GOOG):
Google's short interest has popped again over the past month, which coincides with the rally above $900 a share. Over the past month, the number of shares short has risen from 3.56 million to 4.84 million. As we approach 5 million shares short, short interest is approaching the higher end of the yearly range. That makes sense, given the stock's rally to new highs.
Recently, we did see about a $50 decline in shares. With that kind of decline, you might think something is wrong with Google. This is why I declared that Google should split its stock. If Google split 10 for 1, a decline from $92 to $87 just wouldn't seem as large as one from $920 to $870. Google's growth is slowing down, as we will now have Motorola comparable quarters. With a combination of a $40 fall (after Tuesday's gain) and short interest rising, you might see some worries start to build with Google. They could easily be overreactions, and I'm sure there is a higher percentage of those who believe $1,000 is next, more so than the percentage that thinks $800 is next.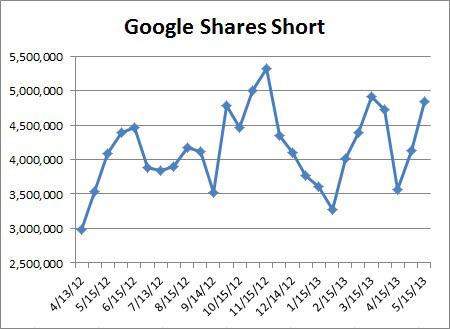 Priceline (PCLN):
Priceline seems like another case of short interest rising as the stock has exploded. Priceline shares had gone from $680 to nearly $850, at which point I almost recommended shorting the stock. I probably should have, as we have now lost $43, or about 5%. Priceline shares had jumped thanks to some positive comments following its Q1 earnings report.
On the short interest side, Priceline short interest rose by more than 160,000 shares since the latest update. A rise of 6% doesn't seem like much, but the longer-term trend is more important. Since a short interest low was hit three months ago, Priceline short interest is up almost 28%. The rise in the stock probably has something to do with that. Priceline short interest, as you can see in the chart below, is now at a six month high.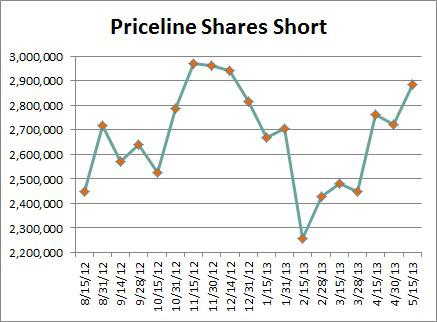 Final Thoughts:
All five of these names have seen recent rises in short interest. Amazon, Priceline, and Google have seen short-term pops that could reverse at the next update. VMware short interest has risen for two months now as shorts pile back into the name. BlackBerry short interest has continued its march higher, setting another high. I'll be back in a couple of weeks with the next round of short interest data. Will any of these names make the list for sharp rises or falls? You'll just have to wait and see.
Disclosure: I have no positions in any stocks mentioned, and no plans to initiate any positions within the next 72 hours. I wrote this article myself, and it expresses my own opinions. I am not receiving compensation for it (other than from Seeking Alpha). I have no business relationship with any company whose stock is mentioned in this article.
Additional disclosure: Investors are always reminded that before making any investment, you should do your own proper due diligence on any name directly or indirectly mentioned in this article. Investors should also consider seeking advice from a broker or financial adviser before making any investment decisions. Any material in this article should be considered general information, and not relied on as a formal investment recommendation.