Taking a page out of the oncology sector and its approach to targeting specific cancers with new biologics, Synthetic Biologics (NYSE: SYN) is developing treatments for infectious diseases in much the same way, with a number of milestones on the horizon for 2014.
"This approach, using biologics and monoclonal antibodies, has not been taken in the infectious disease space," CEO Jeffrey Riley says in an interview with BioTuesdays.com. "We are taking a sniper-like approach to go after each bug."
Mr. Riley is part of a new management team that restructured Synthetic in mid-2012. "When we came into the company and began looking for commercial programs, infectious diseases kept coming up, because they are a large unmet medical need," he recalls. "The interesting thing about infectious diseases is that if we can kill them in an animal model, we generally can kill them in a human model."
Last November, the company purchased, from Prev AbR, a clinical-stage infectious disease program for Clostridium difficile (C. diff), the leading cause of hospital-acquired infections secondary to treatment with antibiotics. The lead drug candidate in the program is SYN-004, a second-generation enzyme and a potential preventative treatment for C. diff, to be co-administered with intravenous beta-lactam antibiotics.
"We believe SYN-004 is a gem in the rough and is a very de-risked product, based on results of prior studies of the first-generation product candidate. And we expect it to drive our valuation down the road," Mr. Riley contends.
Phase 1 and 2 studies in Europe of a first-generation version of SYN-004 involving 200 subjects demonstrated safety, tolerability and preservation of the normal GI microflora, when co-administered with certain penicillins. Synthetic Biologics intends to broaden the activity of SYN-004 to include most cephalosporins in order to protect the healthy microflora in the GI tract from an overgrowth of C. diff.
Mr. Riley explains that when IV antibiotics leave the body, they can wipe out good bacteria in the gut and bad bacteria starts to multiply; that's the problem. "Our drug is an oral enzyme, not an antibiotic. It breaks down the beta-lactam antibiotics before they can harm healthy microflora. So, we have a preventative approach to C. diff."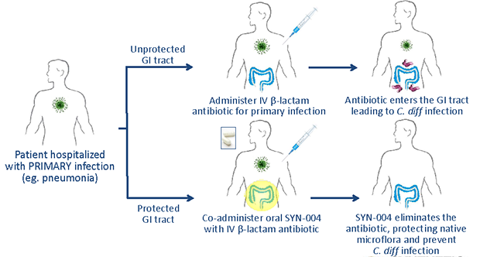 SYN-004: Co-Administered with Antibiotics
There are no approved products for the prevention of C. diff infections, which can cause diarrhea and, in the most serious cases, pseudomembranous colitis and possibly death. C. diff infections resulted in more than 337,000 hospitalizations and 30,000 deaths in the U.S. during 2009. And C. diff infections have surpassed methicillin-resistant staphylococcus aureus (MRSA) as the most frequent infection acquired in the hospital.
Mr. Riley points out that in 2012, over 13 million patients were treated with IV beta-lactam antibiotics, making them eligible for possible treatment with SYN-004. Patients who develop C. diff can be hospitalized for up to an additional week, costing the healthcare system some $8.2-billion a year.
"From a market perspective, our hope is that any patient hospitalized and on IV beta-lactam antibiotics will be given our drug to prevent C. diff from occurring," he adds.
He says the company is working hard to accelerate its C. diff program, with plans to conduct bridging studies and initiate cGMP manufacturing this year, and file an IND application in 2014 to begin human testing.
In addition to its business development strategy to build a portfolio of biologics for the prevention and treatment of serious infectious diseases, the company has a collaboration with Intrexon, a closely-held biotech company led by famed biotech entrepreneur, Randal Kirk, whose affiliates own about 22% of Synthetic.
Acting as an R&D engine for Synthetic, Mr. Riley said Intrexon has developed "state-of-the-art technologies and processes that have tremendous potential for the production of a broad spectrum of fully human antibodies and gives us access to a potential paradigm-changing platform."
In a report initiating coverage of Synthetic in February, Keith Markey, an analyst with Griffin Securities, said that with the emergence of multidrug resistant bacteria, "monoclonal antibodies offer an attractive means to destroying the microbes and rapidly neutralize their toxins."
The collaboration with Intrexon is developing antibody-based therapeutics for pertussis or whooping cough infections and acinetobacter infections.
There is no approved therapeutic for pertussis, and treatment with antibiotics only eliminate the bacteria from the respiratory tract. While there are some 50 million cases of whooping cough each year and 300,000 deaths, primarily in the developing world, the annual incidence in the U.S. is about 41,000 cases, which is approaching a 60-year high.
Mr. Riley says Synthetic is developing its SYN-005 to neutralize the pertussis toxin and reverse the course of the disease. It plans to initiate a small animal study in the second half this year, leading to an IND-enabling study in large animals before the end of 2013.
Acinetobacter is a species of gram-negative bacteria, with an immense ability to acquire antibiotic resistance, especially in hospitals, resulting in high mortality rates from pneumonia, endocarditis, skin and soft tissue infections, urinary tract infections and meningitis. The pathogen can survive on dry surfaces for more than one month as well as in soil, where it has caused trauma-related infections in wounded military personnel and victims of natural disasters.
Mr. Riley notes that the acinetobacter program is currently at the discovery stage and is two-to-three years away from starting clinical studies. "However, we believe this is a multibillion-dollar market opportunity and expect the program will attract scientific and market attention."
Outside of infectious diseases, Synthetic's legacy pipeline consists of an oral estriol called Trimesta, which is in a Phase 2 clinical trial for relapsing-remitting multiple sclerosis. Estriol is a hormone produced by the placenta, largely during the third trimester, to protect the fetus. Estriol has a 40-year safety track record in Europe and Asia.
The MS trial is fully funded through grants exceeding $8-million from the National Multiple Sclerosis Society, in partnership with the society's Southern California chapter, and the National Institutes of Health.
The trial is comparing relapse rates over two years of oral Trimesta versus placebo, an accepted FDA-approvable endpoint in MS, with all patients receiving Teva Pharmaceutical's Copaxone as the standard of care. Enrollment of 164 female patients at 15 sites in the U.S. has been completed and top-line results are expected in the first half of 2014.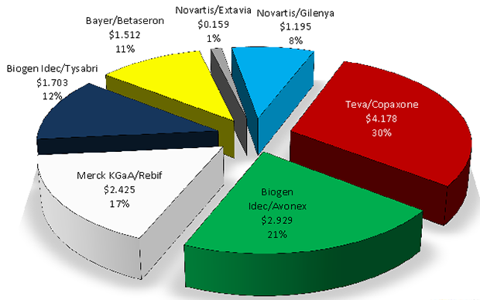 MS Market Opportunity: $14.1 Billion Current Estimated Worldwide Sales
In April, Synthetic strengthened its patent portfolio with a U.S. award that includes claims to the use of Trimesta in combination with Copaxone, the No. 1 selling drug for multiple sclerosis with about $4-billion in annual sales. Copaxone, however, is expected to face generic competition in 2014 as certain patents begin to expire.
Mr. Riley says Synthetic plans to monetize Trimesta, noting that a deal could follow proof-of-concept data next year or could be structured as an option agreement ahead of the data. "We believe this is a high-value asset with a current development plan that anticipates Trimesta being an add-on to existing MS therapies, so it's not making the size of the market smaller."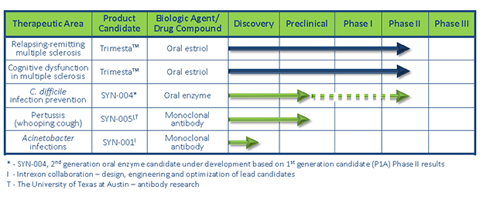 SYN Pipeline
Disclosure: I have no positions in any stocks mentioned, and no plans to initiate any positions within the next 72 hours. I wrote this article myself, and it expresses my own opinions. I am not receiving compensation for it. I have no business relationship with any company whose stock is mentioned in this article.