It feels like the 1990s all over again every time I look at the 3D printing sector. New highs every day. Outrageous valuations. Talk of revolutionary change. It's the dotcom bubble all over again. The key for investors is when is it going to end? We all know it ends and it never ends well, unless you're short.
The U.S. Players
In the U.S. 3D printing is lead by 3D Systems (NYSE:DDD), Stratasys (NASDAQ:SSYS) and the ExOne Company (NASDAQ:XONE).
| | | | |
| --- | --- | --- | --- |
| | 3D Systems | Stratasys | ExOne |
| Market Cap | $4.31B | $3.29B | $597.64M |
| P/E | 104.27 | N/A | N/A |
| PEG Ratio | 3.17 | 1.48 | N/A |
| Revenues | $377.79M | $267.49M | $33.87M |
| EBITDA | $93.41M | $52.98M | ($6.43M) |
| Net Income | $38.64M | ($11.57M) | ($12.14M) |
| Qtrly Rev Growth | 31.00% | 116.20% | 191.50% |
| Total Cash | $110.54M | $140.88M | $71.11M |
| Total Debt | $50.66M | $0.00 | $5.03M |
| 52-week change | 118.87% | 74.89% | N/A |
| Float | 86.29M | 31.12M | 7.36M |
| Shares Short | 26.54M | 4.09M | 2.22M |
Source: Yahoo! Finance. Note: ExOne went public February of this year.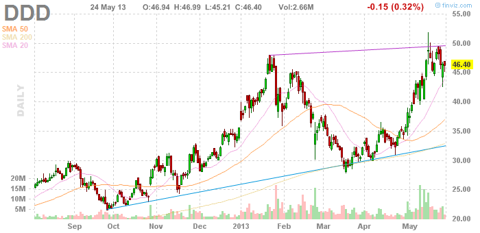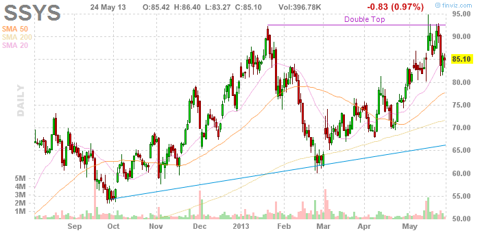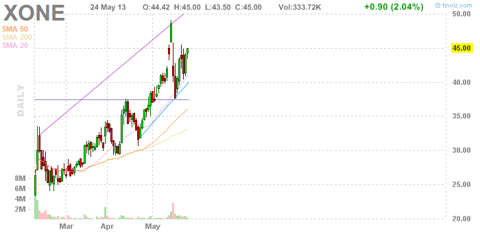 In looking at the fundamental picture, there isn't much to get excited about. It's safe to say no one is buying these companies for their valuations. The technical picture is showing a double top for both 3D Systems and Stratasys. With the large short interest in these companies, part of the run-up in shares is not only hype, but a large amount of short covering pushing prices higher.
In speculative situations like 3D printing, I always find it helpful to understand the risks involved. For 3D Systems, the biggest risk I see is that the company's growth is from an M&A perspective, and not from their "revolutionary" technology. From the company's 10-K:
We completed nine acquisitions in 2012. We also completed the COWEB acquisition in 2013 and signed a definitive agreement to acquire Geomagic, which we intend to close in the first quarter of 2013, and we intend to continue to evaluate acquisition opportunities in the future in an effort to expand our business and enhance stockholder value.
The 10-K also emphasized the company's concerns over competition.
We face significant competition in many aspects of our business, which could cause our revenue and gross profit margins to decline. Competition could also cause us to reduce sales prices or to incur additional marketing or production costs, which could result in decreased revenue, increased costs and reduced margins. We also expect that future competition may arise from the development of allied or related techniques for equipment and print materials that are not encompassed by our patents, from the issuance of patents to other companies that may inhibit our ability to develop certain products, and from improvements to existing print materials and equipment technologies.
In the 10-K for Stratasys they noted their worry over patent protection and enforcement.
Our success and future revenue growth will depend, in part, on our ability to protect our intellectual property. We rely primarily on patents, trademarks and trade secrets, as well as non-disclosure agreements and other methods, to protect our proprietary technologies and processes globally. Despite our efforts to protect our proprietary technologies and processes, it is possible that competitors or other unauthorized third parties may obtain, copy, use or disclose our technologies and processes. We cannot assure you that any of our existing or future patents will not be challenged, invalidated or circumvented.

As such, any rights granted under these patents may not provide us with meaningful protection. We may not be able to obtain foreign patents or pending applications corresponding to our U.S. patent applications. Even if foreign patents are granted, effective enforcement in foreign countries may not be available. If our patents and other intellectual property do not adequately protect our technology, our competitors may be able to offer products similar to ours. Our competitors may also be able to develop similar technology independently or design around our patents. Any of the foregoing events would lead to increased competition and lower revenue or gross margins, which would adversely affect our net income.
The Rise Of The Chinese 3D Printing Industry
As much as the talk is in the U.S. about 3D printing creating a manufacturing renaissance, Chinese companies are actively developing their own 3D printing industry. In last month's Economist, they highlighted China's growing 3D printing industry. For those who have never been to China or do not understand the Chinese way of thinking, their favorite pastime is to take American products, take them apart, and build them back up. That's how they get their knowhow and also work to improve upon what they have learned.
3D printing in China was first introduced in the late 1980s by mechanical engineering professor Yan Yongnian at Tsinghua University. Professor Yan actually bought the technology from Charles Hull, who was one of the first in the U.S. to develop the technology behind 3D printing.
China now has three major research bases for 3D printing technology. They include Tsinghua, Xi'an Jiaotong University, and Huazhong University of Science and Technology. Moreover, each university has started a business geared toward profiting from 3D printing.
Where China lags behind its U.S. counterparts is in the materials for 3D printing. To combat this problem, the Ministry of Industry and Information Technology has been laying the groundwork for a long-term, national strategy for developing 3D printing technology. The ministry is preparing to draft relevant standards and regulations. It also plans to introduce tax incentives to encourage development of the new technology.
Beijing Longyuan Automated Fabrication System
This Chinese company is highlighted by the Economist for its prototyping business. Its printers use plastic, wax and foundry sand to create moulds. They have the ability to print and cast all the parts needed for a car engine in under two weeks. They also sell the laser-sintering printers that do this for up to $250,000. Some of their printers can also sinter metals directly.
Beijing Tiertime Technology
Tiertime is the largest company in China producing printers that can extrude filaments of molten plastic to create toys, plastic cases, car fittings and other objects. Their printers can sit on designer's desks and not on factory floors like the printers from Beijing Longyuan Automated Fabrication System. Their printers are helping the booming small manufacturing sector in China.
Assessment
The Chinese competitors are doing the exact same thing the 3D printing companies are doing in the U.S. They are developing the technology and knowhow to fuel China's rise as a manufacturing powerhouse in the 21st century. The future is bright for 3D printing, much like it was in the 1990s for the internet. Unfortunately, many of the first movers in the space don't last. Remember Prodigy? Earthlink? A business that needs to grow via acquisition and not internal developments is a recipe for failure.
There is nothing special about the technology of 3D Systems, Stratasys, or ExOne that another company can't develop. It's only a matter of time before the bubble bursts and the blood is in the street, unless you're short. Many shorts got burned early in the dotcom boom, but the ones that had staying power, made enormous profits. I see the same happening in the 3D printing bubble. It's only a matter of time before the bubble in these 3 stocks bursts.
Disclosure: I have no positions in any stocks mentioned, and no plans to initiate any positions within the next 72 hours. I wrote this article myself, and it expresses my own opinions. I am not receiving compensation for it (other than from Seeking Alpha). I have no business relationship with any company whose stock is mentioned in this article.