We appreciated the comments from Eric Savitz's June 30 Seeking Alpha article in which he pointed out that Cowen analyst Jim Friedland raised his rating on Amazon (NASDAQ:AMZN) and referred to Amazon as a "next-generation Wal-Mart."
Friedland noted that Amazon has 9.5 percent of the U.S. book market and thinks it is well positioned to gain share in other categories. He noted that the company is only 0.3 percent of U.S. retail sales, versus 7.7 percent for Wal-Mart (NYSE:WMT). "Amazon is a next-generation Wal-Mart," he contends. "The company's focus on lower prices and a superior shopping experience versus online and offline competitors will result in substantial share gains over time."
We also believe that Amazon is a next generation Wal-Mart, and it is interesting to see which the "market" is backing and believes to be the up and coming winner.
Comparison of Approximate Share Price Returns as of June 30:


Amazon vs. Wal-Mart Over the Past Four Years (source: BigCharts.com):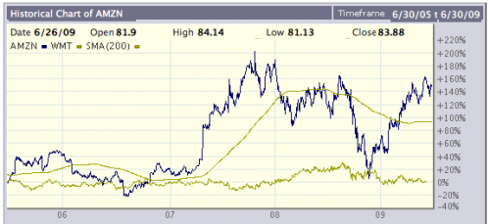 Our money is on Amazon....
Disclosure: No positions currently, but AMZN is included in our model portfolio.