With the S&P 500 (NYSEARCA:SPY) up another 5% just in May (and yes, I said just in May, not year to date. Since January, SPY is up 17%), long-term investors have to look very hard and look again before they make any additional stock purchases at current levels. Finding undervalued, or even fairly valued industries and stocks is like finding pot of gold at the end of the rainbow. The great news is that there are still such areas. Energy stocks, namely the Oil & Gas companies, are such rare fairly valued to very slightly undervalued opportunities, as I showed in my recent posts about the Oil & Gas stocks of Chevron (NYSE:CVX), Exxon Mobil (NYSE:XOM) and ConocoPhillips (NYSE:COP).
Today, I would like to explore and analyze one of the six largest Oil & Gas companies in the world, the Royal Dutch Shell Company [(NYSE:RDS.A), (NYSE:RDS.B)]. The stock is listed on Amsterdam and London stock exchanges, and also trades as an American depositary receipt [ADR] in the U.S. where it pays quarterly dividends in U.S. dollars.
Unlike many stocks and sectors this year, Shell's stock price rose only 0.5% year to date and has been fluctuating sideways for a year. As a result, the stock has a very attractive valuation and dividend yield.
History tidbits
Shell started in 1833 as an antique shop in London after the owning family of Samuels expanded the business to start selling oriental shells for use in interior design.

The demand for oil remained centered around just lighting and lubricants, until the invention of the internal combustion engine and Mercedes-Benz by Karl Benz in 1886.

In 1892, Samuels and Shell revolutionized the oil industry by shipping oil in bulk for the first time instead of the impractical, space-consuming and fragile barrels used until then. At the same time, Shell revolutionized oil transportation in a second way, by choosing the Suez Canal between Africa and the Middle East in Asia as a transport route to cut the time and costs of shipping from Asia to Europe by not having to sail around the African continent.

Shell's initial strategy was very risky. They also contracted with companies controlled by their competitors, the Rotschilds and the Rockefellers, by renting oil tankers and bulk oil storage space at ports. If the Rockefellers knew that they were helping their potential rivals, Shell could easily have been cornered out of the oil market by the then-dominant Standard Oil, controlled by the Rockefellers. If they had been exposed, Shell probably wouldn't exist today in the Oil & Gas industry, and perhaps would be a worldwide antique shop franchise selling oriental shells.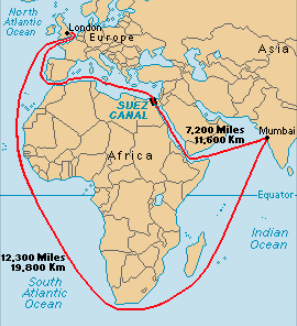 source: Howstuffworks.com
Shell today
Today, Shell is a truly global Oil & Gas company with 44,000 service stations in more than 70 countries.
Interestingly, Shell continues to make history today. Just a few days ago, Shell announced that they have made another step in building the world's first floating liquefied natural gas [FLNG] project. When complete, Prelude is expected to be the largest offshore floating facility ever built.
As another in the long series of Shell's breakthrough innovations, this floating LNG facility is poised to yet again revolutionize the Oil & Gas industry. Unlike over 100 years ago, when Shell disrupted transportation of oil by shipping in bulk for the first time, now the floating LNG facility will change transportation in the liquefied natural gas industry - forever.
This facility, located 150 miles off the coast of Australia, is due to be completed in 2017. It will be an all-in-one offshore platform placed on top of a natural gas field, and will be able to extract, produce, liquefy and store LNG until it is transferred to carrier ships directly on this offshore platform - ships headed straight to destination markets. No LNG ports or other storage and transfer facilities needed.
However, these ambitious and visionary projects are very capital intensive. Cash flow from these investments will start raking in only in the future, no sooner than four years from now. Such investments also bear higher risks, but promise equally interesting future returns and strengthening of Shell's strategic position among its competitors.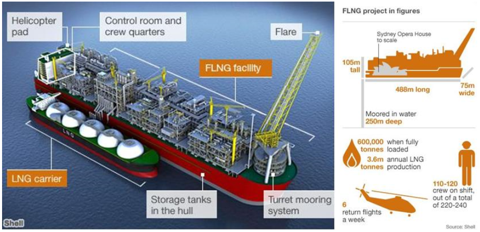 source: timera-energy.com
Reasons to buy
1. Ongoing sale of non-core assets
Shell's divestment of non-core assets reached $21B in total for the period of 2010 to 2012. In 2013, the company expects to divest additional assets worth $3B to increase return on investment and profit margins even further.
2. Dividend
The company changed its policy in 2010 from increasing the U.S. dollar dividend value every year, at least in line with inflation, to setting the dividend according to the company's view of their current earnings and cash flow situation. Although this may mean that dividends will not increase every year, this policy shows the company's priority to have sound financial management. Shell's current dividend yield is a hefty 5.1%.
3. Ongoing share-repurchase program
The company purchased 45.4 million ordinary shares in the period from the last Annual General Meeting to March 19, 2013, under the existing authority. This represents less than 1% of the issued shares.
On May 22 at the Annual General Meeting, Shell's stakeholders approved the renewed authority to continue the share repurchase program at the company's discretion within the limit of 10% of its issued ordinary shares until the next Annual meeting in 2014, or until August 14, whichever takes place sooner.
My expectation is that the share repurchase level will be approximately the same as last year, if not slightly lower.
4. Very low debt
Shell proves its sound financial management focus by keeping a very low debt-to-equity ratio, currently standing at 0.20. This gives Shell ample room to continue investing in attractive future projects, such as the floating LNG station.
5. Fundamental value
Current Shell share price is $68
Trailing P/E is 8.27
Price/Sales is 0.47
Price/Book is 1.21
6. Financial indicators
Revenue: $460.04B
Profit Margin: 5.66%
Total Cash: $17.61B
Total Debt: $35.79B
Debt-to-equity ratio: 0.2
Operating Cash Flow: $44.26B
Return on Assets: 6.38%
Return on Equity: 14.55%
The negatives
1. Weak predicted sales growth
Shell earnings are projected to stay flat or even fall 1-2% per year in the next three years.
Future sales prospects for Shell are not very bright compared with some other sectors, and even when put head to head with peer companies in the Oil & Gas industry, such as Chevron or Exxon Mobil. However, earnings could rise substantially if Shell manages to improve its profit margins as planned.
2. Low current profit margin
The current profit margin of 5.66% is by far the lowest of all its major competitors. On a positive note, this low margin gives Shell room for future improvement. Such margin increase would positively reflect on Shell's stock price.
3. Natural gas question mark
Shell invested heavily into natural gas projects, and one can argue that it is now too vulnerable in the nat gas area. If anything goes wrong in this industry - for example, if prices of natural gas start declining or the volumes stop growing - Shell's return on investment and margins from these projects may be lower than currently expected.
4. Oil & Gas industry is not a very "clean" business
Let's face it. The Oil & Gas industry is dirty, both literally, and in terms of nature consciousness, morals, corruption and politics. Oil is greasy and sticky and dirty. It is easy to get your hands dirty with alleged corruption in this high-stakes business. Oil spills do a great deal of damage to our environment.
It is up to every investor to make an individual decision whether to invest in industries such as Oil & Gas, tobacco, or even predatory financial services or apparel made by kids in Asian sweatshops.
Will the future see to it that all products we consume are produced by robots and with zero carbon and other environmental impact? Will mankind transition from the GDP-obsessed model to a model which incorporates the so-called negative and positive economic externalities which would more objectively and helpfully assess the real total costs and benefits to the society of various economic activities?
In terms of the Oil & Gas industry, Shell bears its share of blame for not only the usual oil spills and other natural disasters that happen from time to time to every large Oil & Gas company, but Shell is the one that over 100 years ago invented the method of bulk oil transportation in tankers instead of shipping black gold in individual oil barrels. So theoretically, Shell is responsible for all the tanker oil spills of all oil companies - ever.
However, I don't want to point fingers at Shell for starting this trend. I think Oil & Gas companies all shoulder their fair share of the blame. After all, they each have had a chance to opt out of the tanker transportation in favor of some safer means. However, profits surely dictate the most efficient method. Until the abovementioned negative and positive externalities are more precisely attributed to specific company actions, more oil will be spilled without the society as a whole being fully reimbursed for the total damage.
Conclusion
Royal Dutch Shell is currently in a transition period, after investing heavily in natural gas. Therefore, in the next three years, I expect the RDS to be a riskier investment than its competitors such as Chevron or Exxon Mobil. However, in a few years, Shell may emerge as a clear winner if their bet on natural gas pays off. Meanwhile, investors can enjoy an excellent current dividend yield which is higher than that of its major competitors. The P/E value is also one of the lowest in the Oil & Gas industry. Partly influenced by being located in Europe, this can be an opportunity to grab a well-run major company at bargain P/E levels.
My expectation is that total returns for Shell investors will rely more on the dividend yield than the underlying stock appreciation due to the risks described above.
On the other hand, if Shell will be burdened by low returns on its natural gas investments, there are concerns that its sales and earnings will stagnate at best over the next decade. This would naturally have a negative effect on dividends. Not only they would not grow, but given the prudent financial management strategy of the company, dividends would likely decrease, perhaps substantially, in case the company needs the cash elsewhere.
Recommendation
I already own three major Oil & Gas companies, Chevron, Exxon and ConocoPhillips. I favor diversification only when it adds tangible value to the portfolio. And in the case of energy stocks, I definitely see the benefits.
Oil & Gas companies are more volatile, and also bear higher company-specific risks. If a large oil spill or another disastrous event strikes one of the companies, it could negatively affect performance of the entire portfolio. Moreover, Shell bears an additional risk for being headquartered in Europe. For these reasons, I have no problem with owning various Oil & Gas stocks.
I have just started adding Royal Dutch Shell and will be performing further purchases over the upcoming months.
Disclosure: I am long RDS.A, CVX, XOM, COP. I wrote this article myself, and it expresses my own opinions. I am not receiving compensation for it (other than from Seeking Alpha). I have no business relationship with any company whose stock is mentioned in this article.