As we move along extolling the market's perfection, it appears that the Eurozone is no longer in fashion and their problems will be resolved to everyone's satisfaction, many believe, while Spanish and Italian 10-year yields have been quietly moving north of 4%. Looking back, when was the last time that we were so obsessed with European economics? That in itself says everything.
Much is being proposed, although the discord between Germany and everybody else continues to evolve as the bills come due. But the differences of opinion are also being noticed within the German bureaucracy:
ECB board member Joerg Asmussen called for a single scheme across the euro zone to close troubled banks... Such a unified mechanism should be in place by the time the ECB starts overseeing banks next year, he said ahead of the meeting. Those views where in conflict with German Finance Minister Wolfgang Schaeuble, who has said the next step should be the coordination of national schemes to shut down problem banks, rather than a system with shared euro zone risk.
Sharing losses is not something Mr. Schaeuble envisions as acceptable, although it's difficult to fathom any other resolution within a union. But it appears that Mr. Schaeuble wants to have the cake and eat it too, and his latest comments are nothing short of baffling, while being a clear indication of a state of confusion.
While Germany insists on the importance of budget consolidation, Schaeuble spoke of the need to preserve Europe's welfare model. If U.S. welfare standards were introduced in Europe, "we would have revolution, not tomorrow, but on the very same day," Schaeuble told a conference in Paris.
France is being called upon to speed up reforms, courtesy of Jeroen Dijsselbloem, president of the Eurogroup and president of the Board of Governors of the European Stability Mechanism:
Dijsselbloem warned that monetary expansion can't go on forever and European countries need to prioritize structural reforms and fiscal consolidation. "Monetary policy can really not help us out of the crisis. It can take away the pressure, it can accommodate new growth," Dijsselbloem said. "But what we really need in all countries is structural reforms in the first place."
In other words and without a diplomatic tone, the current choice is very much alive, and it's called "austerity," which is another word for "structural reforms and fiscal consolidation." The other choice is politely called "debt restructuring," or "default" if one prefers the bluntness of the truth. As published by the Financial Times,
European groups write off record €350bn in bad debt" in 2012, and that was on the corporate side, not sovereign debt ... European companies wrote off a record €350bn in bad debt last year, more than the annual GDP of Austria, Denmark or Finland. The amount of write offs increased 7 per cent in the past year and 27 out of the 31 countries surveyed by Intrum Justitia, a Swedish credit management company, saw either a worsening in credit conditions, or no change. The debt amounts to 3 per cent of all outstanding invoices in European companies.
The IMF adds its two cents every time it has an opportunity, and stated that:
monetary policy alone was not enough to restore confidence in the shaky global economy as they urged countries to take other steps to reinvigorate growth and create jobs.
Yes, we know, but if one pays close attention, the IMF's statements are superbly vague and short on solutions. The G-20 must use the same writers, and told us that:
much more is needed to fulfill our commitment to address the ongoing weakness in the global economy.
Action, they say, but they don't grasp the change that has taken place and how deep in the hole we actually are. While lacking an understanding of why European austerity is in play, the G-20 now supports:
rejecting the idea of setting hard targets for reducing national debt in a sign of worries over a sluggish global recovery.
But as they reverse course, debt funding will take front stage, and before we know it "austerity" will become necessary, again. I would love to have a job that paid me to say "take other steps" and "much more is needed" without providing concrete solutions.
Certainly Europe must deal with "reform," and although many do not expressly indicate what "reform" actually entails, the answer is quite simple: Reduce the bloated public sector, especially from the top-down, and reduce taxation. In my first book, I compared the population/elected official ratio in America with European countries and
if the U.S. used the European average of 57,000:1, the Senate and House would have over 5,000 congressmen and congresswomen." The Verizon Center in D.C. would work.
But to expect that reducing the size of governments and lowering tax revenue can be accomplished overnight without serious economic disruption is no different than me starving for a week and expecting no weight loss. No complex formulas or economic models needed, only common sense.
Some still have a sense of humor in the midst of the crisis, especially as economic analysts continue to favor complexity over simplicity. Ben Broadbent, External Member of the Monetary Policy Committee at Bank of England, delivered a speech (pdf) recently that started with a joke.
Albert Einstein reaches the pearly gates of heaven and meets three people. He asks them all for their IQ. "190", says the first. "Oh good," says the great man, "we can talk about general relativity". When the second says "140", Einstein tells him he's looking forward to debates about the pros and cons of the nuclear deterrent. The third, peering at his feet and mumbling slightly, says "mine's only 50". "What will the budget deficit be next year?"
The economic truth can be deciphered by anyone with an IQ of 50, and unlike other disciplines where major errors hunt people for life, economic forecasts get buried and forgotten when they're wrong. The drive to develop new ideas, formulas, and appoint commissions to solve the issue will try to keep the charade alive in an attempt to prove that the euro is not a failure.
Beyond the European southern economies, trouble continues to spread. The Netherlands, "one of the five EU countries to retain its AAA international credit rating," has one of the highest inflation rates. That is the result of "increases in insurance tax and value added tax," according to the Central Bureau of Statistics, not a supply/demand imbalance. Adding insult to injury, while "one household in seven in the Netherlands is unable to pay its bills," the price of gasoline is the highest in Europe due to higher taxes, costing €1.78 a liter ($8.75/gallon).
This month the European Commission revised its GDP forecast, now calling for a decline of 0.4% in 2013, down from the February's projection for a 0.3% contraction. Meanwhile, "EU threatens France over economic failings," and in what is called "a major shift away from austerity," France will receive a two-year extension "to cut debt," while the list of trouble spots expands.
France, Spain and Slovenia are set to be criticized in a major commission report on Wednesday as countries that have failed, amid recession and the financial crisis, to cut public debt and to implement structural reforms of their economies. The commission is also expected to express concern over Britain, with a warning that the continuing credit crunch is jeopardizing growth and attempts to cut public debt, although the Government, outside the eurozone, can escape the humiliation of having sanctions imposed.
Yet, market perceptions have shifted and are far from the unfolding reality, at least for the time being, and investors
have piled into French bonds, giving Hollande's government record-low borrowing costs. On May 2, France auctioned 10-year debt at a yield of 1.81 percent," only 54 basis points above German 10-year debt.
While Keynesian theory is continually being pushed, Keynes is being misused, because, as I've stated before, he never expected governments to accumulate huge amounts of debt during good times. Another relevant point was made recently by Kenneth Rogoff.
The eurozone's difficulties, I have long argued, stem from European financial and monetary integration having gotten too far ahead of actual political, fiscal, and banking union. This is not a problem with which Keynes was familiar, much less one that he sought to address.
While the Eurozone project is still advertised as the biggest accomplishment of the century, positive sentiment on the street is impossible to pinpoint, with consumer sentiment in Europe fluctuating within negative territory over the last decade - between feeling bad and worse.
Considering that the welfare state is well entrenched in European society, one would assume that the population as a whole would be extremely upbeat, especially before the crisis manifested itself. The chart above depicts the Consumer ESI on a scale of -100 to 100, where -100 indicates extreme lack of confidence, 0 neutrality and 100 extreme confidence, and this little piece of data speaks volumes about the European experience. The last time the indicator was slightly positive, and not shown in the chart, was between 2000 and 2001, and apparently more social benefits didn't improve the mood, with the long-term average around -12. A conclusion can be easily reached that the adoption of the euro only exacerbated a long-standing socioeconomic problem.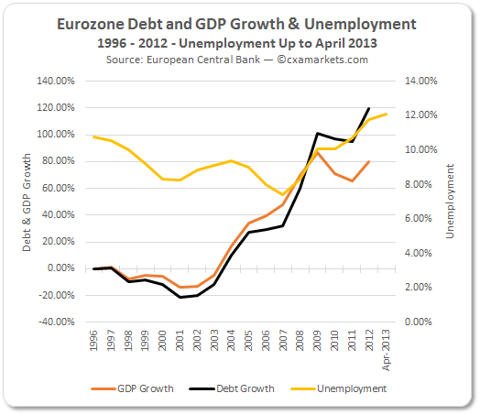 While GDP growth shows that Europe did not participate in the dot.com bubble, with GDP contracting between 1997 and 2003 from the 1996 base, housing was embraced. That in itself highlights how innovation and risk taking is not part of the European culture, driven by a socially accepted safety mode, while traditional asset classes still play a big part in everyday life. As government debt growth tracked GDP on the south side, which it shouldn't have because one must save during good times for a rainy day, the sovereign debt explosion took place in 2008 when housing, the goose of the golden eggs, died. Since then and even as GDP contracted, government debt has taken on a life of its own. Needless to say, unemployment has reached a record 12.1%.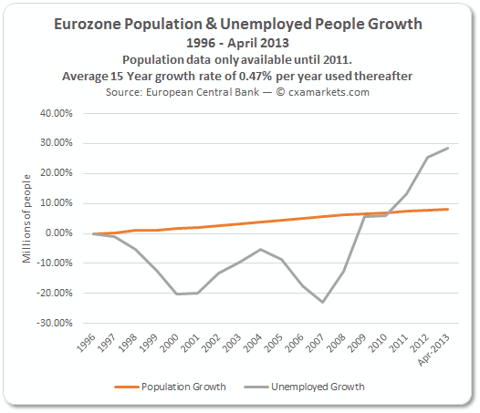 As the number of unemployed people jumped and outpaced population growth since 2010, the implications are simple: higher government spending for social benefits and lower tax revenue, further adding to debt and pointing to austerity as a self-defeating mechanism on its own. Although structural reforms are required and government downsizing will be implemented, no "Ifs and "Buts" about it, austerity will never catch up with the problem at hand, and the only choice is debt restructuring -- or whatever term they choose -- if they want to stabilize the situation and eventually start growing again, five years from now. Defaults in the Eurozone are only a matter of "When," not "If," and the problem is that nobody wants to take a loss. However plans are in the works to spread the "Cyprus Virus."
European Union lawmakers on Monday voted in favor of a draft law that would protect small bank depositors from losses in further bank rescues, but could see customers with more than 100,000 euros in savings being hurt. The Parliament's economics committee voted for a "bail-in" scheme to be up and running by 2016, but that shareholders and bondholders should come first in line to take losses in future bank bailouts.
Certainly growth would be the logical way to turn the ship around, but that cannot be done because debt would have to rise exponentially and somebody must fund the implementation of a Keynesian approach, regardless of the theory's questionable effectiveness. The Eurozone has reached the point of no return!
To clarify my position, these written exercises are designed to deliver an economic broad view, and there's a huge difference between knowing what's behind the curtain and calling for the immediate demise of civilization. As I stated in the article "The Massive Elephant In The Economic Room," I anticipate that "the other shoe will not drop before 2014 rolls around," and awareness of where the sharks are while surfing the waves is always good practice.
I do not mean to be patronizing, but want to share an observation, especially for younger generations. There are those that continually advertise an impending market crash, and then the market goes up 5%, even 10%. A pullback ensues and the mantra is replayed, but louder. Then the market goes higher. Despite some good points every now and then, and only as an example, zerohedge.com, a familiar website, registered in Bulgaria around the 2009 bottom, no less, fits the bill. Lastly, one of two things happens: doomsayers either disappear from view and blogs are abandoned, or they convert to save face. Then the market tumbles.
On the trip south, the opposite occurs. Permabulls will continue to tell the world to buy the dips because perfection cannot be defeated. Then following a rebound, the market goes lower by 5% or 10%. Meanwhile profits evaporate, or are nowhere to be found depending on the time of entry. Some recent investment examples are Apple (NASDAQ:AAPL) and gold (NYSEARCA:GLD). The core rule is to always question everything and everyone -- yours truly included -- and to apply unbiased critical thinking until it makes sense, and if it doesn't, buyer beware. In addition, keep in mind that economics and markets do not adhere to the same timetable, and do not move at the same speed.
A sense of humor and an open mind are prerequisites to surviving the stock market machine, and although names aren't necessary, I have witnessed the well articulated "strategies" above multiple times over the last 20 years, with the usual suspects eventually vanishing and followers licking their wounds. Investing, or trading, is not like a crash diet with a one track mind where the individual loses money and always gains the weight back. Moderation, awareness, patience and discipline reign supreme, and there are opportunities whether the market goes to the sky or into a seemingly bottomless pit.
"Silver Linings Playbook," an extremely smart script, is the perfect analogy. Robert De Niro blindly bets everything on the outcome of a Philadelphia Eagles game and the dancing ability of his son Pat, although Pat does not have a track record. De Niro wins in the end, but that's Hollywood, not Wall Street.
Disclosure: I have no positions in any stocks mentioned, and no plans to initiate any positions within the next 72 hours. I wrote this article myself, and it expresses my own opinions. I am not receiving compensation for it (other than from Seeking Alpha). I have no business relationship with any company whose stock is mentioned in this article.