Who's on third?
Everyone knows that Samsung and Apple (NASDAQ:AAPL) hold the leading positions in the world smart device market. Pundits everywhere have voiced their views as to whether there will be a third "ecosystem" and whose it will be. Of course the world market is made up of many markets. It is interesting to see the smartphone market through the eyes of people living in different countries to get an impression of who is "winning." The answers might surprise some of you.
Brazil
Samsung is the acknowledged leader in Brazil, no surprise. But second place is not Apple it is Nokia (NYSE:NOK). Who says Microsoft's (NASDAQ:MSFT) Windows 8 is not making inroads? They should not be saying it in Portugese in any event.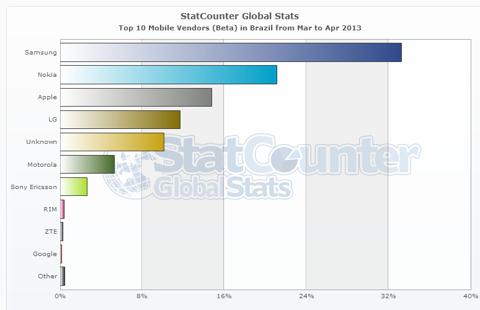 Nigeria
How about Nigeria? Did anyone guess that Nokia was the key player? I doubt it unless you live there. Dearly loved Apple is in 6th place, behind LG and BlackBerry (BBRY) among others.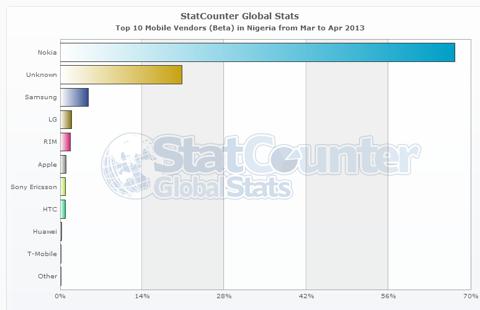 Russia
Russia is another big market, and to be sure Samsung and Apple hold the largest pieces of the Russian pie, but did you guess that Nokia was not far behind? I didn't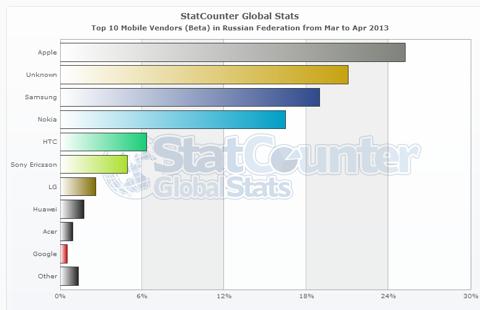 India
India is another very large market which, like China, is a key to longer-term growth. Which company is the leader? Nokia!! Samsung is close behind but Apple is an also ran.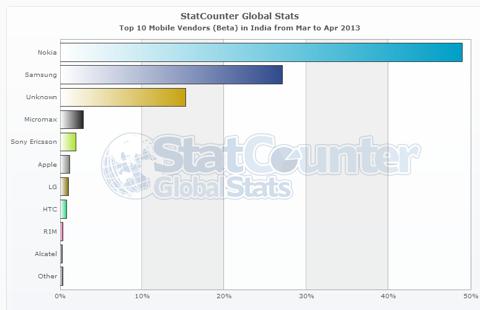 Mexico
Closer to home, a look at the Southern part of North America shows Samsung and Apple in their usual spots but once again Nokia has a solid showing.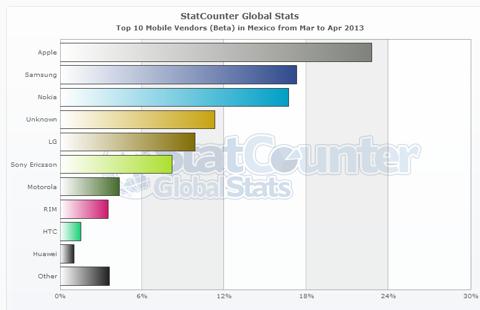 Canada
As a Canadian, I could not leave out my home and native land. Again and no surprise, Samsung and Apple hold the lion's share of the market, but Canadian-based BlackBerry is running third (and gaining ground I might add).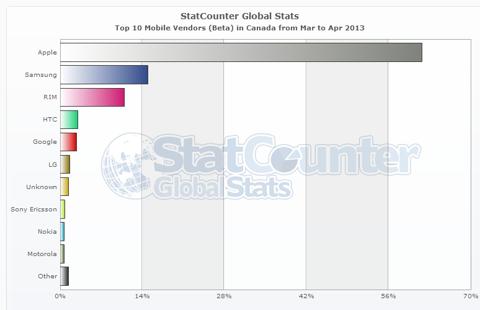 The data are from last month, and of course represent the installed base and not sales in the current month since they are based on traffic and not a count of devices. The point of the data is that the world is not one market, and in particular, it is not just the United States of America. For those of you who are long Apple and dismiss Windows 8 phones and BlackBerry as serious competitors, maybe it is worth another look. At a minimum, each may turn out to be the dark horse in this race.
Investors typically look at the world market as a whole given the key players operate throughout the world. By some estimates the 2013 world smartphone market will amount to 1 billion units with the Chinese and European markets each larger than the United States.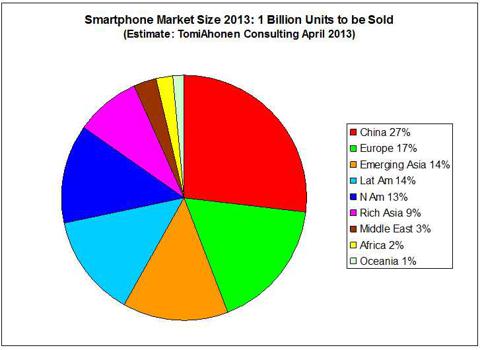 Assuming the average smartphone sells for $500 to $600 with a 30% to 40% margin (obviously a pretty gross assumption but not really too far from reality) the world market is $500 to $600 billion in size with $150 billion to $240 billion of margin at stake. For companies the size of Apple or Samsung, the world market is the right perspective. But, I will argue, for companies with market capitalizations less than $25 billion like Nokia and BlackBerry, the world does not have to be their oyster for them to succeed.
For that reason, I have estimated the value and margin available in the 6 selected markets where BlackBerry and Nokia have major representation today with data from analyst Mary Meeker of Kleiner Perkins Caulfield and Byers.
Estimated Size and Value of Selected Smart Phone Markets
| | | | |
| --- | --- | --- | --- |
| Market | Units (millions) | Dollars (billions) | Available Margin (billions) |
| Brazil | 55 | $ 30.3 | $ 10.6 |
| Nigeria | 2 | $ 1.1 | $ 0.4 |
| India | 44 | $ 24.2 | $ 8.5 |
| Russia | 22 | $ 12.1 | $ 4.2 |
| Mexico | 15 | $ 8.3 | $ 2.9 |
| Canada | 15 | $ 8.3 | $ 2.9 |
| TOTAL | 153 | $ 84.2 | $ 29.5 |
Note: Nigeria estimated separately
BlackBerry has a market capitalization of $8 billion and Nokia has a market capitalization of $13 billion. If either of them were successful in the 6 markets listed, it would very likely justify more than their current market values. Of course they play in more markets than those shown, but the point is a simple one - it may be a world market but the smaller players do not have to be world beaters, just be important to some key markets.
In my view, they will be. BlackBerry is likely to do well not only in Canada, but also in the United Kingdom, the United Arab Emirates, Indonesia and Nigeria in addition to having meaningful sales elsewhere. Nokia is likely to be a major supplier in India, Nigeria, Russia and Mexico on top of continued steady growth in other markets. From an investment perspective, they don't have to be compared to Apple or Samsung to be rewarding.
I am long MSFT, NOK and BBRY. Love the company as I do, I still prefer to be short AAPL although I have no position at this moment.
Disclosure: I am long MSFT, BBRY, NOK. I wrote this article myself, and it expresses my own opinions. I am not receiving compensation for it (other than from Seeking Alpha). I have no business relationship with any company whose stock is mentioned in this article.
Additional disclosure: I may initiate a short position in AAPL in the short term