Arena's (NASDAQ:ARNA) Belviq begins marketing on June 7, 2013. To prepare for it, I model several scenarios to help readers gauge trends and predict annual sales of Belviq. The model finds that even Eisai's (OTCPK:ESALY) first year sales estimate of $200M is low. I show that shares currently trade at a discount. I suspect Wall Street is overly concerned that Belviq will follow in the shaky path of Vivus' (NASDAQ:VVUS) Qsymia because the Street does not understand, patients, doctors, or Belviq's potential.
Recent Predictions
I presented an estimate for Belviq sales in, "Will Arena's Belviq be the next anti-obesity drug to make the cover of Time Magazine?," as a commonsensical explanation for why Belviq sales could reach $500M within a year. I am shocked to learn it is one of the more bullish calls of late. Since this is unlike me, I blame Wall Street for conditioning shareholders into believing a share price 10 cents above average is a cause for celebration and for reducing their short and mid-term expectations.
Spencer Osborne gave script numbers that are in-line to meet Eisai's estimated $200M in annual Belviq sales: 15,000 scripts in the first month and 40,000 by the third month. He felt that if the scripts were 75,000 after three months, it would prove the short-thesis is doomed, and if less than 25,000 scripts, longs may need to reconsider their expectations.
KLLJ Investments argued in a recent article that Belivq should capture some of the estimated 2.1M patients a year currently taking weight loss drugs and increase it by 600,000 patients. He convinced me that obesity clinics will drive sales by co-administrating Belviq with phentermine ("Bel-Phen") and that endocrinologists will also spur sales by combining Belviq with metformin to treat diabetes and pre-diabetes. These combos may soon become FDA approved realities since Arena and the FDA will settle on an experimental design for "Bel-Phen" this quarter. Bel-Phen appears to be a powerful dietary suppressant of a type unseen since the 1990s. Since prescribing combination and off-label drugs is legal and common, Wall Street appears to have underestimated the full potential of Belviq.
On the bearish side sits EnhydrisPECorp. In two articles, he predicted 10,000 and 40,000 scripts of Belviq. Although he failed to give a timeframe, I have concluded he was referring to annual sales of about $10M.
Underlying Facts
Eisai's 200 sales reps will reach 20,000 of its 26,000 primary "targets" with a month of marketing, but have actually been detailing doctors on Belviq for months. Other doctors will also prescribe Belviq. Eisai estimates one-third of patients will have insurance coverage for anti-obesity drugs and plans to offer a rebate or incentive to the uninsured.
About 41% of Belviq patients dropped out during trials, primarily for being non-responders. There are compelling reasons to believe more patients will respond to Belviq than in trials (e.g., Belviq used in combination with other drugs), but they will not be used in the model.
In its first month of Qsymia sales, the average prescribing doctor wrote only two prescriptions. My article, "Should Anti-Obesity Drug Company Stocks Trade In Tandem?," shows that Belviq and Qsymia are completely different in terms of their marketability, doctor and public perceptions, and that Belviq will easily outsell Qsymia. Not all patients are ready for Belivq, since some will be in mid-treatment with another drug. Thus, I use Qsymia data as a base figure.
Model's Parameters
The 67% of patients who are uninsured pay about $100 and the insured pay full price for an average of about $133. Half of new patients are discontinued after three months.
I assume 75% of the contacted doctors prescribe Belviq in the first month. I add 10,000 prescribing doctors per month for five months and 5,000 per month thereafter.
In my "low estimate," new doctors write two prescriptions for the first month and add another half a prescription per month until they write 7.5 prescriptions in the final month. Each month's new cohort of doctors follows the same trend, writing two prescriptions and adding a half a prescription each month. In the twelfth month, doctors write an average of 4.97 prescriptions. This is 1.8% of their patient population assuming 280 patients per month (Figures 1-2 * below). This rate is less than the 3.3% of patients which Leerink Swann ("LS") believes are willing to pay $50 to $150 for a weight loss drug. I use $133.40 as the average cost for Belviq, with uninsured paying less.
I also estimate sales by doubling, tripling, and quadrupling the "low" prescription rate ("2x," 3x," and "4x," respectively). On the twelfth month, these doctors averaged 9.9, 14.9, and 19.9 prescriptions, respectively. This equals 3.5%, 5.3%, and 7.1% of their patients, respectively.
| | |
| --- | --- |
| Figure 1. Number of Patient Visits Per Week for Endocrinologists | Figure 2. Number of Patient Visits Per Week for Primary Care Doctors |
| | |
Results
Before looking at the results, I expected this model would disappoint Arena shareholders because I gave a low growth rate, started with a prescription rate equal to Qsymia, and because many doctors will see hundreds of obese, diabetic or otherwise prime patients for Belviq. Doctors also see 14 to 56 times the number of patients than receiving Belviq in this model.
My low estimate resulted in more sales revenue ($266.6M) than either LS or Eisai estimated ($33.8M and $200M, respectively). The 2x and 3x rates create sales of $533.3M and $799.9M, respectively. The 4x rate is what a blockbuster may look like.
Figure 3. Four estimates of prescription growth.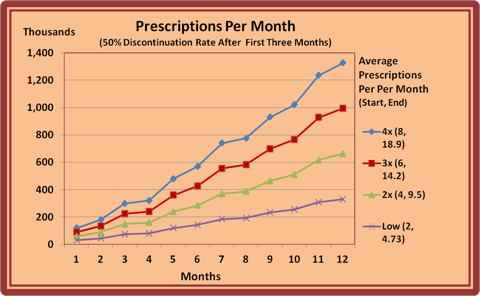 Table 1. Estimated prescriptions, sales, revenue, P/E, and EPS. (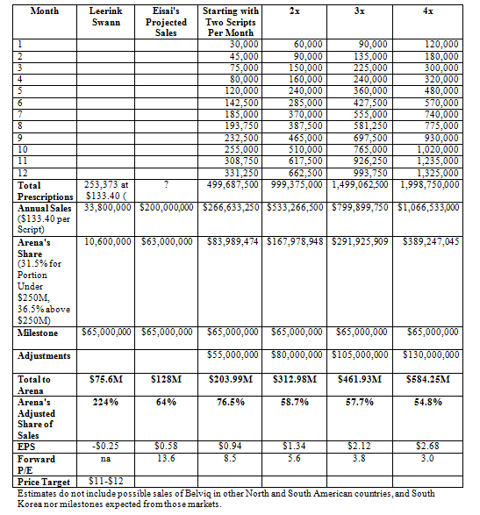 Table 2. Comparison of Arena's estimated 2013 P/E ratio and growth rate with other Companies
Arena

Abbott (NYSE:ABT)

Novo Nordisk (NYSE:NVO)

Pfizer (NYSE:PFE)

GlaxoSmithKline (NYSE:GSK)

DaVita HealthCare Partners (DVA)

P/E

na

77.2

25

20.6

30.8

30.1

Forward P/E

13.6, 8.5, or 5.6 (Eisai, low and 2x, respectively)

16.78

20.92

12.36

12.49

15.66

EPS Growth

(MRQ)

---

55.42%

26.31%

66.87%

-24.77%

55.42%

Revenue Growth (MRQ)

---

1.78%

15.68%

-9.3%

-2.55%

52.99%
Larger pharmaceutical companies generally carry lower P/E ratios than smaller and younger companies do. The higher P/E ratios are justifiable because investors expect rapid growth and believe they are acquisition targets. However, that does not seem to be the case with Arena. If Eisai's or any of my estimates are correct, Arena's estimated forward P/E ratio is very low compared to big pharmaceutical companies and/or competitors (Table 2, above), indicates Arena is undervalued. In, "Is Arena really launching a new product and expanding its pipeline?," I stated that Arena inhabited an alternate universe where news affects it differently than other stocks. A comparison of forward P/E ratios strengthens that belief.
LS gives a $11-$12 price target for Arena, but assumes estimated sales one-sixth of Eisai's guidance. Using LS' sales projection, I estimated their 2013 EPS for Arena is -$0.25. That is far less than estimates from Eisai's sales projections ($0.58). My low and 3x estimates predict 2013 EPS of $0.94 and $1.34, respectively.
If the average cost of a prescription is $133.40, LS' estimate sales results in 253,373 prescriptions. Eisai's reps are targeting 26,000 high value doctors of which 20,000 may be prescribing in first month. The first 26,000 prescribing doctors can beat LS' estimate by prescribing Belviq to just 10 people per month. Obesity specialists and endocrinologists have enough patients to top that. Under the low estimate, within six months doctors will surpass LS annual sales prediction.
Conclusion
Wall Street in general and LS in particular, appear to have grossly underestimated Belviq sales potential if Eisai or Spencer's, or my any of my estimates are correct. Arena is undervalued, and it should be trading ahead of LS' 11-$12 target price.
I was surprised to learn that due to price adjustments and milestones, Arena takes a greater percentage of sales than Eisai in the first year. We should give Arena's CEO more credit for this than I sometimes see.
The wiggle in the graph cautions us to expect prescription growth to be non-linear. We should not be too disappointed or excited if during any particular month the results appear slightly above or below prior expectations. It will take several months to understand the trajectory. In projecting sales, the low estimate seems easy to meet using my assumptions. I believe we will see sales of about $500M, so the 2x and my commonsensical estimate seem reasonable to me. I want to see sales data before I will believe anything beyond that.
Investors need to take a step beyond what Wall Street analysts or I say. Do your own a side-by-side comparison of Arena and Vivus (as I did in my first article) and decide if Wall Street mistakenly predicted Qsymia sales would outshine Belviq's or if we should instead reconsider the short thesis on basis of EnhydrisPECorp argument. If you do a comparison, let me know the parameters you use and your results. Take into consideration recent events, and how new markets, guidelines, and insurance coverage will continue to stimulate sales of these drugs. Consider last month's new AACE algorithm and Belviq's plan to produce combination drugs with phentermine and metformin.
Bookmark this story and check back when we get results and let us know if you felt Arena was reasonable risk.
Disclosure: I am long ARNA. I wrote this article myself, and it expresses my own opinions. I am not receiving compensation for it (other than from Seeking Alpha). I have no business relationship with any company whose stock is mentioned in this article.
Disclaimer: I am not a registered investment advisor and do not provide specific investment advice. The information contained herein is for informational purposes only. Nothing in this article should be taken as a solicitation to purchase or sell securities. Before buying or selling any stock you should do your own research and reach your own conclusion. It is up to investors to make the correct decision after necessary research. Investing includes risks, including loss of principal.