The last time gold was as hated as it is today was in October 2008, and it was thought at that time by investors we were unlikely to see an opportunity to buy gold stocks like that again in our lifetimes. We were wrong. Gold today is more undervalued than it was at that time, a time when 12 months later gold stocks had jumped 200 percent.
In John Doody's May 1 issue of his Gold Stock Analyst letter, it was noted that gold stocks were undervalued by 44 percent. They've fallen even more since that time, making them even further undervalued.
Another thing to think about when considering gold is in the latter part of 2008, just about everything was crashing. In the current environment the crash has been primarily with the gold and resource stocks.
That means a very localized crash, and not one across all asset classes.
Have Gold Stocks Bottomed?
With the current outlook for gold as low as it could be, the question then must be asked if the precious metal has bottomed.
Some gold experts believe gold stocks bottomed out last week. That can't be completely trusted though, as it's impossible to make that determination with any type of accuracy.
What can be counted on is to take note of what these experts do say, understanding that we may or may not be at a bottom, but it is getting close enough that some are beginning to call it. That is important.
For long-term investors, it is definitely time to follow gold, as once gold stocks start to break out, historically they provide huge, potential gains.
Most Hated Sector
There is no doubt at this time that gold is the most hated sector in the market. Just about everyone outside of those that passionately follow gold believe it has a lot more room to drop, even though sound fundamentals for gold remain in place.
This is great for those bottom fishing, as there is only so far gold stocks can go before reality finally sets in that they have a good future.
When you consider that even some gold bulls are running from gold stocks, you can see how out of favor gold has become.
What needs to be kept in mind is when something is this hated, it must be closely watched, as once it comes back into favor, it will soar because of it being so undervalued. As it approaches being undervalued by about 50 percent, as it is today, we must be ready to pull the trigger.
Gold Versus Commitment of Traders
Commitment of traders is a measure of where those making real trades are placing their money at this time.
In the chart below, the top black line shows the price of gold from 2008 to today. The bottom line is a measure of how small speculators are playing gold. As you can see, it has fallen below the line of being considered hated. To the left you can see the number of contracts speculators are buying.
As you can see from the arrow, the price of gold jumped 50 percent in a year from the last time it was this hated. Don't confuse that with the 200 percent jump I mentioned earlier. That was referring to gold stocks themselves, while this is referring to the price of gold.
Based upon this metric, it appears the price of gold is winding up for a jump.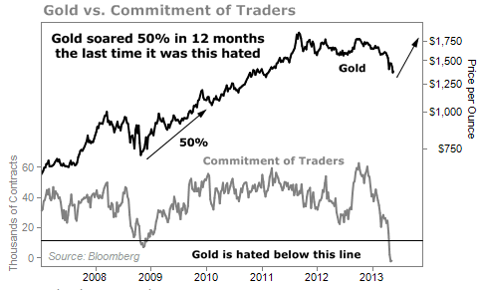 Is it Time to Jump in to Gold Stocks?
Having said all this, it would be assumed we are now at the stage to go all in on gold mining stocks. For now, I think that would be wrong. The reason why is as was mentioned earlier: we can never accurately call a bottom. Since some gold experts are, it means we should start taking notice, but wait for now.
That doesn't mean if you're absolutely convinced gold has bottomed out that you shouldn't get in, just that if you get in too early you'll have to wait longer for it to rebound if prices fall further.
What needs to be looked for is an uptrend in my opinion. Wait until we see some evidence that an uptick has in fact happened. Once it does, there is usually nothing that can stand in the way of gold stocks, in aggregate, making some nice upward moves.
Market Vectors Gold Miners ETF (NYSEARCA:GDX)
Even though a lot of money will be made with individual gold miners, I like using an ETF as the major way to play gold stocks, especially with the big rebound that will inevitably come. To that end, Market Vectors Gold Miners ETF is my favorite of those available.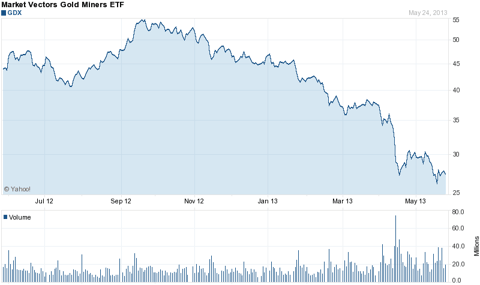 When talking in the opening paragraph about gold stocks soaring 200 percent after its October 2008 bottom, that wasn't just selecting the top couple performers, it was a reference to Market Vectors Gold Miners ETF, which mostly focuses on the larger gold miners; although it does include Silver Wheaton (SLW) in its top 10 holdings. Nonetheless, if gold miners make a big upward move, usually silver miners or streamers like Silver Wheaton, follow on their heels.
For the other 9 top holdings in the fund, they are all among the larger gold miners in the world.
That means whatever direction gold stocks go, this fund will move in unison with them.
To 10 Holdings Market Vectors Gold Miners ETF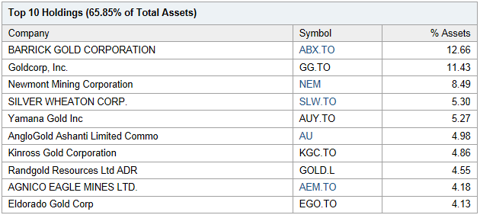 What About Junior Gold Miners?
Another option for investors once gold stocks take off is the Market Vectors Junior Gold Miners ETF (NYSEARCA:GDXJ), which is fully into junior gold miners.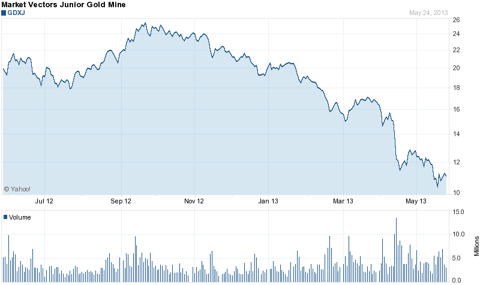 Just like with an individual junior miner stock, when you hit it right it can make you a lot of money. The problem for most investors is the increased volatility inherent in stocks, will be in the GDXJ.
I believe it will go up when gold stocks begin to rebound, but the GDJ will be much more predictable, and will do very well. So it's a matter of whether or not you believe the junior gold miners will outperform their larger peers, and whether the risk/reward is worth it.
Top Ten Holdings Market Vectors Junior Gold Miners ETF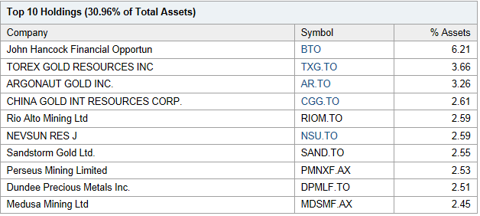 With junior gold miners the selling price of gold is much more of a factor because it can determine not only their earnings, but whether or not they'll survive. That will be reflected in the performance of Market Vectors Junior Gold Miners ETF.
To me there's not enough upside reward to choose this ETF over its cousin, which reflects the performance of the larger gold miners.
Royal Gold, Inc. (NASDAQ:RGLD)
Royal Gold is similar to Silver Wheaton on the gold side, as it's a gold streaming company which has royalty interests in "193 properties on 6 continents, including interests on 39 producing mines and 26 development stage projects."
Royalty companies tend to move close to the range of the price of gold or the metal it's primarily focused on, so when gold prices rise, the price of Royal Gold will rise with it.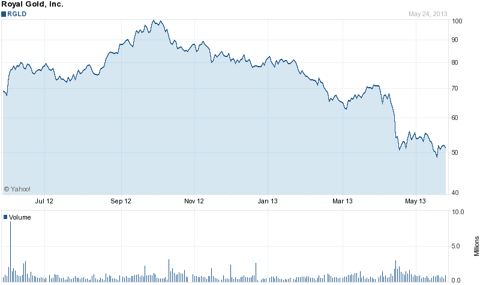 What's good about this company is it's very simple to understand, and as long as it primarily targets gold, it is very easy to see the direction it will take. Nonetheless, it also streams silver, copper, nickel, zinc, lead, cobalt, and molybdenum, so those will have to be watched as to what percentage of its overall holdings they entail.
Since most investors consider it a gold streamer, and it remains so for now, it should move in unison with the price of gold. In the future we'll probably see companies like Royal Gold, Silver Wheaton, and others diversify their streams more.
Conclusion
Gold is definitely the most hated asset class today. That is evidenced in the news coverage and the commitment of traders shown earlier. Even so, I don't think it's quite time to enter the sector in a big way, as there isn't evidence we have in fact reached a bottom. Until that happens, anyone investing in the sector could have to wait longer than they want to obtain profits.
We should wait for a measurable uptrend in gold stocks before going in all the way. While we may not get gains as big as we would if we took a bigger risk now, I don't see why losing a small portion of gains is worth the risk and headache of the uncertainty that remains in the sector.
One final thing. If and when gold stocks are invested in, tight stops should be employed to manage the inherent volatility in the gold market at this time. If gold performs as it has in the past in times like these, the stops shouldn't hurt because the downside risk should be minimal. After all, we do want to be careful not to move ourselves out of the market by being too cautious.
So the stops should be tight, but not so tight that there isn't some room for gold stock prices to wiggle a bit.
It may be time to go into gold stocks, but waiting for an uptrend seems the best way to make the play.
Disclosure: I have no positions in any stocks mentioned, and no plans to initiate any positions within the next 72 hours. I wrote this article myself, and it expresses my own opinions. I am not receiving compensation for it (other than from Seeking Alpha). I have no business relationship with any company whose stock is mentioned in this article.