On Monday we highlighted several companies from our buy/sell list that represented investment ideas for all types of investors, which included Small and Large Cap stocks as well as Growth and Value stocks. Since Value Expectations tends to provide Large Cap Value Stocks for potential Buy ideas, earlier this week we decided it would be helpful to also highlight some small cap stocks we like from the Russell 2000. Now, moving on to the Growth investor, we will focus on companies we classify as growth stocks and find attractive within the S&P 500 (excluding Financials). By definition, AFG classifies growth stocks as companies with a Market Value/Invested Capital (MV/IC) in the top half of their sector.
In the table below are 10 growth stocks that we find attractive based on AFG's valuation model, and are ranked neutral or higher based on AFG's default recommendation.
Attractive Growth Companies - S&P 500 (excluding Financials)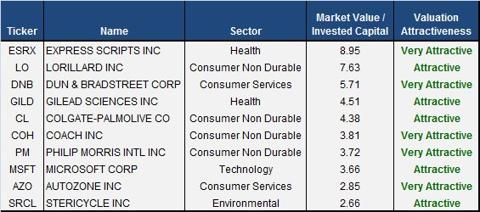 AFG's Valuation Metric – Measures the percent to target (deviation between a stock's current trading price and its AFG current default target price). To derive the intrinsic value of a firm, AFG uses its proprietary Valuation Model (modified discounted cash flow model).
Economic Margin - A corporate performance measurement that addresses the gaps in GAAP, eliminating distortions caused by accounting policies to measure what a company is truly earning above or below their cost of capital.
Management Quality – Assesses management's ability to make wealth creating decisions.
AFG's Growth Universe - Companies in the AFG universe, which have MV/IC in the top 50% of the universe and have EPS estimates.
Market Value/Invested Capital (MV/IC) - The firm's average total equity, debt and other obligations divided by net invested capital.