Crude Oil prices experienced an unprecedented advance to over $140 a barrel in 2007 only to followed by an equally impressive collapse to a little over $30 a barrel in 2008. Since then the price has stabilized but still trades in a wide range between $70 and $110 a barrel. Natural gas has experienced similar volatility. In the earlier part of the millennium, natural gas spiked to over $15.00 per million British Thermal Unit (MMBTU), only to fall to about $2.00 per MMBTU in 2012.
Given the explosive nature of the energy market, it is no wonder that energy ETFs have become popular. My objective in this article is to analyze the risk-to-reward characteristics of this asset class.
There are over 50 energy ETFs but I will restrict myself to those ETFs that have a track record of at least 3 years and that are relatively liquid, trading an average of more than 40,000 shares a day. I did not consider inverse, Master Limited Partnership (MLP), or leveraged ETFs but did include some of the non-traditional ETFs related to futures and alternative energy. The use of a three year look back period was chosen to encompass several cycles of crude oil prices between the range of $70 to $110 a barrel.
The energy sector is extremely broad so to put the performance into better perspective, I have partitioned the space into 4 large areas described below. All data is over the past three years.
Overall Energy Sector: The ETFs within this category provide broad exposure to the energy sector. The giant integrated oil companies like Exxon Mobile (NYSE:XOM) and Chevron (NYSE:CVX) tend to dominate this sector from a market cap point of view. Unfortunately all the energy ETFs are highly correlated with one another (94% to 99% correlation coefficients) so you do not receive much diversification by buying more than one of these ETFs. Even IXC, which has a global reach, has been 97% correlated with US based XLE. The ETFs considered in this sector are:
Oil and Gas Equipment and Services. This is a subsector of the overall energy sector, consisting of firms that typically provide rigs for offshore oil wells. These stocks are usually more volatile than the integrated oil companies since rig demand is based on commodity prices. Schlumberger (NYSE:SLB) and Halliburton (NYSE:HAL) are two of the largest cap stocks in this subsector. Even though this subsector has different focus than XLE, all the energy related companies have tended to move together and ETFs in this subsector has been about 95% correlated with XLE. The ETFs for this subsector are;
SPDR S&P Oil and Gas Equipment & Services (NYSEARCA:XES). This ETF consists of 48 stocks that offer exposure to the equipment and services subsector of the energy industry. It is an equal weight index and thus has a wide distribution of all caps from large-caps to micro-caps. About 87% of the holdings are based in the US.
iShares Dow Jones US Oil Equipment Index (NYSEARCA:IEZ). This ETF is based on a cap weighted index of 46 stocks. About 63% of the total assets are concentrated in the top 10 holdings.
PowerShares Dynamic Oil and Gas Services (NYSEARCA:PXJ). This ETF is similar to PXI but instead of the whole energy sector, it focuses on the oil and gas services subsector. The underlying index is the Dynamic Oil Services Intellidex Index, which consists of 30 companies.
Energy Exploration and Production. This subsector focuses on the finding, producing, and retailing oil and gas products. Like the rest of the energy ETFs, this subsector is about 95% correlated with XLE. Occidental Petroleum (NYSE:OXY) is a major player in this space. The ETFs for this subsector are:
SPDR S&P Oil and Gas Exploration and Production (NYSEARCA:XOP). This ETF is based on an equal weight index of 70 companies that explore for and produces oil and natural gas. It includes a relative large proportion of small-cap firms
iShares Dow Jones US Oil and Gas Exploration Index (BATS:IEO). This ETF is based on a market cap weighted index of 60 stocks. Holding consist of 66% large-caps, 29% mid-caps and 5% small-caps.
PowerShares Dynamic Energy Exploration and Production (NYSEARCA:PXE). This is a third PowerShares energy ETF based on the Intelllidex methodology, this time limited to 31 companies focused on exploration and production. Like the other Dynamic funds, this has some unique characteristic but has not generated a lot of interest, trading only about 50K shares per day. PXE has about a 91% correlation with its brother PXJ and 97% with PXI.
Natural Gas. To round out the analysis, I included the one ETF that focuses on natural gas companies.
First Trust ISE-Revere Natural Gas Index (NYSEARCA:FCG). This ETF is different than the others in the energy space in that it provides equal weight exposures for firms involved in natural gas production and exploration. Somewhat surprising, this natural gas ETF is highly correlated (93%) with the other ETFs in the energy sector.
To assess the risks and rewards of these energy ETFs, I plotted the annualized rate of return in excess of the risk free rate (called Excess Mu on the charts) versus the volatility of these ETFs. The results are shown in Figure 1. The Smartfolio 3 program (smartfolio.com) was used to generate this chart. To make it easier to distinguish the different sectors, I used the following legend:
Overall Energy Sector ETFs: Red dots
Oil and Gas Equipment Services ETFs: Blue dots
Energy Exploration and production ETFs: Yellow dots
Natural Gas ETF: Green dot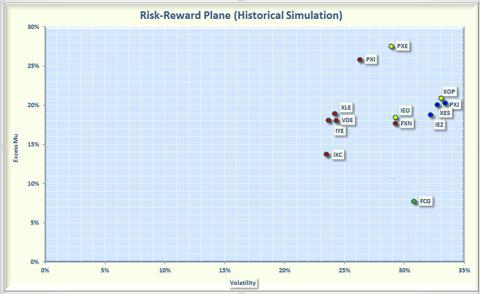 Figure 1: Risk vs Reward for Energy ETFs
As seen from the figure, there is a wide range of returns and volatilities. Generally speaking the sub-sectors tend to group together with the overall energy sector having the least volatility and the oil services ETFs having the most. The "quant" ETFs, PXI and PXE, have the highest returns but at the price of increased volatility (at least when compared to XLE).
To assess if the reward was worth the increased risk, I calculated the Sharpe Ratio for each fund. The Sharpe Ratio is a metric, developed by Nobel laureate William Sharpe that measures risk-adjusted performance. It is calculated as the ratio of the excess return over the volatility (the reward-to-risk ratio if you measure "risk" by the volatility). It is a good way to compare peers to assess if higher returns are due to superior investment performance or from taking additional risk.
If you define "best" as the ETFs having the highest Sharpe Ratio, then PXI and PXE are clearly the best energy ETFs. If you want to invest in a more liquid ETF, then XLE would be your best choice.
For completeness, I wanted to compare the risk-versus-reward of the future-based funds with the more traditional stock based funds. I looked at the following ETFs and ETNs (Exchange Traded Notes):
PowerShares DB Oil (NYSEARCA:DBO). ETF based on WTI oil futures
IPath S&P GSCI Crude Oil Trust Index (NYSEARCA:OIL). ETN based on WTI oil futures.
United States Natural Gas (NYSEARCA:UNG). ETF based on natural gas futures.
IPath DJ-UBS Natural Gas Trust Sub-index (NYSEARCA:GAZ). ETN based on natural gas futures.
PowerShares DB Energy (NYSEARCA:DBE). ETF based on a combination of WTI, heating oil, Brent crude, gasoline, and natural gas futures.
The risks and returns for these ETFs/ETNs are shown in Figure 2. It is clear that oil futures ETFs/ETNs have delivered a lower rate of return than their stock counterparts with about the same volatility. The ETF and ETN based on natural gas futures have had a dismal performance.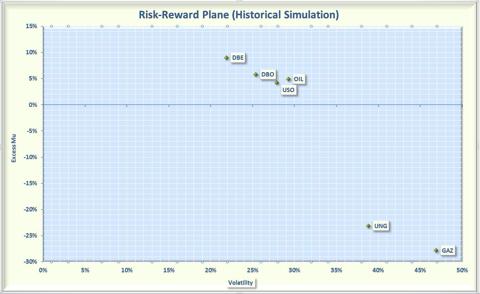 Figure 2: Risk vs Reward for Future Based Energy ETFs/ETNs
The only bright spot for these future-based products is that they do offer more diversification. Oil futures ETFs/ETNs are only moderately correlated with the stock based ETFs (about a 68% correlation). Natural gas futures are even more uncorrelated, with correlations from 13% to 25% when paired with oil and natural gas stocks. An unexpected result was that UNG was only 57% correlated with GAZ.
The final part of the analysis was to look at alternative energy ETFs. Only a few of these met my liquidity and 3 year look back criteria:
Market Vectors Global Alternative Energy ETF (NYSEARCA:GEX)
PowerShares WilderHill Clean Energy ETF (NYSEARCA:PBW)
Guggenheim Solar ETF (NYSEARCA:TAN)
Figure 3 shows that alternative energy ETFs have not fared well, with all three having large amounts of volatility coupled with negative rates of return. These ETFs are only moderately correlated with fossil fuel ETFs, with correlations ranging from 60% to 80%. In spite of the poor returns over an extended period, it should be noted that some of the alternative energy ETF may be poised for excellent returns over the near term, thanks to the outperformance of Tesla Motors (NASDAQ:TSLA), Cree, Inc. (NASDAQ:CREE), and SolarCity (SCTY).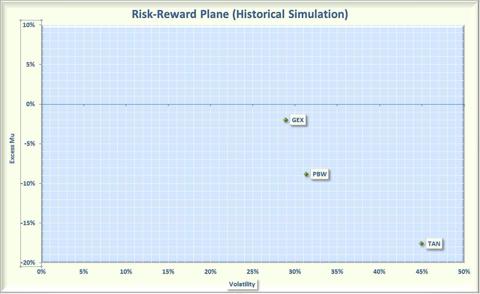 Figure 3: Risk vs Reward for Alternative Energy ETFs
My original objective was to determine the best energy ETFs in terms of Sharpe Ratio. Over the past 3 years, the answer is clearly PXI and PXE followed by XLE. However, this is a very volatile sector so rankings can change quickly. Some of the alternative energy companies are moving up fast and natural gas is trying to make comeback. So this is a sector that you much watch carefully. Good luck!
Disclosure: I am long DBE, PXI, FCG. I wrote this article myself, and it expresses my own opinions. I am not receiving compensation for it. I have no business relationship with any company whose stock is mentioned in this article.