Company: Quintiles Transnational Holdings Inc.
Exchange: New York Stock Exchange
Symbol: (Q)
Industry: Pharmaceuticals (Contract research organization, or CRO).
Newly listed Quintiles holds leadership position in its field, operates in an industry, which is highly regulated, largely remains safe from economic downturns and expected to show steady growth. Valuations look reasonable particularly with stock markets that are on the rise.
At current price company still holds value in it and is available at discount to its peers despite being the largest company in the industry.
Peer comparison

Company

P/E

Market cap.$

Quintiles Transnational Holdings Inc

30

5.88 billion

Covance Inc. (NYSE:CVD)

39

4.21 billion

PAREXEL International Corporation (NASDAQ:PRXL)

33

2.66 billion

National Research Corporation (NRCI)

27

421.22 million
Company offers a "low risk moderate return" long-term investment opportunity.
Company summary:
Quintiles is the world's largest provider of biopharmaceutical development services and commercial outsourcing services (In short it is the world's largest contract research organization, or CRO).
It generated $3.7 billion of service revenues in 2012.
Its order backlog on December 31, 2012 was $8.7 billion (executable over several years).
It conducts business in about 100 countries.
It has approximately 27,000 employees.
About 30 years of operation.
Doing business restructuring since last few years to reduce staff overcapacity and to rationalize non-billable support roles (expected to result in future savings).
Approximately 38.9% and 41.2% of its total service revenues for the years ended December 31, 2012 and 2011, respectively, were denominated in currencies other than the United States dollar.
Excellent historic performance.
Business segments:
Healthcare product development: primarily focused on Phase II-IV clinical trials and associated laboratory and analytical activities.
Integrated healthcare services: healthcare product marketing, market development etc.
Product Development contributed approximately 74% and Integrated Healthcare Services contributed approximately 26% to its 2012 service revenues.
Historical Operational highlights:
Company provided services in connection with the development or commercialization of the top 50 best-selling biopharmaceutical products and the top 20 best-selling biologic products, as measured by 2011 reported sales.
Of the new molecular entities, or NMEs, and new biologic applications, or BLAs, approved from 2004 through 2011, it helped develop or commercialize 85% of the central nervous system drugs, 76% of the oncology drugs and 72% of the cardiovascular drugs.
Financial Review:
Balance sheet review:
Concerns:
Heavy debt on its balance sheet.
Large shareholders' deficit: It is profitable at operating as well as at net profit level, still it has large shareholders' deficit on its balance sheet.
Reasons:
This is due to hefty dividend payouts in last three years, particularly in last two years when the dividend payouts exceeds net income. It will take at least two years for the company, to even out the balance sheet and, to eliminate the shareholders' deficit (without any further capital infusion and without any further dividend payouts).
(In thousands $)
Financial Year

Net income

Cash dividends payouts

Shareholders' deficit

FY 10

165,255

(67,493)

(900,359)

FY 11

240,327

(288,322)

(969,596)

FY 12

176,631

(567,851)

(1,359,044)

Ref: page 217 of prospectus (F-7)
One shouldn't expect the continuation of these hefty dividend payouts in future.
Income statement review: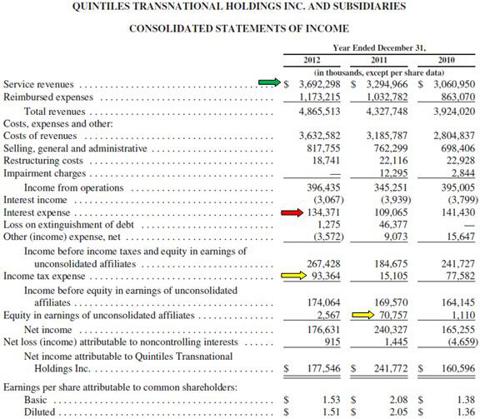 Key points from income statement:
Steady rise in revenues (Green arrow).
High interest payout due to high debt (Red arrow).
Restructuring cost: primarily to reduce staff overcapacity and to rationalize non-billable support roles (will result in future savings).
Net income shows a decline in FY 12 as compared to FY 11 due to onetime gain of $70.7 million (gain on sale of investments) in FY 11 and high rate of tax in FY 12 (yellow arrows).
Key positives and negatives:
Positives:
Industry leader.
Low capital intensive business (no need to have big money to run business).
Healthy talent pool: nearly 27000 employees with 850 employees possessing a Ph.D. or equivalent (A key requirement for such business).
Global reach: conducts business in about 100 countries.
Works with the leading companies in the biopharmaceutical industry, but without too much dependence on a single client.
Excellent historic operational performance.
Least affected by any economic downturns.
Positive industry outlook.
Highly regulated industry: works as entry barrier for new entrants/competition.
Negatives:
Balance sheet with large shareholders' deficit.
Low operating profit margins (mainly margins before interest, tax and other income/loss)
Segment

Operating profit margins

Healthcare product development

17-18% (last two years FY 11 FY 12)

Integrated healthcare services

06-07% (last two years FY 11 FY 12)

Ref: page 63 of prospectus
At company level operating profit margins had been further reduced by about 3% due to certain general corporate and unallocated expenses, restructuring costs, impairment charges etc.
Net profit margins even lower at about 3.5% due to high interest cost and tax payout (without considering onetime gains).
High debt level (considering the low capital intensive nature of business).
Little pricing power: Most of its clients are big pharmacy companies with their own research and marketing departments, this leaves company with little pricing power, which reflects, in its margins.
Susceptible to foreign exchange fluctuations.
Widely fluctuating tax rate due to significant earnings in foreign currencies.
Industry Outlook: (Positive)
Healthcare product development:
Company estimate that clinical development spending outsourced to CROs in Phases I-IV in 2011 was approximately $16 billion and will grow to approximately $22 billion by 2015.
Expected outsourcing of clinical development to CROs to grow 5%-8% annually from 2012 to 2015. Of this annual growth, up to 2% will be derived from increased R&D expenditures, with the remainder coming from increased outsourcing penetration.
Integrated healthcare services:
The total market served by Integrated Healthcare Services is diverse, which makes it difficult to estimate the current amount of outsourced integrated healthcare services and the expected growth in such services. However, as per company estimate outsourcing penetration in the estimated $88 billion addressable market is not more than 15%, which means lots of potential in future to evolve and grow.
Points to consider while evaluating the company:
Industry leader: Quintiles is the company, which holds leadership position in its field (companies that hold leadership position in a particular field normally commands better valuations).
Business to be least impacted by any economic downturn (normally get better valuations).
Global reach: isolate company from region specific or country specific industrial downturns due to reasons like change in regulations etc.
Vastly experienced: allow Company to tap opportunities more promptly and helps company in better understanding of regulations.
Excellent business relationships: Helps secure new business.
Positive industry outlook (explained above).
Margins:
Margins are expected to improve, particularly at net profit level.
In recent past its margins has been affected by;
High interest out go (in FY 10, 11, 12).
Restructuring cost (in FY 10, 11, 12).
Some debt prepayment, refinancing cost (in FY 11).
In future all the factors shall be contained to much extent, due to:
Repayment of high cost debt by funds raised through recent offering.
Restructuring cost will start paying back, due to savings on operational front.
With reduced debt; debt related cost will come down.
All these things should allow company to improve in net margin by about 1% in near future, which will be a significant addition to current net margin of nearly 3.5%.
Operational growth: due to its leadership position company is expected to grow above industry, which itself is expected to grow at the rate of 5-8%.
Future assumptions: (Conservative, barring any unforeseen circumstances. Assuming that company performs in line with its historic performances and tax rate remains same as in FY12 i.e. @ 35%)
Assuming that its revenues grow by 11% and margins improve by 0.50 percent points at net profit level; over FY 12.
(In thousands $)
| | | |
| --- | --- | --- |
| | FY 12 | FY 13 |
| Revenues | 4,865,513 | 5,400,719 (11% growth) |
| Net profit margins | 3.65% | 4.15% |
| Net profit | 177,546 | 224,129.9 |
| Shares Outstanding | 115,790,390 | 129,606,179 |
| Basic EPS | 1.53 | 1.72 |
| P/E @ $ 40-44 per share | 26-29 | 23-26 |
Company offers a "low risk moderate return" long-term investment opportunity.
Disclaimer:
This article reflects personal view of the author about the company and one must read offer prospectus and consult their financial adviser before making any investment commitments.
Investments in stock markets carry significant risk, stock prices can rise or fall without any understandable or fundamental reasons. Enter only if one has the appetite to take risk and heart to withstand the volatile nature of the stock markets.
Disclosure: I have no positions in any stocks mentioned, and no plans to initiate any positions within the next 72 hours. I wrote this article myself, and it expresses my own opinions. I am not receiving compensation for it (other than from Seeking Alpha). I have no business relationship with any company whose stock is mentioned in this article.