In light of recent developments and headlines, this article is an update on my July 1st, 2011, piece, bullish on oil prices and Statoil (NYSE:STO).
Statoil had a poor first quarter which missed the Street's estimate by almost 12% and reiterated a guidance of lower 2013 production than 2012. On top of these, the company headquarters were recently raided by EU's anti-trust watchdog for suspected price-fixing with other European oil titans. It is a good time to review what has happened to the stock since July 2011.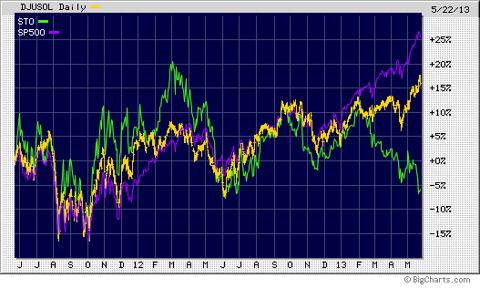 As the above chart shows, courtesy of MarketWatch's BigCharts website, STO initially outperformed both the S&P and the industrial index, but tanked last May, coinciding with a drop in Brent from a peak of $120 per barrel to less than $100 during this period, as shown in the first chart of my last article, dated May 23, 2013.
The stock has since under-performed both the S&P and the industrial index, and the gap is widening, with the recent bad news.
In production, the company had an outstanding year in 2012, producing 2,004 mboe (thousands of barrels of oil equivalent per day), a growth of 8% over 2011. Granted that Statoil's production declined 4% in 2010 over 2009, and again declined 2% in 2011 over 2010, so 2011 production was hardly a high point, but the 2012 growth rate is still commendable given the sector's prevalent malaise of reserve depletion.
Even though the company had a big miss in the first quarter, its earnings for the past four quarters were very much in line with street estimate. With the bearish production guidance from management, my financial model calculates an EPS for the year of $2.82, exactly the average estimate of seven analysts posted on Yahoo Finance! At $22 per share, STO is trading at about 8 times this EPS.
During the first quarter earnings call management reiterated Statoil's long-term goal of reaching production of 2.5 million barrels of oil equivalent per day (mboe/d) in 2020. This would be accomplished through a CAGR of 2 - 3% from 2012 - 2016, and an accelerated CAGR of 3 - 4% from 2016 on. Management presented a long pipeline of projects to make this happen. Ultimately, what drives the stock would be whether Helga Lund, Statoil's CEO and a former McKinsey consultant, would execute on this long-term strategy, and this, only time would tell.
However, we wouldn't have to wait for long to see if the company is executing on his strategy; 2014 would be a critical year. Statoil's CFO did a presentation on the company's growth strategy1. One of the slides shows production growth, specifically in installed capacity, in three phases: the company already delivered on the first growth wave (the year 2011 - 2012), by adding 400 mboe/d of capacity. The second phase would occur in 2013 - 2016, with a capacity addition of 900 mboe/d. The major fields accounting for the growth are spelled out on the slide. The first thing I notice is that they are all in geopolitically stable countries, in relative terms (i.e. Norway, Ireland, U.S., Angola). The same thing with most of the fields listed in the third phase of the company's growth strategy. In my view, the strategy is at least a smart bet by minimizing one of the biggest risks for the industry.
Presently, the brent price probe is putting a cloud over the stock. If the investigators find a smoking gun (i.e. email trail incriminating management), the company would be in real trouble. I consider the possibility to be slim. Even in the case of no smoking gun, such a complicated investigation could drag on for years, and to what extent would this divert management attention from running the company?
Also, there is talk of Norwegian government, which owns two third of Statoil, selling down of some of its shares to diversify investments away from energy. My guess is that if it truly wants to do so, as the stock's biggest owner, it would be the last one to want to exit in such a way to cause dramatic price drops.
Overall, I believe in Mr. Lund's strategy of capitalizing on Statoil's core competency in deep-sea drilling, and think that the company is drilling in all the right places they should be in around the world. He has a real shot at achieving his goal in 2020 if he gets to see it through, and the market is in a wait-and-see mode. My current rating for the stock is Hold. The stock is currently yielding roughly 5% in Norwegian Kroner, which is a stable currency. So, stay tuned, I would revisit this rating if the cloud does lift.
1 Company website, "High Quality Growth", March 20, 2013.
Disclosure: I have no positions in any stocks mentioned, and no plans to initiate any positions within the next 72 hours. I wrote this article myself, and it expresses my own opinions. I am not receiving compensation for it (other than from Seeking Alpha). I have no business relationship with any company whose stock is mentioned in this article.