When building out a thematic portfolio investors have to look far enough into the future and perceive what the next trend will be among consumers. This is a challenging but exciting task and investors with enough willpower to stay invested in their beliefs have the potential to achieve tremendous returns. One of my top picks over the next few years, and a great thematic stock to evaluate for your portfolio is Dick's Sporting Goods (NYSE:DKS). As consumers continue to change their daily habits, begin exercising more and spend increased amounts leisure time outdoors, Dick's is well positioned to capture this trend.
Dick's Sporting Goods is the largest full-line retailer in the sporting goods industry. With over 520 stores in 44 states, the company is quickly expanding its geographic footprint. Dick's carries many of the top athletic brands such as Nike (NYSE:NKE), Under Armour (NYSE:UA), Columbia Sportswear (NASDAQ:COLM), Callaway Golf (NYSE:ELY), and The NorthFace (NYSE:VFC). What it does differently than its competitors is create "shops" inside of its stores dedicated to specific brands. These "shops" (which I will focus on later) carry a wider range and deeper selection of the top brand name products. This created a unique partnership which further drives sales, margins, and traffic.
Throughout this article I will highlight some major changes going on at Dick's Sporting Goods this year and why now may be an appropriate time to begin building a position in DKS.
Industry Background
Prior to purchasing a company simply because I like their product, I prefer to confirm my beliefs and observe a changing trend in the macro-environment. The United States Census Bureau publishes monthly retail sales data comprised of various types of consumer spending. One category (charted below) is "Sporting Goods, Hobby, Book, and Music Stores". You can see that over the past decade this category has been trending up and to the right. My expectations are that this trend will continue as consumers become more health conscious.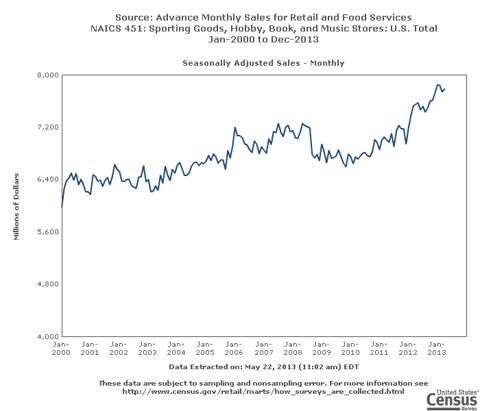 This is just one tool to utilize while watching the progress of Dick's Sporting Goods over the next few years. Any major changes in consumer behavior towards spending in this category would bring a cause for concern. There are various other reports to follow which include competitor's earnings, supplier's forecasts, and general industry trends, which I recommend evaluating alongside Dick's performance.
Building for the Future
The major theme of fiscal 2013 for Dick's is investment in their business. While everyone knows this is necessary for continued growth, the costs associated with expansion can cause investors to temporarily shun the stock and implement a "show me" attitude before investing again. One thing I applaud management for is not trying to please analyst by artificially inflating earnings and heavily discounting product in order to meet revenue targets(although the $0.04 gain from an impairment reversal caused FQ1 to look better than it really did, this is not a common theme from Dick's and I do not expect it to continue). During the company's year end conference call CEO Edward Stack summed up 2013 as follows, "... we're really taking a look and making these investments for the long-term benefit of the company and not just trying to manage the business quarter-to-quarter, and I know that that's difficult. A lot of people really articulate that, that's the way a business should be run, until you run it that way and then it's -- there's some pain associated with it. But we feel that these are absolutely the right things to do for the company going forward." I think this reinforces my original point above regarding management's stance relating to short term performance.
During the coming year the company expects to open approximately 40 new locations and relocate one Dick's Sporting Goods stores. Additionally they will remodel four full and 75 partial stores in 2013. The Company also expects to open one new Golf Galaxy store and relocate one Golf Galaxy store, open two new True Runner stores and two new Field & Stream stores in 2013. This is a tremendous investment and given that only two stores were opened during FQ1, leaves a lot of work to do with the remaining three quarters. Since Dick's sporting Goods makes up the majority of sales for the company, the table below lists out the number of Dick's locations opened over the past decade. Management projects capacity for 1,100+ stores in the United States.
| | | | |
| --- | --- | --- | --- |
| | Store Count | Growth Rate | Store Increase |
| 2002 | 141 | | |
| 2003 | 163 | 15.60% | 22 |
| 2004 | 234 | 43.56% | 71 |
| 2005 | 255 | 8.97% | 21 |
| 2006 | 294 | 15.29% | 39 |
| 2007 | 340 | 15.65% | 46 |
| 2008 | 384 | 12.94% | 44 |
| 2009 | 419 | 9.11% | 35 |
| 2010 | 444 | 5.97% | 25 |
| 2011 | 480 | 8.11% | 36 |
| 2012 | 518 | 7.92% | 38 |
| 2013 Estimate | 558 | 7.72% | 40 |
| | Average | 13.71% | 37.91 |
| | CAGR | 13.32% | |
Source: Dick's Sporting Goods SEC Filings
eCommerce business is another huge opportunity for Dick's moving forward. Forrester research estimates the online U.S. sporting goods market is approximately $5 billion and expected to grow 10-15% annually through 2016. During the first quarter eCommerce made up 5.8% of total sales (roughly $77 million) up from 3.7% of total sales (roughly $47 million) in the same quarter a year prior. Not only does the mobile and online platform reach more consumers, margins are significantly less than the traditional retail outlet. Management believes it can at least triple the size of this business by 2015.
Choosing the right partners
Two of Dick's largest relationships are with Under Armour and Nike. Both are coming off tremendous quarters with UA reporting a 23% increase in revenue (end of March) and NKE reporting an 18% increase in North American sales (end of February). With such impressive growth rates and customer followings, Dick's has chosen to give these two brands premium real estate inside their stores. I mentioned the "shops within the shop" earlier and part of the capital spending plan this year involves creating more of these specialty showrooms.
Currently Dick's has 178 "Nike Fieldhouse shops" within their existing store base. By year end this is expected to grow to 291. Under Armour has 111 specialty shops as of the recent quarter end and Dicks expects to increase this amount to 240.
Although not every partner works out as planned, the company is currently showing its ability to handle supplier problems in an appropriate manner. During the holiday season the Livestrong brand witnessed extremely weak sales due to the Lance Armstrong scandal. A large percentage of the fitness cardio equipment Dick's sells is made by the Livestrong brand. Since the end of year holiday period is a top quarter for cardio equipment, Dick's sales were negatively affected by this backlash from consumers at the most inopportune time. The company is aggressively trying to cut prices and move inventory out of showrooms as it builds relationships with new fitness suppliers.
My Thoughts on the Future
Management provided guidance for the remainder of fiscal 2013 and anticipates a rebound in the second half of the year. Weaker than expected same store sales data released in the prior quarter is somewhat alarming, however management sees 2-3% growth in comps during the back half of the year. Note that management tends to cite non-GAAP measures while my estimates are based upon GAAP. Below are some relevant points I factor into my estimates:
Revenue growth of 9% in FY13. Management is estimating 2-3% increase in same-store sales.
No change in gross margins. Due to increased capital expenses (higher depreciation charges) management is projecting no change in gross margins and a -$0.12 impact to EPS from growth investments.
Modest operating margin improvement as a result of lower SG&A costs and slightly higher pre-opening expenses.
Lower interest expense versus prior years (The company purchased its corporate headquarters building in 2012 which reduced interest expense).
Diluted share count of 126,000,000 - provided by management
My diluted EPS estimate was increased by $0.03 as a result of the impairment reversal in JJB. Management is estimating slightly higher EPS (non GAAP of $2.84-$2.86).
Please note that the estimates below are not guaranteeing any of the results will be met. These estimates are strictly based upon management's guidance, the company's SEC filings, press releases, historical data, and my estimates.
| | | | | | | |
| --- | --- | --- | --- | --- | --- | --- |
| | 2013 | | | 2014 | | |
| | Full Year Estimate | CS | YOY Growth | Full Year Estimate | CS | YOY Growth |
| Revenue | $6,361,369,710.00 | 100.00% | 9.00% | $6,870,279,286.80 | 100.00% | 8.00% |
| Cost of Revenue | $4,358,862,040.00 | 68.52% | 9.00% | $4,685,776,693.00 | 68.20% | 7.50% |
| Gross Profit | $2,002,507,670.00 | 31.48% | 9.00% | $2,184,502,593.80 | 31.80% | 9.09% |
| Selling, General and Admin Exp | $1,399,501,336.20 | 22.00% | 7.87% | $1,490,468,923.05 | 21.69% | 6.50% |
| Pre-opening expenses | $20,095,000.00 | 0.32% | 25.00% | $25,118,750.00 | 0.37% | 25.00% |
| Operating Income | $582,911,333.80 | 9.16% | 11.31% | $668,914,920.75 | 9.74% | 14.75% |
| Interest Expense | $2,800,000.00 | 0.04% | -53.60% | $2,800,000.00 | 0.04% | 0.00% |
| Other Income | -$6,000,000.00 | -0.09% | 31.72% | -$1,500,000.00 | -0.02% | -75.00% |
| Pretax Income | $586,111,333.80 | 9.21% | 19.66% | $667,614,920.75 | 9.72% | 13.91% |
| Provision for income taxes | $228,583,420.18 | 3.59% | 14.80% | $260,369,819.09 | 0.037898 | 13.91% |
| Net Income | $357,527,913.62 | 5.62% | 22.98% | $407,245,101.66 | 0.059276 | 13.91% |
| | | | | | | |
| Basic Shares Outstanding | 121,700,000 | | | 120,700,000 | | |
| Basic EPS | $2.94 | | | $3.37 | | |
| Diluted Shares Outstanding | 126,000,000 | | | 125,000,000 | | |
| Diluted EPS | $2.84 | | | $3.26 | | |
Source: Dick's Sporting Goods SEC Filings, Dick's Sporting Goods Management Guidance, and my estimates based upon historical data and future expectations. Estimates given above are no guarantee of future results, please evaluate the company in greater detail before making investment decisions.
Risk/Reward
Although I am a strong believer in the long term growth of this company, there are pertinent risks which investors need to be aware of. Dick's has a strong concentration of its stores in the eastern United States and could be affected by weather patterns occurring in these regions. Additionally the popularity of sports plays a major role in how consumers make purchases. When the NHL went on strike Dick's saw a substantial decline in hockey sales (although not a significant contributor to overall sales). As consumers move to the internet to make purchases companies like Amazon (NASDAQ:AMZN), Target (NYSE:TGT), Wal-Mart (NYSE:WMT) and eBay (NASDAQ:EBAY) have better infrastructure in place to cater towards specific needs.
However given the risks mentioned above and those outlined in the company's recent 10-k filing, in my opinion the rewards far outweigh the risks. There are a number of catalysts which could bump the share price higher in both the short term and the long term. Short term catalysts could be in the form of better than expected same store sales or increased customer demand from the newly branded stores (True Runner and Field and Stream). Long term catalysts are dependent upon the company's success to open stores in prime locations and continue up-selling customers. P/E expansion is another opportunity to propel shares of DKS higher. In the chart below you can see the stock currently trading in the low 20x TTM P/E range. Given the EPS growth potential, this appears somewhat low compared to the overall market.
Conclusion
Given a slow start to the fiscal year investors still have time to enter into a position in DKS before the market takes notice of the growth potential ahead. While we could see buyers bidding up the stock price if the FQ2 earnings are better than expected, I think a critical date to watch is September 18th. This is the date for Dick's first every analyst day where the company will be discussing long term growth opportunities and diving deeper into investment plans over the coming years. Couple this with the company's new share repurchase program and rising dividend and we are likely to see an increased following of analyst as the company becomes more shareholder friendly (typically a bullish sign for a stock).
Consider your investment goals and objectives before initiating a position in Dick's Sporting Goods and please remember that the value of investments in equity securities, like DKS, will fluctuate in response to general economic conditions and to changes in the prospects of particular companies and/or sectors in the economy. Since I attempt to tailor my estimates above conservatively, any upside surprises would be beneficial. Given current valuations and growth opportunities, in my opinion shares offer an attractive entry point.
Note: All data reported and graphed is pulled directly from Dick's Sporting Goods SEC Filings, Press Releases and Investor Presentations.
Disclosure: I have no positions in any stocks mentioned, and no plans to initiate any positions within the next 72 hours. I wrote this article myself, and it expresses my own opinions. I am not receiving compensation for it (other than from Seeking Alpha). I have no business relationship with any company whose stock is mentioned in this article.