"We are achieving record financial results and we are well-positioned for continued growth in sales and earnings"
Laurence G. Sellyn - CFO and Executive Vice President (In the Q2 2013 earnings call)
Gildan (NYSE:GIL) is a supplier of quality branded basic family apparel. It designs, manufactures and source basic products which are typically characterized by low fashion risk and frequent replenishments such as t-shirts, sport shirts, etc. Its current market cap stands at $4.96B .Overall FY12 revenue was $1.9B, representing 13% growth over FY11 revenue and profit margin of about 8%. With lower cotton price, leadership position in the printwear market and aggressive focus on sales through retail channel, the company should realize significant sales growth in FY13. The expected revenue for FY 13 is slightly in excess of $2.15B, which represents an almost 10.4% growth rate.
What will work:
Experienced Leadership Team: Mr. Glenn J Chamandy, current CEO, founded this company way back in 1984, has over twenty years of experience in Textile and Apparel business. He comes with proven leadership skills and ability to develop succinct strategies for growth and expansion. Other leaders such as Michael Hoffman, Eric comes with wealth of experience in Apparel business and ability to execute in tough business environment.
Clear growth Strategy: Gildan is working on following key strategies:
Focus on Printwear market: In order to pursue additional growth, it ramped up new textile facility and also acquired Anvil in third quarter of FY 12.Overall focus is to expand production capacity and introduce new products for this market
Continue penetration of Retail Market: It wants to further grow sales to US retailers by introducing new branded apparel and also build its image as an excellent supply chain partner to Global consumer brands.
Continue to find ways to reduce manufacturing and distribution cost: It has taken several steps to either modernize its plant or refurbish it and improve its cost efficiencies.
Large Scale Vertical Manufacturing: Gildan has emerged as global low cost supplier of good quality products by virtue of continuous capital investment and new production capacity and product technology.
Good Financials: Gildan generated total $145MN of free cash flow in FY 12. It is expected to generate $200M of free cash flow for FY13 representing almost 38% growth over last year's , Key financial Metrics is below:
| | | | | | |
| --- | --- | --- | --- | --- | --- |
| | 2012 | 2011 | 2010 | 2009 | 2008 |
| Revenue growth (%) | 13% | 32% | 26% | -17% | NA |
| Gross Margin (%) | 20% | 25% | 28% | 22% | 27% |
| Operating Margin (%) | 8% | 13% | 15% | 9% | 14% |
| SG&A as % of Revenue | 12% | 12% | 12% | 13% | 11% |
| Cash from Operating Activities($M) | 219.58 | 163.64 | 301.55 | 169.18 | 238.8 |
| EPS($) | 1.3 | 2.1 | 1.75 | 0.82 | 1.26 |
| Total Cash($M) | 72.71 | 81.98 | 70.41 | 48.51 | 31.51 |
| Debt($M) | 214 | 177 | 181 | 306 | 333 |
| Interest Coverage(x) | 13.4 | 35.99 | 245.42 | NA | NA |
Source: Yahoo finance, Google Finance, MSN
Stable cotton Price: Cotton is the most important input for manufacturing cloth and any change in cotton price will have positive/adverse impact on gross margin and profitability. Cotton price is as of now stable and expected to remain so for complete year.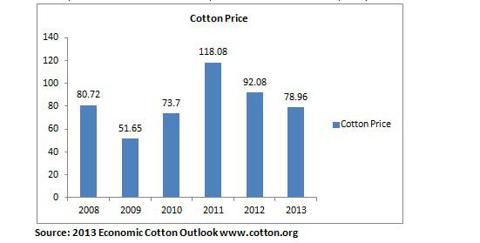 Source: 2013 Economic Cotton Outlook cotton.org
Strategic Acquisitions: Gildan has made two strategic acquisitions so far in last two years. In FY11, it acquired Anvil, a supplier of high quality T-shirts and sport shirts, for $87.4M and In FY11; it acquired Gold Toe Moretz, a leading supplier of high-quality branded athletic and other fabrics, for $347.7M. Gildan wants to generate significant % of sales through retail channel and both acquisitions are helping in that. Management is also open for new acquisitions which can help its long term strategic goals.
Key Risk:
Price of Cotton: One of driving factor for margin is input cost of raw material (Cotton), though management has said that they are happy with cotton price, however any unexpected change may disrupt the overall ecosystem and result in higher prices and lower margins.
Expected realization of increased efficiencies: Management is expecting deliver up to $0.1 per share impact through increased supply chain and manufacturing efficiencies. Overall benefit should be realized because of biomass project and ramping up of one of its plant. But it will have a tangible impact if it did not meet the overall forecasted cost savings.
Acquisition Risk: The integration of newly acquired businesses may prove to be more challenging, take more time than originally anticipated and result insignificant additional costs. So far its two acquisitions have gone well.
Condition of current Economy: Overall customer/client spending is driven by overall economic environment i.e. GPD growth and employability. Overall situation is showing gradual sign of improvement.
Valuation:
I did not do a comprehensive valuation. As of latest, its price is trading at $41.51 with P/E at 18.41 and P/BV at 3.32. I would recommend a detailed valuation to understand its intrinsic worth.
Conclusion:
Overall, Gildan is an attractive company for a long-term investment. It has clear growth strategies and has sound financials. Management is confident that it will be able to deliver a good result in current fiscal year by virtue of delivering good quality products, increased capacity and expected synergies through past acquisitions.
Disclosure: I have no positions in any stocks mentioned, and no plans to initiate any positions within the next 72 hours. I wrote this article myself, and it expresses my own opinions. I am not receiving compensation for it. I have no business relationship with any company whose stock is mentioned in this article.