Healthcare has dominated the headlines in recent weeks, as President Obama presents his new proposals and the industry recovers from a position where it was perhaps oversold. Where, in this mix, are ETFs the most helpful? iShares Nasdaq Biotech (NASDAQ:IBB) helps investors navigate the popular, but hit-or-miss, biotech subsector. Healthcare has gained short-term momentum in recent weeks, and IBB is up 9.23% for the one-month period ending June 26. IBB offers investors exposure to a broad range of biotech funds with a concentration in large-cap names, a strategy that will save investors some of the pain that comes from failed start-ups.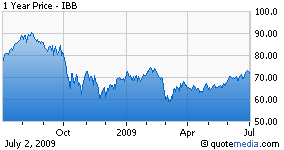 With the healthcare industry just regaining its footing, and government pressure being applied more acutely to other subsectors of healthcare, IBB offers solid long-term exposure to the biotech sector.
IBB tracks the NASDAQ Biotechnology Index, comprising companies with at least a $200 million market cap. IBB has 123 holdings and an attractive 0.48% expense ratio. The top industry allocation in the fund is Medical-Biomedical/Gene, with a 63.29% weighting, followed by Medical-Generic Drugs and Medical-Drugs, with 11.34% and 9.63% weightings, respectively. While the fund tends to be top heavy—its largest component, Amgen (NASDAQ:AMGN), makes up 10.77% of the fund—IBB's components are spread throughout the capitalization spectrum. More than 43% of IBB's holdings can be classified as either giant or large cap, while 28.5% are medium and 27.75% are small or micro. Overall, the top 10 holdings in the fund are allocated nearly 52% of the fund's assets.
Investing in biotech is a high-risk/reward proposition, mitigated somewhat by funds like IBB. Uncertainty plagues the industry, and the advent of new regulation, battles over intellectual property rights and the single-product nature of the sector provide inherent volatility. There are many small biotech firms that never find that one drug to keep them afloat, and consequently they disappear over time. Analyst John Gabriel notes, "Industry experts estimate that one in five therapies, at most, will survive the 10-to-15-year development and clinical gauntlet required to get regulatory approval." Even if they survive, Gabriel says that long-term success is still not certain: "With the process costing $1 billion, on average, many biotechs surrender their drugs' marketing rights to big drug firms in exchange for cash upon reaching various development milestones."
The innovation and mergers that have marked this sector, however, make it an attractive one for risk-tolerant investors. Many of the companies included in IBB make drugs that treat such long-term illnesses as cancer or multiple sclerosis and are less likely to see the price-reduction pressure that could soon more acutely haunt big pharma. Often treatments for life-threatening illnesses are subsidized by government funds. "Many such therapies offer unique benefits to small subsets of patients, reducing the leverage that pharmacy-benefit managers have over drug firms in price negotiations," Gabriel notes.
On June 11, members of a House subcommittee met to discuss the benefits of cheaper, generic biotech drugs and a faster approval process to get these drugs to market.
FTC Commissioner Pamela Jones Harbour discussed the nature of the biologics market and how it would "prevent generic versions from significantly cutting into the profits of original manufacturers," according to the Wall Street Journal. IBB's top component, Amgen AMGN, is a major player in this market and would be subject to any change in legislation. The June 11 report encouraged the approval of generic biologic drugs to compete directly with original drugs, but the impact on major companies is thought to be low.
The approval of AMGN's denosumab, which will be reviewed by the FDA in August, could mean blockbuster returns for IBB's top component. The FDA will meet with its panel of reproductive health experts on August 13 to assess the effectiveness and safety of the drug. The agency usually follows the recommendations of the panel. Sales of AMGN's anemia drugs have been declining, due to safety concerns and warnings, so the approval of denosumab is even more important to AMGN's execs in the upcoming months. Denosumab is a treatment for postmenopausal osteoporosis and for the prevention of bone loss in patients being treated for prostate cancer or breast cancer. The approval and success of this drug could boost IBB and benefit shareholders.
Other biotech ETFs include SPDR Biotech (NYSEARCA:XBI), PowerShares Dynamic Biotech & Genome (NYSE:PBE) and Biotech HOLDRs (NYSEARCA:BBH), but IBB is possibly the best of this bunch, with relatively good diversification without completely relying on small- and mid-cap components. XBI weights each of its components evenly, which means that smaller biotech firms could hold sway over more established companies, while PBE's strategy emphasizes a large number of young companies. BBH shuns small start-ups and concentrates on just the top biotech firms, not exposing investors to any small firms that may suddenly find success. IBB's portfolio runs the gamut but concentrates on established companies that have capital to make it through a dry spell.