As someone who covers a lot of short ideas on this site, one of the most important items I follow is short interest data. One must always be aware of the short interest in a stock. A large short base could spark a short squeeze on good news, while low short interest could spark a huge drop on bad news. Every couple of weeks, we get an update from Nasdaq on short interest data, and I report on what I am seeing. Today, I'm here to discuss the middle of May numbers. Today, I'll discuss five names that short sellers are running away from, whether just recently or over the longer term.
Apple (NASDAQ:AAPL):
Short interest in Apple skyrocketed at the last update, and it seems like that was a one-time issue. As you can see from the chart below, the spike was short lived, as more than 15.6 million of the 41.59 million shares short were covered in the past few weeks. More than 37.5%, three out of eight, shares short were covered. Apple's short interest now stands at just under 26 million. That's still a large rise over the 8.09 million shares short just 13 months ago, but it's down tremendously from the recent high.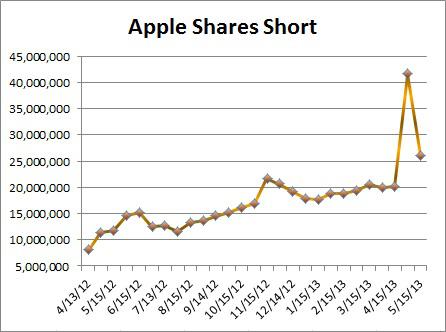 For those that have followed my "short interest series," you'll know that I've been following Apple's days to cover ratio as well. This is the number of days it would take all shares short to be covered, given how many shares are short and how many shares traded daily. I mentioned in the last article that Apple's average volume was likely to be lower at this update, because we have moved further away from earnings. Thus, had Apple's short interest stayed at the last update level, 41.589 million, the days to cover ratio would have skyrocketed to nearly 2.50. A days to cover ratio of 2.50 isn't large, because it would only take two and a half days to cover all short positions. A days to cover ratio that is in the high single digits or even double digits would be high. However, just over a year ago, Apple's days to cover ratio was at 0.31. But since we got a huge fall in short interest, the days to cover ratio declined to 1.55 from 1.73. That doesn't seem like a large drop given the 37.5% short covering, but NASDAQ's volume number went from about 24 million to approximately 16.75 million. A days to cover ratio of 1.55 is not considered high, but for Apple, it's well above where it has been for the previous twelve months.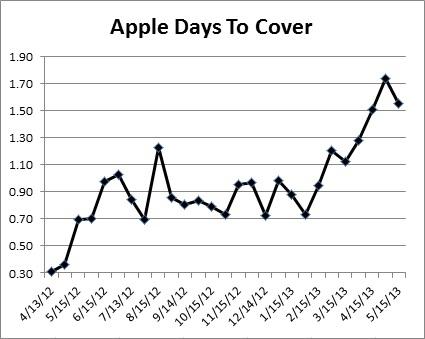 So where does Apple go from here? Well currently, the company (and stock) is in a holding pattern. Investors won't see another dividend payment for nearly three months. The buyback, which seems large on the face of it, won't get the share count down as much as some might think, and it will occur over three years. Three years is a lifetime in Apple time. For now, it will come down to when Apple releases new iPhones and iPads, and we won't get a sense of that probably until Q3 results are released in late July. There may be some long-term items that could get you excited about Apple (the buyback is a start), but there doesn't seem to be a short-term catalyst that will send this stock much higher quickly. I'm really curious to see the next round of short interest data for Apple. If shares start to trend towards $425 again, I wouldn't be surprised if the next few updates show a rise in short interest again.
Dendreon (NASDAQ:DNDN):
Dendreon makes this list because the name saw its first meaningful decline in short interest in quite some time. Dendreon short interest had increased by nearly 9.5 million shares so far in 2013, before the 2.6 million share decrease we saw in the latest update. In terms of numbers of shares and percentages, this is the largest single decrease in more than a year.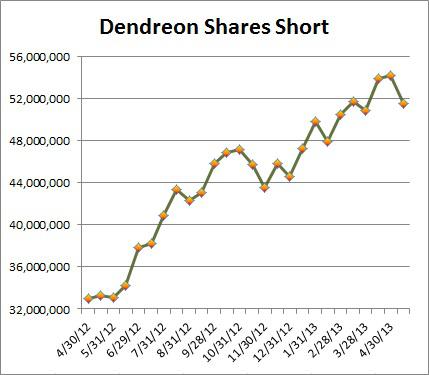 Short interest may have come down as shares recently went under $4.00 for the first time in about six months. Shares are again approaching their 52-week low, as Q1 results for the company were disastrous. Investors aren't the only ones that are skeptical at this point. Dendreon revenue estimates for 2013 are at their lowest point, meaning the all-important $100 million revenue quarter may be further away than we originally thought. Until Dendreon gets revenues above that level, the company will continue to burn through cash, making a share offering even more likely. Dendreon's balance sheet continues to get worse, and Provenge struggles have intensified. Short interest may have come down for one update, but I wouldn't be surprised if we see a new high over the next couple of months.
Tesla (NASDAQ:TSLA):
Tesla short interest has dropped 25% in the past month and stands at a new yearly low. It's clear that the super spike recently has started to chase a fair number of the shorts away. The strong first quarter results got the ball rolling, and after a brief pullback, the stock has rallied to new highs. Shares topped $100 for the first time on Tuesday and quickly raced through $110 by the end of the day.
A recent stock and note offering helped the company to raise some cash and pay off its DOE loan. That has been part of the reason for the second rally in shares, which had slumped from $97 to $78 before the second leg started. Here's the important question though in regards to short selling. At what price does short interest start to rise again, because more shares are being shorted than covered? Was it $100, is it $110, or will it take something like $125 or $150 to happen? Tesla has become one of the newest momentum names, but is the bubble about to burst?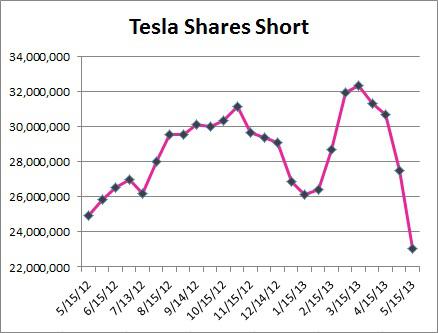 Zynga (NASDAQ:ZNGA):
Zynga's rise from $3.10 to $3.50 during the late early/early middle part of May is one good explanation for why short interest in the name dropped. Essentially one third of shares short were covered, putting short interest in Zynga at its lowest point since the end of January. Short interest in Zynga is low though, less than 4% of the current float. Plus, as you can see below, we are well off the high point in short interest reached about a year ago. Zynga short interest went from 56.6 million to 10.9 million before the recent rise that started a couple of months ago.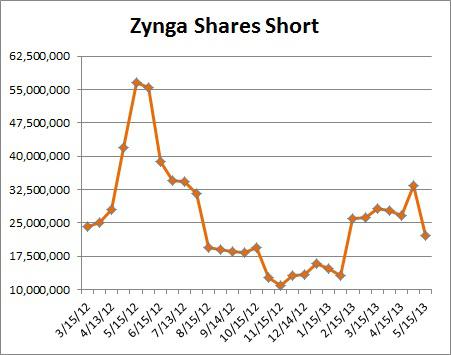 Zynga stands around $3.40 today, down from about $6.00 a year ago and the mid double digit highs before that. When looking at the social media craze, Zynga and the name below are two of the worst performers. Going forward, are these businesses viable, or are we looking at even worse performance ahead?
Groupon (NASDAQ:GRPN):
The extended rally in shares of Groupon has certainly chased away a number of short sellers. Groupon shares hit a 52-week low of $2.60 last year and were under $4.00 less than six months ago. Shares have rallied strongly after CEO Andrew Mason was ousted, hitting a new short-term high of $7.50 on Tuesday. Investors believe this business may be turning around, despite a new leader potentially not coming for quite a while.
Short sellers are certainly covering their positions in this name. Groupon short interest is less than half of its high point from the end of July 2012. Additionally, the mid May count of 27.37 million was the lowest short interest number since the end of June 2012, nearly a year. With Groupon shares breaking through $7.00 a few weeks ago and continuing higher, one must wonder if short interest will continue to decline from here, or if shorts will now re-enter the name.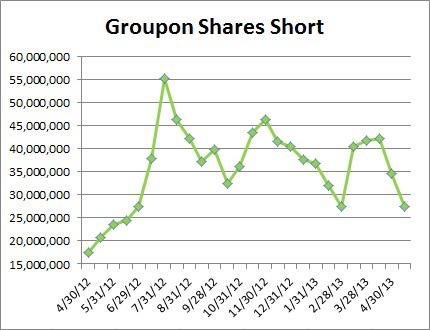 Final Thoughts:
These five names have seen significant decreases in short interest, whether it was a one-time drop or a longer-term trend. Apple saw a key reversal from the large spike in short interest. Groupon's short interest is at its lowest point in nearly a year, while Tesla's is at a new yearly low. Dendreon saw its first meaningful short interest drop in quite some time, and Zynga short interest dropped by a third. I'll be back in a couple of weeks with the next round of data, and we'll see if any of these names make that update, whether it be for a significant increase or decrease in short interest.
Disclosure: I have no positions in any stocks mentioned, and no plans to initiate any positions within the next 72 hours. I wrote this article myself, and it expresses my own opinions. I am not receiving compensation for it (other than from Seeking Alpha). I have no business relationship with any company whose stock is mentioned in this article.
Additional disclosure: Investors are always reminded that before making any investment, you should do your own proper due diligence on any name directly or indirectly mentioned in this article. Investors should also consider seeking advice from a broker or financial adviser before making any investment decisions. Any material in this article should be considered general information, and not relied on as a formal investment recommendation.