Whenever the CEO of Apple (NASDAQ:AAPL) gives an interview or speaks on an earnings call, those listening are generally left wanting more. Steve Jobs mastered the art of offering very little of substance, unless he was speaking at a scripted product unveiling. Tim Cook, the current Apple CEO, is following very much in the footsteps of his former boss when it comes to keeping his cards close to the vest. Every now and again Cook will stray a little from the Jobs playbook, and open up a bit about his view of how Apple is perceived as well as future product plans and the general road map for where Apple is going.
As mundane as it may seem, this type of candor has the potential to provide actionable nuggets of information for an investor. On Tuesday night at the D11: All Things Digital Conference, Cook offered his take on a number of items that could be of interest to Apple investors. In particular, he delved into the concept of wearable technology and made it very clear he sees this field as one that Apple will be playing in. The question for Apple investors is whether an iWatch, or some other form of wearable technology, will provide a material lift to the stock price or future earnings. The answer may be different from what you originally might have thought.
Wearable Technology
In a wide ranging interview, Cook took questions that addressed a number of topics. One area that should receive fresh scrutiny from an investment standpoint is the portion of the interview surrounding wearable technology. Not surprisingly, Cook did not sound excited about the prospects of Google Glass, as he noted the product would not likely have mass appeal. At the same time, he noted that wearable technology in general is something Apple is very much interested in. He notes that he personally wears a FuelBand from Nike (NYSE:NKE). From an investor standpoint, the concept of an iWatch or some other sort of wearable Apple technology is very interesting. Nike is able to sell what is seemingly a one-dimensional wearable piece of technology for $150.
Apple has proven with the evolution of its products -- from the iPod to the iPhone and iPad -- that it can continue to push new products out to the market that perform similar tasks without completely cannibalizing its existing product lines. For Apple, the key with wearable technology such as an iWatch, will be continuing to walk the line of innovating a complimentary Apple product instead of a replacement one. Assuming Apple is able to release this type of product without cannibalizing other product lines, the only question then becomes how material any wearable technology product will be for the companies bottom line and subsequent stock valuation.
What Would an iWatch Mean for Apple and Investors
There is a natural inclination to believe that based on its track record, the introduction of a new bold new product line from Apple should be accompanied by significant earnings growth and subsequent stock price appreciation. However, this time around, investor expectations around the possible introduction to the market of an iWatch should be tempered for a number of reasons. To start with, the amazing success of the iPhone is partly due to Apple taking a main stream product such as the cell phone and making it better. With an iWatch, Apple would essentially be offering a product that is not mainstream, something that is not yet a necessary item for a consumers day-to-day life like a cell phone. Therein lies the rub for investors. Consumers are willing to pay a premium for something they need to use every day, but an iWatch would not fit that criteria. If somehow Apple managed to create an iWatch that could become a daily necessity for consumers, it is almost impossible to imagine a scenario where this occurs without significantly cannibalizing its other product lines.
Assuming that the iWatch can be a complementary product to the iPhone, it is possible to model out what type of impact this product would have for Apple financially. In reviewing the financial metrics for 2012 seen in the latest earnings report, Apple sold roughly 125 million iPhones, 58 million iPads, and 35 million iPods. The average price for these products, was roughly $630 for the iPhone, $530 for the iPad, and $160 for the iPod. This provides some perspective for both the volume potential and pricing for an iWatch. The most likely price point will be above what an iPod is sold for, but significantly below the iPhone and iPad. For the purpose of this example, we will assume the iWatch is sold for $200 a unit. The below table provides metrics showing the financial impact from an iWatch at different annual unit sale levels:
Click to enlarge image.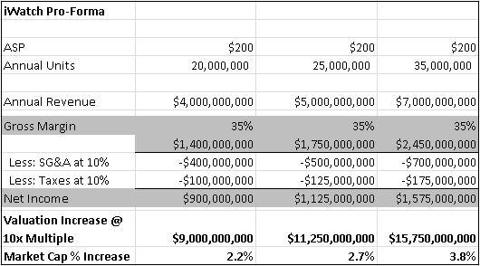 What an investor should realize after reviewing this financial table is that the iWatch would truly need to be a revolutionary product to have a material impact on the financial outlook for Apple. Revolutionary in this case being defined as having the same level of success as the iPad or the iPhone. Additionally, assuming that Apple is able to sell this product at a 35% gross margin is a stretch, in light of the downwardly sloping gross margin Apple is forecasting for its existing products.
If you assume that the iWatch is as successful as the iPod, delivering 35 million units a year, you can see that this will only deliver an incremental $2.5 billion of gross margin annually for Apple. Apple generated almost $69 billion of gross margin in 2012. An iWatch might move the needle higher by a few percentage points in terms of total gross margin for the company.
Then you begin to apply the potential of an iWatch to the valuation of Apple to see what upside it might have for the stock. Here, you see in the most optimistic scenario from a volume standpoint, placing a 10x multiple on the incremental net income would increase the market capitalization for Apple by less than 4%. In the grand scheme for Apple investors, this 4% potential increase in valuation is a pittance compared to how levered the stock is to the iPhone.
The iWatch is a great example of how the law of large numbers is truly impacting Apple. The company could introduce another revolutionary product, have it reach mass consumer appeal, and yet see little material increase to the overall profitability or valuation for the company. This should be a concern for investors, and a reason to make sure expectations around an iWatch are tempered as far as the financial impact this type of product might have.
Disclosure: I am long AAPL. I wrote this article myself, and it expresses my own opinions. I am not receiving compensation for it (other than from Seeking Alpha). I have no business relationship with any company whose stock is mentioned in this article.