The outlook for many financial companies is quite strong as we approach the second half of the year. Firms have been especially strong in the consumer and lending markets, though there is some weakness developing in one corner of the sector, the securities exchanges industry.
This segment has seen a low level of growth, while competition is heating up among the few major players left. The trend is starting to take its toll on a few companies in the space, despite the overall bullishness for financials, and especially so on the outlook for NASDAQ OMX Group (NASDAQ:NDAQ).
NDAQ in Focus
NASDAQ is a well known exchange that has specialized in listing high flying technology companies. Among the companies listed on its flagship U.S. exchange include Apple (NASDAQ:AAPL), Google (NASDAQ:GOOG), Microsoft (NASDAQ:MSFT), Intel (NASDAQ:INTC) and Facebook (NASDAQ:FB), just to name a few.
Clearly, NASDAQ has developed an impressive lineup of companies that trade on its exchange, suggesting a pretty wide moat. However, some cracks have begun to build in NASDAQ's solid story, as evidenced by recent earnings estimate trends.
NDAQ Estimates
NASDAQ has beaten estimates in the past four quarters, but there is some reason to believe that this quarter will not be as favorable. The current quarter consensus estimate has fallen in the past two month time frame, while the current year figure has plunged as well.
In fact, there hasn't been a single analyst estimate revision to the upside in the past two months (in our consensus), suggesting total agreement from those follow the company the closest. This is a pretty bearish signal, especially considering that current quarter figures are baking in a growth rate of just under 1.4%, and full year numbers are forecasting an earnings growth level of just 5.7%.
These factors have pushed NASDAQ OMX Group to a dreaded Zacks Rank #5 (Strong Sell), suggesting it is poised to greatly underperform its peers in the near term. And since this #5 Rank represents a recent downgrade — the company was #4 a week ago — it could suggest that the picture is rapidly deteriorating at NDAQ when compared to its peers in the space.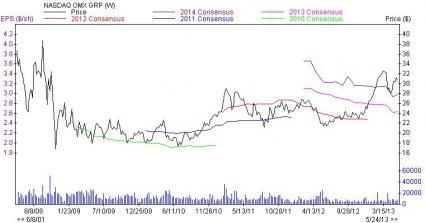 Better Plays
For investors seeking to stay in the securities exchanges industry, better ranked options are few and far between. The industry has a mediocre Industry Rank of 115 out of 261, so there are a host of Zacks Ranks 3s in the sector, although there is one Top Ranked stock in the group, CBOE Holdings (NASDAQ:CBOE).
CBOE has earned itself a top Rank thanks to its enviable position as a dominant player in the volatility and S&P 500 option spaces, two segments which are increasingly in demand for investors. This has helped the company to see double digit growth in the current quarter and current year periods, and has also led to analysts becoming increasingly optimistic on the firm in the near term.
Due to this hard-to-attack position, CBOE could be better poised for growth in the near term, and thus a solid pick in the securities exchanges industry. So, if you are looking at an investment within this interesting sector, consider avoiding the lowly ranked NDAQ, and instead looking towards the well-positioned CBOE for better exposure to this corner of the financial space.