US refiners such as Valero (NYSE:VLO) have experienced robust share price increases during 2013 on the heels of solid margins and relatively inexpensive crude. With the exception of Holy Frontier (NYSE:HFC) which missed earnings expectations due to unplanned maintenance, most refiners have shown strong results recently.
Valero's first quarter earnings increased threefold to $1.18 exceeding estimates by $0.18 per share. Phillips 66 (NYSE:PSX) doubled its earnings to $2.19 beating estimates by more than $0.20 per share. Marathon Petroleum's (NYSE:MPC) net income increased by 27% and revenue rose 15%, beating analysts' expectations.
The catalyst for refiners during the first quarter was solid refining margins which increased to levels not seen since mid-2008, on the heels of robust demand for distillates - diesel, heating oil and jet fuel.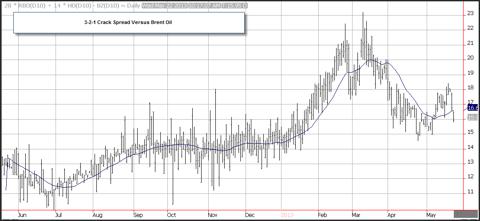 During the first quarter, the 3-2-1 crack spread, which is a proxy for refining margins, soared to new highs. The crack spread of gasoline (NYSEARCA:UGA) and heating oil versus Brent crude (NYSEARCA:BNO) is only a guideline given the ability of many refiners to produce enhanced margins using a coking process. Coking allows refiners to use heavy sour crude by removing impurities. The 3-2-1 crack spread was under pressure in April, and refiners should continue to feel a pinch as gasoline demand has eroded in the second quarter.
As such, however, looking at the charts of the refiners it's pretty clear that traders are cueing off of the 3-2-1 crack spread in general. Here's a one-year chart of Valero. So, this current dip in the 3-2-1 spread ($16.21 as of the 5/29 close) is worrying for refiners.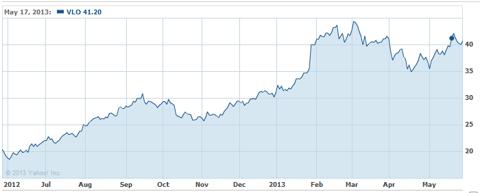 Most refiners receive the lion's share of their profits from gasoline margins, which makes up the majority of the petroleum consumed in the US. The question for investors is whether refiners will be able to continue to produce robust returns despite declining demand for gasoline which has been dropping in the U.S. for 5 years now.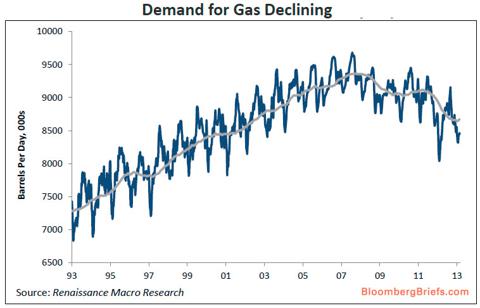 The reasons for decreased gasoline demand are many - more hybrids on the road, fewer miles driven - but the overall reason is simply that driving is getting more expensive and disposable incomes are being squeezed tighter by gasoline prices that have soared with respect to marginal wage growth. Since 2004 wages have risen a compounded total of 23.7% while gasoline prices are now 127.3% higher than they were then (BLS and DoE data for wage growth compounded annually and compared to weekly gasoline prices over the entire year).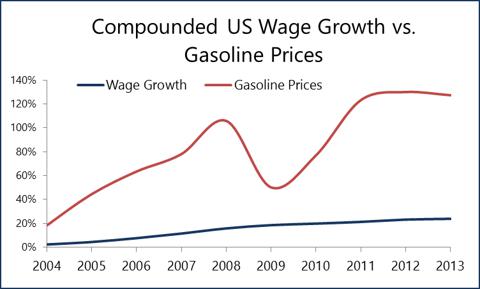 According to the latest estimate by the Department of Energy, over the last four weeks, gasoline demand has averaged 8.5 million barrels per day, down by 3.3% from the same period last year.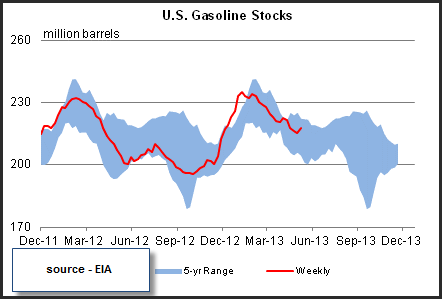 Gasoline stocks are in the upper half of the 5-year range, while supply, measured in days' supply, is well above available 2012 levels. At 25.5 days, 2013 gasoline supply is 10% higher than the same time in 2012.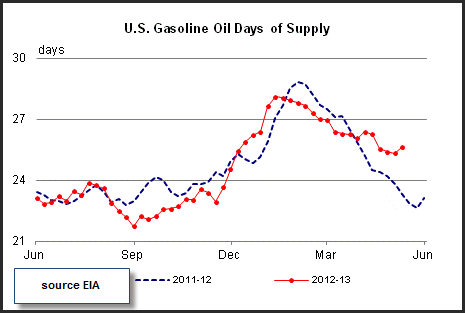 If gasoline demand remains under pressure it will be difficult to see how profits at refiners will achieve quarter-over-quarter and year-over-year increases in profits, which could create headwinds for stock prices. So, while refiners have enjoyed a great run in the past year due to previously large spreads, inventory overhang and slackening demand means they will not likely be able to sustain earnings into Q3 and Q4 as crack spreads remain under pressure and unless investors start accepting high forward P/E's, then being near-term bearish on refiners like VLO and PSX makes sense.
Disclosure: I have no positions in any stocks mentioned, and no plans to initiate any positions within the next 72 hours. I wrote this article myself, and it expresses my own opinions. I am not receiving compensation for it (other than from Seeking Alpha). I have no business relationship with any company whose stock is mentioned in this article.