I am generally not a proponent of short-term trading or timing the market, but there are some ephemeral situations that simply cannot be ignored. Probably the most important of these is the short squeeze, where a rising stock price literally forces investors with short positions buy the stock back in order to maintain acceptable credit balances. The forced covering drives the stock price ever higher, squeezing more shorts and creating a vicious cycle. In such a situation, a stock's price can lose all connection with the fundamentals of the company's business and is instead driven by the finances marshaled on the long and short sides of the order books. This article will use the ongoing short squeeze in Tesla Motors (NASDAQ:TSLA) as an example, and will give some pointers on how to recognize and react to a short squeeze. The main goal is to generate conversation in the comments section for investors of all types to discuss and learn techniques for managing positions in the face of such extraordinary market dynamics.
On May 5, 2013, I published Tesla's Matrix Moment as a hopefully entertaining bit of reading that discussed the long-term challenges faced by a company at an inflection point. As you can see from the chart below, TSLA had just risen to a then all-time high of $55 after trading in the $30-$40 range for the past year. At that point, Tesla had already announced that they would turn its first-ever profit, with analyst estimates averaging $0.03 per share, but after the market close on May 8, the company announced earnings of $0.12/share and kicked the short squeeze into high gear. This morning, when this article was written, TSLA traded as high as $114.90 before dropping steeply in the market open and tripping the short-sale circuit breakers in the process.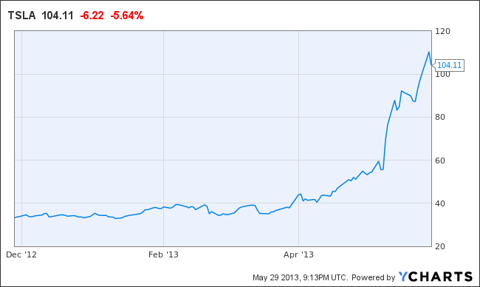 Recognizing The Situation
As my previous article mentions, 42% of Tesla's 73.2 million then-floated shares were shorted as of April 15. Anything approaching 20% can easily be considered fuel for a squeeze, so this was a huge number that should have been a warning to anyone considering entering a short position at that point. Similarly, for longs, the figure is an important one to track to when assessing the potential upside of near-term catalysts.
| Settlement Date | Short Interest | Avg Daily Share Volume | Days To Cover |
| --- | --- | --- | --- |
| 5/15/2013 | 23,039,956 | 14,757,319 | 1.561256 |
| 4/30/2013 | 27,501,901 | 3,453,140 | 7.964317 |
| 4/15/2013 | 30,695,142 | 4,071,915 | 7.538257 |
| 3/28/2013 | 31,300,039 | 1,365,927 | 22.914870 |
| 3/15/2013 | 32,316,654 | 1,626,135 | 19.873291 |
| 2/28/2013 | 31,954,742 | 3,378,947 | 9.457012 |
| 2/15/2013 | 28,694,016 | 1,579,986 | 18.160931 |
| 1/31/2013 | 26,408,269 | 1,676,324 | 15.753678 |
| 1/15/2013 | 26,130,251 | 1,002,609 | 26.062255 |
According to Nasdaq, the short interest on April 15 had actually declined over 5% from a high point a month earlier, and in the last two weeks of April, it dropped more than 10% further. The explanation for this is not necessarily that savvy short sellers recognized the danger, but rather in another critical figure: the short rebate rate. As documented by Paulo Santos, the interest paid on shares held short reached an incredible 85% following the mid-March peak in short interest. Normal rebate rates are well under 1%. After Tesla's earnings announcement, they were above 40% -- rates above 80% are normally reserved for companies with impending bankruptcy. This explains the run-up in April and highlights the importance of the rebate rate as a real-time indicator. I would even go so far as to say that if you don't have the ability and freedom to check short rebates on a daily basis, when necessary, then you're probably being foolhardy in shorting a stock at all.
Where Does It End?
As of this writing, near the close of trading on May 29, the short rebate for Tesla stood at 7.16%, which is still abnormally high, though it has been falling steadily. Shares traded will top 24 million, a figure that has skyrocketed from about 1 million shares before the squeeze. This means that with 23 million shares held short as of May 15, the days to cover had dropped to only 1.5, indicating that things can change quickly. However, these figures do not include trades that occurred in conjunction with stock and bond sale on May 16. While that event diluted existing shareholders by 4.6% immediately, and may cause further dilution since the bonds are convertible, it is probably still a net positive since Tesla raised 1.08 billion for further development at very favorable terms.
In reality, the current short interest is probably higher due to "shorting against the box" where the convertible bond buyers short the stock in order to hedge their purchase. New figures will be calculated at the end of the month and made public a few days after. In the meantime, the take away is that the squeeze could continue for a while yet. Tesla has an impending announcement about its supercharger network, and nobody should doubt at this point that the company is managing both markets and media exceedingly well. Tesla has clearly made friends in powerful places, and early reports indicated those convertibles could be exercised at a premium of 35%, which would be some around $125/share. While squeezes can fall even more quickly than they rise, big firms have daily short position data not available to the rest of us. Since current pricing is dependent on this, shorting the stock now is analogous to playing a rigged game.
That said, TSLA has almost certainly become disconnected from fundamentals. Current longs should take profits, if they have not already, or at least hedge if they are more sophisticated. Options premiums have been very elevated for TSLA, as is typical during a short squeeze. This leads us to my final point in evaluating a short squeeze. Trading in options can often move the underlying stock, rather than the other way around. This becomes more true as the value of the underlying deviates from standard value metrics. Noting changes in options premiums, along with volume, may be as good an indicator as any of a return to normalcy for the sophisticated individual investor. Otherwise, if you missed out TSLA this time around, the best gear to be in probably is neutral. Even in situational trading, patience is a virtue. Learn from what's happening here and be ready the next time.
Disclosure: I am long TSLA. I wrote this article myself, and it expresses my own opinions. I am not receiving compensation for it (other than from Seeking Alpha). I have no business relationship with any company whose stock is mentioned in this article.
Additional disclosure: My long position is hedged.