According to George Soros, financial markets are always wrong, instead of being always right. However, they have the ability both to correct themselves and occasionally to make their mistakes come true by a reflexive process of self-validation.
To be specific, financial markets can't predict economic downturns accurately, but they can cause them. 2008's credit crisis is a perfect example.
The chart below shows last 12 month's performance of Financial Select Sector SPDR (NYSEARCA:XLF), the most populate financial ETF. As you can see, the financial sector is now basically back to where it was before in November 2008.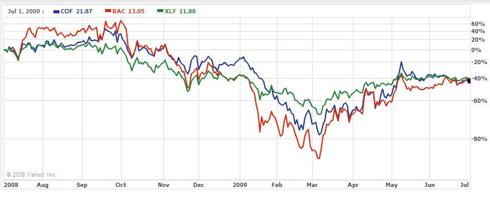 The only ETFs created in 2008 having net assets over $1 billion are 2 financial ETFs: Direxion Daily Financial Bull 3X Shares (NYSEARCA:FAS) and Direxion Daily Financial Bear 3X Shares (NYSEARCA:FAZ). They both have been in market since November 2008 and their assets are very close: FAS's is $1.73 B and FAZ's is $1.53 B. After being oversold in March 2009 and having bounced back afterward, investors are searching for new direction.
In the December 2008 issue of Journal of Financial Economics, an article titled "Do Investors Value Smooth Performance?" stated that investors value companies with smooth cash flows more highly than companies with more volatile cash flows. Can we find one inside the financial sector?
Capital One Financial Corp. (NYSE:COF) is a diversified financial services company offering a broad array of credit, savings and loan products to 45 million customers in the United States, UK, and Canada. Almost every one in the US received its credit card offer in his/her mailbox, sometimes more than once.
Other than similar problems facing financial sector, such as bad loans, margin decline and rising credit losses across loan portfolios, Capital One has unique problems:
1. More exposed to consumer: As you can see from chart below, Capital One is relatively more exposed to consumer lending (in blue) than other banks. Consumer credit continues to be the primary driver of its operating earnings.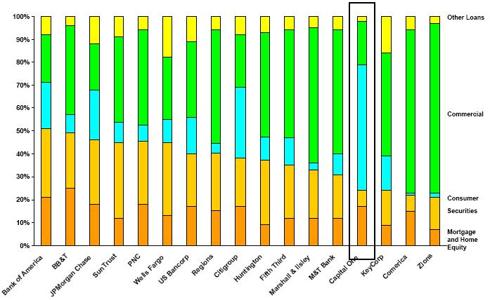 Source: Capital One Annual Stockholder Meeting Presentation, April 2009
We have entered the consumer credit phase of the crisis. Consumer reduced demand in almost every sectors. Jewelry retailer Tiffany (NYSE:TIF) reported that its first-quarter 2009 profit plunged 62 percent on a steeper-than-expected drop in sales as consumers continued to pull back on spending.
Also, significant economic deterioration caused declining purchase volumes in credit cards. As of July 2, unemployment rate stand on 9.5%. One of the most important aspects of this recession is the length of time people are out of work. The average length of time of unemployment is now up to 24.5 weeks.
2. The new law on credit card will bring significant change to the industry: According to CNN Money (source: here), credit card companies are under siege on many different fronts and that the industry is likely to be somewhat smaller and less profitable after new laws are put in place. The new rules on fees will least affect credit card networks Visa (NYSE:V) and Mastercard (NYSE:MA) and probably won't have as big of an impact on AmEx (NYSE:AXP) and Discover (NYSE:DFS) as some fear.
Instead, Capital One, which has a higher dependence on fees, faces the most risk from the new card law.
However, compared to other financial institutions, Capital One also has its strengths (some are its uniqueness) as follows:
Less exposed to commercial: Commercial loans might be the next shoe to drop. Same chart above shows that Capital One is relatively less exposed to commercial lending ( in green) than other banks.

Increased deposit base: Its total deposit increased by 36% over the last 12 monhs, from Q1 2008's $88 billion to $121 billion in Q1 2009.

Well capitalized: Tier 1 capital to risk weighted assets estimated to be 11.5%, well above minimum requirement. Also, the government's "stress test" concluded that Capital One "needs no additional capital".

Lower cost of fund: In today's lower interest environment, its weighted average cost of funds decreases from last year's 4.15% to 2.76%.

Too big to fail: Capital One is the 4th largest credit card issuers in the US. The table below shows market shares of top 5 issuers:

Good Reputation: For example, it is one of the "100 Best Companies to Work For", according to Fortune.
Disclosure: I have no position on COF. COF is my company's clients. All data above are from public available sources, including SEC fillings.