Just over six months ago I recommended seekingalpha.com/article/918871-the-wonderful-world-of-investing-in-disney buying shares of Walt Disney (NYSE:DIS) at the then-prevailing price of $53 dollars, with a price target of $65 a share. My reasons were quite simple: over the last decade Disney has demonstrated,
steady growth in revenues,
improving return on equity,
generous and growing profit margins.
Since my article last October, the stock price has appreciated considerably, finally reaching, and exceeding, our $65 objective in the last few weeks. This was in part due to their excellent report earlier this month, beating both earnings and revenue estimates for the quarter. Updating data for the criteria I highlighted last fall, you can see the company's performance continues to be outstanding.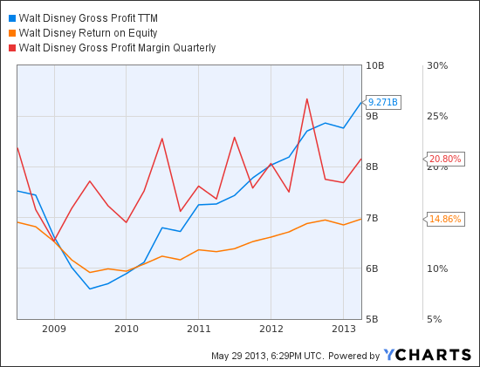 Profit margins and ROE, buttressed by solid revenue growth, contributed to record earnings per share for Disney so far in 2013.
Since we have met price objectives forecast last autumn, what should we do with the shares in light of recent strong performance? Buy more? Sell? Hold?
First, on a trailing PE basis, the shares are more richly priced than they were last fall, when the multiple was in the high teens. The trailing PE now is closer to 21x, a level which represents a peak multiple over the last decade or so.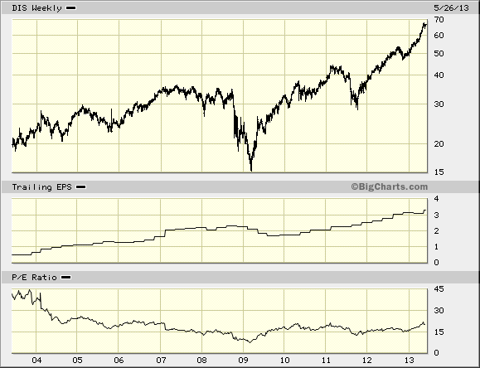 But the last time earnings growth was so solid (2004-2007) the trailing PE was in the mid twenties or even higher. And of course, the financial panic of the last few years has subsided. Thus I believe there is room for the PE to expand to 25x in the near future. Given projected earnings (from Yahoo) of $3.50, for fiscal year 2013, that gives us an updated price target of $85 a share. That is nearly 33% above the current price of $65 a share. (Value Line's slightly more conservative $3.45 a share gives a very similar target. )
On a cash flow basis the picture is less optimistic. Value Line estimates cash flow for 2013 at $4.95 per share. Using a historical cash flow multiple of 12x, the price target falls to $60 a share, actually below current levels. But again, a multiple of 12 might be too conservative given the sound performance the company has demonstrated. From 2004 to 2007 a cash flow multiple in the high teens was typical for Disney. Choosing a multiple of 17x, a rough average multiple for this time period, also gives you a target price of $85.
Thus, despite the generous run up in Disney's stock price since our buy recommendation last fall, we continue to recommend purchase of the shares for capital gains in the near term.
Disclosure: I am long DIS. I wrote this article myself, and it expresses my own opinions. I am not receiving compensation for it (other than from Seeking Alpha). I have no business relationship with any company whose stock is mentioned in this article.
Additional disclosure: I won Disney indirectly through several ETFs