This week things got a lot uglier with Thursday's employment report along with other news in the financial world that we'll discuss in a moment.
For our part, our positions on the "short" side of the market performed well with unrealized gains of +2.0% in our interest rate position, +1.2% and +3.3% in our two inverse index positions and 0% in our currency position.
We continue in the "Red Flag" mode as we expect lower prices ahead and those expections were bolstered by this week's news and market activity.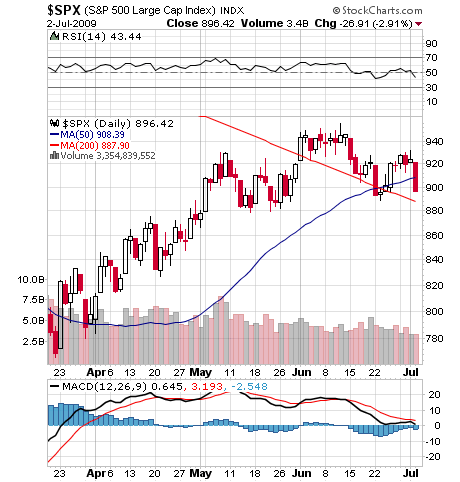 In the chart above, you can see the SPX breaking its 50 day moving average and coming within 1% of its 200 day moving average. MACD remains on a "sell" signal" and the significant support at 880 and the 200 day moving average will make or break the "green shoots" rally. A break below 880 will be significant and set up a very likely retest of lower lows.
We will increase our inverse exposure if the likelihood of further declines increases through the summer. At the present, we are still 60% in cash and that could decline to 20-40% as we move further to the inverse side of the ledger if this new trend in fact takes hold.
The View from 35,000 Feet
The big news this week was Thursday's employment report which was truly a disaster.
467,000 jobs were lost in June compared to an estimated 350,000 and the news threw a huge wet blanket on the notion that recovery is just around the corner.
One of my favorite economists is David Rosenberg, former chief economist for Merrill Lynch, who wrote,
At no time in the 1990 or 2001 recession did we ever come close to seeing such a detonating job figure, not even at the depths of those drawdowns, and yet we have a whole industry of "green shoots" advocates today telling us that the recovery has already arrived.
He goes on to say,
In almost every industry, job losses were deeper in June than they were in May and the diffusion index fell to 28.6 from 31 which means that nearly 3/4 of the corporate sector is in the process of shedding jobs.
Furthermore, he reported that 2 million workers were pushed into part time work and that the average workweek reached a record low of 33 hours. If work week hours had remained the same as they were in May, this month's job losses would have been a shocking 800,000 decline.
And Nobel Prize winning economist Paul Krugram wrote that "we're going to need a bigger stimulus," because even with the Obama stimulus, "we're still 8.5 million jobs in the hole."
These guys are a lot smarter than I am, but more and more, it's looking to me like deflation is just ahead. And after reading that unemployment is climbing past 9.5%, the highest since 1983, I can only wonder how the consumer will be able to power any kind of recovery in our consumer based economy.
In the financial world, things look no better. US consumers are down about $15 Trillion in household wealth since 2007 and prime mortgage delinquencies doubled in the 1st Quarter as even good borrowers are unable to make payments due to job losses. The Case/Shiller housing index declined -18% year over year, and if you want a real shock, just go to zillow.com and plug in your home address and take a look at what your house is estimated to be worth today.
And very likely there won't be any improvement here as interest rate resets on variable mortgages peak in 2011 and commercial real estate is "the next shoe to fall."
Add it all up, and it's no surprise that bank regulators shuttered 7 banks this week, the highest weekly total since 1972, and most of those failures were attributed to sour construction and commercial loans.
Finally, India, Russia and China are ganging up on the U.S. dollar and suggesting more loudly and more frequently that the dollar should be replaced as the world's reserve currency.
The Week Ahead
This is a relatively light week for economic reports but the big news will be the start of earnings season with Alcoa (NYSE:AA) on Wednesday. Overall earnings are expected to decline -35% so it could be an exciting few weeks, punctuated by this week's G-8 Summit in Italy.
So, never a dull moment as we work our way through the longest recession since the Great Depression.
Tuesday: June ISM Services Sector
Wednesday: May Consumer Credit
Thursday: Weekly Jobless Claims, May Inventories
Friday: Michigan Consumer Sentiment
Sector Spotlight
Weekly Leaders: Inverse ETFs, Taiwan,
Weekly Laggards: Silver, U.S. Oil and Gas Exploration, Financial.
Disclosure: TLT, RWM, DXD, YCS