Year-to-date (YTD), the 13 closed end fund (CEF) types are up on average 20.5% based on share price changes. The CEF market segment has experienced a nice rebound YTD from the two previous calendar year back-to-back losses. (Historically, the CEF market segment has not experienced three consecutive years of share price declines.)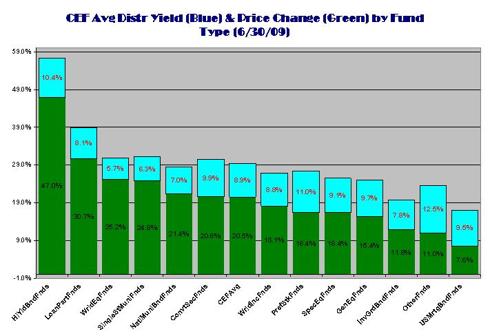 This compares to a 1.9% increase in the S&P 500 YTD, as measured by the SPDR S&P 500 ETF (NYSEARCA:SPY). Other asset classes posted mixed returns (see below). On an aggregate, unweighted basis, the 639 CEFs, on average, were up 23.1%; the distribution yield was 8.4% and the discount to NAV was 6.4%. The weighted Claymore CEF Index was up 11.2% YTD.
Rebound: In general, investors were constructive with regards to investing in the CEFs during the early part of 2009: YTD share prices advanced 6.3% greater than the NAVs. This implies reduced fear on the part of CEF investors. The average discount at mid-year was 6.6% versus 11.4% at the beginning of the year.
Riskier Fund Types Outperform: Contrary to investment pundits, who warned investors to exercise caution going into 2009, higher risk CEF fund types performed better than the less risky ones. High yield, loan participation and world equity fund types scored the greatest price appreciation YTD. Investment grade bonds and large cap stocks generated below average returns—albeit, both positive and greater that the S&P 500.
Basis for Riskier Assets Performance: One can only speculate that the better performance of the higher risk investment sectors may have been a function of investors' confidence being bolstered at the end of the first quarter by the prospects of a non-U.S. global economic recovery, a related commodities rally and recovering global stock markets. These elements had a tendency to feed on each other while investors tenuously held onto scraps of mediocre economic news more for support than illumination.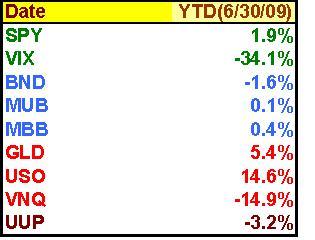 ETF Sector Performance: For the sake of comparison, while the equity market was up modestly the CBOE Volatility Index (VIX) was down significantly YTD. (The VIX moves inversely with the direction of the market.)
The debt markets (blue) were mixed, but in the aggregate ended near the flat-line. The Vanguard Total Bond Market ETF (NASDAQ:BND), iShares S&P National Municipal Bonds Index Fund (NYSEARCA:MUB), iShares Barclays MBS Bond Fund (NYSEARCA:MBB), down 1.6%, up 0.1 and up 0.4%, respectively.
The commodity related ETFs (red) were generally up: SPDR Gold Shares ETF (NYSEARCA:GLD) advanced 5.4%, while United States Oil Fund (NYSEARCA:USO) was up 14.6%. The US dollar, as measured by the PowerShares DB US Dollar Bullish Fund (NYSEARCA:UUP) was off 3.2%. Commercial real estate as measured by the Vanguard REIT ETF (NYSEARCA:VNQ) was off 14.9% as investors worried about the struggle to refinance over $700 billion of CMBS. (A full YTD chart on the various ETF sectors performance is available on my website: Click Here.)
CEF High and Low: For the sake of data points, Templeton Russia and East European Fund Inc. (NYSE:TRF), an emerging market and commodity play, was one of the best performing CEFs, up 112.3% YTD. This is despite a recent pull back from early June. TRF has crossed under its 50 day moving and bouncing off its 200 day moving average.
One of the biggest losers was PIMCO Municipal Advantage Fund, Inc. (MAF), off 59.9% YTD. MAF is going through a liquidation of which a partial liquidation distribution of $6.20 per share went ex-dividend on June 26th. It's anticipated that its remaining assets will be distributed on or about August 31st, 2009.
Focus Stock: There appears to be disconnection among the shares price, distribution yield and premium of Pimco High Income Fund (NYSE:PHK). PHK is paying a monthly dividend of $.1219 per share for an annualized rate of $1.46; its implied yield is 15.8%. Yet the stock is currently trading ($9.25) at a 59.2% premium! This is well in excess of its historical premium of 4%.
If the stock were trading at par to its NAV, its price would be $5.81 per share. This would be 62.9% lower than its current price. Viewed from a slightly different perspective, if the unleveraged portfolio of PHK generates a yield of 15.8% from investment income, base on a share price that represents a premium of 59.2%, the implied investment income yield on NAV would be 25.1%.
Compare this with the metrics of three ETFs that invest in junk bonds: HYG; JNK; PHB. On average, the premium is 1.9% and the distribution yield is 11.2%. The implied average yield on NAV for these ETFs is 11.3%. This is a far cry from the implied 25.1% for PHK.
If you couple these facts with the fact that PHK is: 1) paying off its ARPs currently costing it materially less in interest expense than the returns on assets it supports and the likelihood it will lose that positive leverage going forward; 2) the likelihood that more high yielding will go into default curtailing investment income, it would suggest there is something is wrong with this picture.
I'd be a seller of the stock if I owned PHK. I would be hesitant to short it given the heavy burden of funding the monthly dividend. However, more sophisticated investors could calculate that cost and risk into the investment decision.
I'd appreciate any additional insight into why this stock is trading where it is.
Disclosure: Long SPY & GLD.