"Words from the Wise" this week again comes to you in a shortened format as I am still on the road in Europe (also see my post "Gone A.W.O.L. - to Slovenia and Switzerland") and do not have access to my normal research resources. Although only brief commentary is provided, a full dose of excerpts from interesting news items and quotes from market commentators is included.
The holiday-shortened week saw pundits pondering the depth of the economic rabbit hole as the curtain closed on the second quarter. As investors vacillated, most financial markets were characterized by a roller-coaster ride. Thursday's worse-than-expected US jobs data left no doubt that the economy was in recession.
Given the economic malaise, it is safe to say that there have probably been better fourth of July celebrations than this weekend's …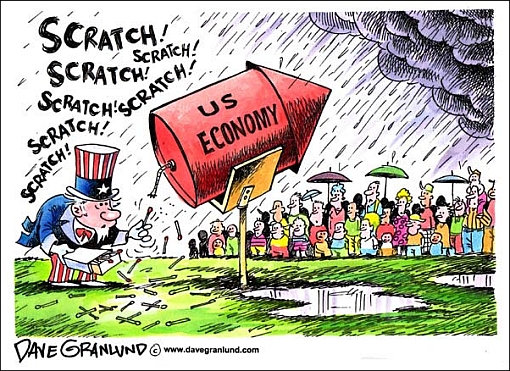 Source:Dave Granlund
The past week's performance of the major asset classes is summarized by the chart below - a set of numbers that indicating that a degree of risk aversion has crept back into financial markets.
Click to enlarge: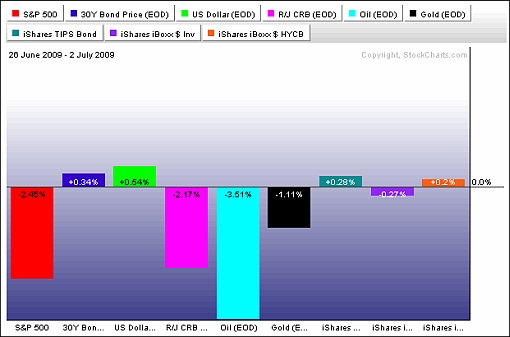 Source: StockCharts.com
Looking at the quarterly performance of the same asset classes, the picture is quite different from the chart above, with risky assets putting in a phenomenal performance to the detriment of the traditional safe havens such as the U.S. dollar and government bonds.
Click to enlarge: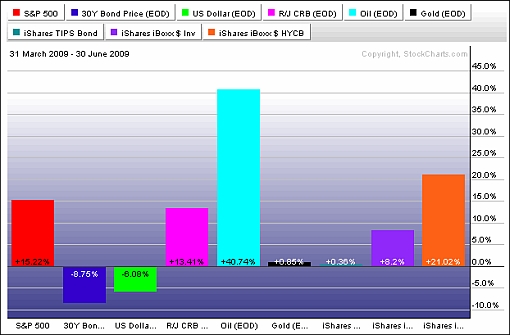 Source: StockCharts.com
A summary of the movements of major stock markets for the past week, as well as various other measurement periods, is given below. The weekly gains/losses camouflage the fact that many indices experienced a rather bumpy ride during the course of the week.
Click here or on the table below for a larger image.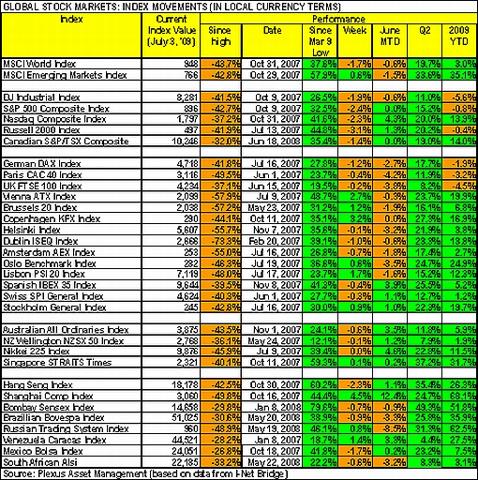 Stock market returns for the week ranged from top performers Egypt (+8.9%), Uganda (+7.9%), Bangladesh (+6.3%), Pakistan (+6.1%) and China (+5.5%) to Slovakia (-9.3%), Croatia (-8.7%), Vietnam (-5.6%), Mauritius (-4.0%) and Hungary (-3.6%) at the other end of the scale. Emerging markets make up all ten of the best-performing stock indices so far in 2009, led by Peru, Sri Lanka and China. (Click here to access a complete list of global stock market movements, as supplied by Emerginvest.)
John Nyaradi (Wall Street Sector Selector) reports that as far as exchange-traded funds (ETFs) are concerned, the winners for the week included iShares MSCI Turkey Index (NYSEARCA:TUR) (+5.4%), iShares MSCI South Africa Index (NYSEARCA:EZA) (+4.5%) and PowerShares Private Equity Portfolio (NYSE:PSP) (+4.4%). On the other side of the performance spectrum, laggards were centered in the broader commodity category, including US Natural Gas (NYSEARCA:UNG) (-6.8%), iShares Silver Trust (NYSEARCA:SLV) (-3.9%) and PowerShares DB Commodity (NYSE:DBC) (‑3.7%).
The quote du jour this week comes from Bill King, writer of The King Report, and is related to Wall Street pay approaching 2007's record levels, as reported by The Wall Street Journal. King remarked:
Will Ben, Hank, Little Timmy and Congressional leaders explain to the American people how it is possible for Wall Street to have near-record remuneration AFTER the US taxpayers were put on the hook for about $12 trillion of guarantees to The Street? And will they explain to Americans that while Street insiders 'earn' record pay they must suffer a severe recession or depression, possibly record future inflation, collapsing home values, job losses and an income contraction?
Next, a quick textual analysis of my week's reading. No surprises here, with all the usual suspects such as "market", "banks", "economy" and "financial" featuring prominently. Interestingly, "China" also moved up the ranks as its economy seems to be on a strong growth path.

Back to the stock markets: The key moving average levels for the major U.S. indices are given in the table below. With the exception of the Nasdaq Composite Index, the indices are all trading marginally below the 50-day moving average. Whereas the S&P 500 Index, Nasdaq Composite Index and Russell 2000 Index are trading above their respective 200-day lines, the Dow Jones Industrial Average and the Dow Jones Transportation Index are a notch below this key line. In order for a major uptrend to manifest itself, an upturn in the 200-day average itself also needs to take place.
Click here or on the table below for a larger image.

For more about key levels and the most likely short-term direction of the S&P 500 Index, Adam Hewison of INO.com prepared another of his popular technical analyses, arguing that one should be on the sidelines in this market. Click here to access the short presentation. (The analysis was done on Tuesday, but is still as relevant today as it was a few days ago.)
Richard Russell, veteran publisher of the 50-year-old Dow Theory Letters, remains in the bearish camp, saying:
Lowry's Buying Power Index as of yesterday [Wednesday] was only 6 points above its level of March 9. That puts the market on very thin ice. It means that the desire to buy stocks has been steadily fading. All that's needed now is a rise in selling pressure, and this market will unravel.

Every day I compute the span between Lowry's Buying Power Index and their Selling Pressure Index. The wider the span, the more bearish the situation. Yesterday the span closed at 872, the widest since March 9. This is the weakest reading of the entire rally. Extreme caution is warranted."
Over in London, David Fuller (Fullermoney) commented as follows:
In terms of timing, now that we have seen big rallies off the lows, I would wait until investors are clearly fearful once again before adding further capital to stock markets. … if one was unprepared to ride out a stock market correction, then it was time to take some money off the table while prices were still firm.

Meanwhile, I remain cautious, regarding a further stock market reaction and consolidation in response to the 14-week surge from the March lows as at least a 50/50 possibility. Moreover, this could easily develop into a correction, including base formation extension for lagging OECD country markets.
In my opinion, U.S. stock markets are mapping out a base development formation, whereas a number of emerging markets have already bottomed out and subsequently confirmed primary uptrends. However, in the short term it is quite likely that markets could consolidate further and possibly retrace more of the prior gains.
For more discussion on the direction of stock markets, see my recent posts "Video-o-rama: Roller-coaster ride into the long weekend", "Barron's Confidence Index points to bottoming of equities", "Job losses in perspective", "Monthly performance round-up: Road to recovery (June 30, 2009)", "Stock market performance during economic cycles" and "Consider the components of equity returns".
Economy
"The global Business Confidence Survey results at the end of June were the strongest they have been since last October. Expectations regarding the outlook toward the end of this year jumped last week to their highest level since the summer of 2006," said the latest Survey of Business Confidence of the World conducted by Moody's Economy.com. "Sentiment remains consistent with a continued global recession, but the downturn is quickly moderating."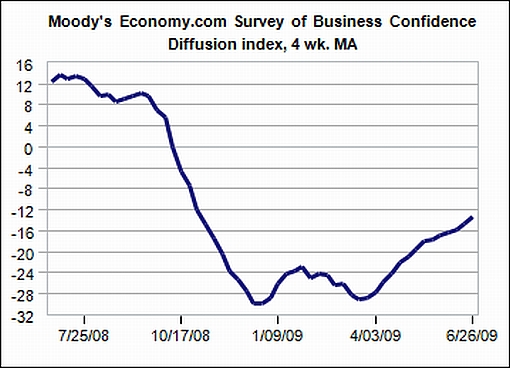 Source: Moody's Economy.com
Moving to the Far East, the Japanese Tankan Survey's index of current conditions among large manufacturers improved to -48 in the second quarter from -58 in the first quarter. The rise of 10 percentage points is the first improvement since the fourth quarter of 2007 and follows the worst reading on record during the first quarter.
In Europe, the European Central Bank (ECB) left its monetary policy unchanged as expected. It has kept its key policy interest rate at a historical low of 1% since May. However, the Swedish central bank, the Riksbank, reduced its repo rate from 0.5% to 0.25% and also cut the deposit rate to -0.25%, effectively charging savers interest on deposits.
A snapshot of the week's U.S. economic data is provided below. (Click on the dates to see Northern Trust's assessment of the various data releases.)
Thursday, July 2
•June labor market report - details less bearish than headlines
Wednesday, July 1
•ISM Factory Survey - improving at a gradual pace
•Auto Sales fell slightly in June, but Q2 sales rose
•Pending Home Sales Index advances for fourth straight month
•Residential Construction remains weak; outlook Non-Residential Construction Spending is fuzzy
Tuesday, June 30
•Case-Shiller Home Price Index - home price declines are moderating
•Consumer Confidence Index slips in June
Also, according to Bloomberg, delinquency rates on the least risky mortgages more than doubled in the first quarter from a year earlier, climbing to 2.9% through March 31 from 1.1% at the same point in 2008.
Summarizing the U.S. economic outlook, BCA Research said:
All eyes will be on the U.S. consumer sector in the coming months. We are cautiously optimistic that a sub-par economic recovery will get under way in the second half of the year, allowing the riskier asset classes such as stocks, corporate bonds and commodities to outperform Treasuries and cash. However, there will be plenty of volatility and the main risk is that the mild consumer recovery we expect is delayed, serving to reinforce cost-cutting pressures in the business sector.
Week's economic reports
Click here for the week's economy in pictures, courtesy of Jake of EconomPic Data.
| | | | | | | | |
| --- | --- | --- | --- | --- | --- | --- | --- |
| Date | Time (NYSE:ET) | Statistic | For | Actual | Briefing Forecast | Market Expects | Prior |
| Jun 30 | 9:00 AM | Consumer Confidence | Jun | - | 56.0 | 55.3 | 54.9 |
| Jun 30 | 9:00 AM | S&P/Case-Shiller Home Price Index | Apr | -18.12% | NA | -18.63% | -18.72% |
| Jun 30 | 9:45 AM | Chicago PMI | Jun | 39.9 | 38.5 | 39.0 | 34.9 |
| Jun 30 | 10:00 AM | Consumer Confidence | Jun | 49.3 | 56.0 | 55.3 | 54.8 |
| Jul 1 | 8:15 AM | ADP Employment Change | Jun | -473K | -400K | -394K | -485K |
| Jul 1 | 10:00 AM | Construction Spending | May | -0.9% | -0.8% | -0.6% | 0.6% |
| Jul 1 | 10:00 AM | ISM Index | Jun | 44.8 | 44.0 | 44.9 | 42.8 |
| Jul 1 | 10:00 AM | Pending Home Sales | May | 0.1% | 0.0% | 0.0% | 7.1% |
| Jul 1 | 10:30 AM | Crude Inventories | 06/26 | -3.66M | NA | NA | -3.87M |
| Jul 1 | 2:00 PM | Auto Sales | Jun | - | NA | NA | 3.3M |
| Jul 1 | 2:00 PM | Truck Sales | Jun | - | NA | NA | 4.1M |
| Jul 2 | 8:30 AM | Nonfarm Payrolls | Jun | -467K | -400K | -367K | -322K |
| Jul 2 | 8:30 AM | Unemployment Rate | Jun | 9.5% | 9.6% | 9.6% | 9.4% |
| Jul 2 | 8:30 AM | Hourly Earnings | Jun | 0.0% | 0.2% | 0.1% | 0.1% |
| Jul 2 | 8:30 AM | Average Workweek | Jun | 33.0 | 33.1 | 33.1 | 33.1 |
| Jul 2 | 8:30 AM | Initial Claims | 06/27 | 614K | 605K | 615K | 630K |
| Jul 2 | 10:00 AM | Factory Orders | May | 1.2% | 0.8% | 0.9% | 0.5% |
Source: Yahoo Finance, July 3, 2009.
Across the pond, the Bank of England (BoE) will make an interest rate announcement on Thursday (July 9), while in the US economic highlights for the week include the following:
Monday, July 6
ISM Services
Wednesday, July 8
Consumer credit
Thursday, July 9
Initial jobless claims
Wholesale Inventories
Friday, July 10
Trade balance
University of Michigan Consumer Confidence
Click here for a summary of Wachovia's weekly economic and financial commentary.
Markets
The performance chart obtained from the Wall Street Journal Online shows how different global financial markets performed during the past week.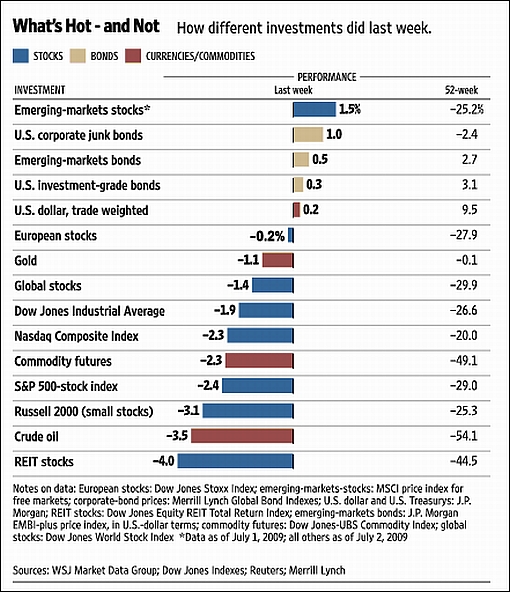 Source: Wall Street Journal Online, July 3, 2009.
Who is to blame for the financial mess the world finds itself in? There are many possible culprits, ranging from Alan Greenspan and the Federal Reserve to the rating agencies, the big Wall Street firms, structured investment vehicles, and so on. Dan Quayle offered one of the most original (and inconveniently true) suggestions:
Bank failures are caused by depositors who don't deposit enough money to cover losses due to mismanagement. (Hat tip: Tim Price.)
Hopefully the news items and quotes from market commentators included in the "Words from the Wise" review will keep Investment Postcard readers on track in these crazy times.
For my American friends (the bulk of my readers), I hope you have had happy and safe fourth of July celebrations and enjoyed the fireworks.
That's the way it looks from Veysonnaz, a quaint Alpine village in the south-western part of Switzerland where I will be spending the next week.