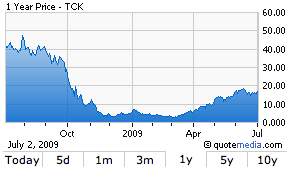 Teck Resources Ltd.'s announcement that it has issued 101.3 million Class B subordinate voting shares at C$17.21 each for C$1.74-billion from sovereign wealth fund China Investment Corp. (CIC) comes as a surprise to some given recent comments from the mining giant that it was not looking to raise equity. Instead, the suggestion was that it was looking at selling a stake in the Elk Valley metallurgical coal operations.
Nonetheless, BMO Capital Markets analyst Tony Robson sees the deal, which represents 17.5% of outstanding B shares and 6.7% voting interest, as positive for Teck given that it comes after a strong share price rally recently.
Mr. Robson noted that the equity issue would be net present value per share accretive on preliminary estimates by approximately 10%. However, 2009 and 2010 estimated earnings per share are expected to fall by 10% to 20%.
"With recent asset sales, today's move has done much to correct the former severely weakened balance sheet.," the analyst said in a note to clients, adding that 2009 year-end forecast net debt to equity could improve from a previous estimate of 65% to 45%. Net debt/EBITDA ratios would improve from previous estimates of 2.9x to approximately 2.3x.