Tough economic conditions in Europe, uncertainties about the United States' fiscal cliff, manufacturing delays and slow activity in China weighed on the companies in the chemical sector in 2012. The combined effect of these issues led to depressed demand for chemical products.
Despite the continued Euro zone problems, the industry is expected to shift towards recovery this year because of a steady healing in the US economy and a bounce back in Chinese demand this year. The industry is also expected to benefit from strength across emerging markets. The recovery in the housing market will also help the chemical industry in the second half of 2013 and beyond.
Industry Outlook:
The chemical industry is a $3 trillion global industry, with attractive growth for more than five decades. The fastest-growing areas include plastics, fibers and elastomers. The industry is expected to benefit from strength across emerging markets and a rise in shale gas production in the US.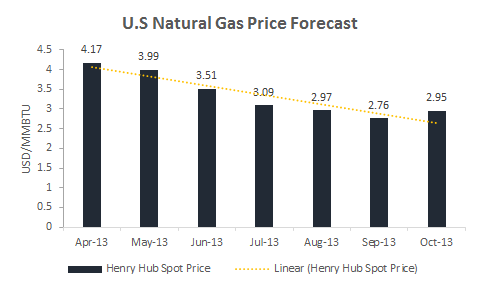 According to The American Chemistry Council (ACC), United States chemical output will rise 1.9 percent in 2013 and will grow to 2.4 percent in 2014. In 2012 chemical output increased by 1.5 percent. US chemical exports are also expected to increase 4.7 percent this year, compared to 1.8 percent in 2012, and 6.6 percent in 2014, leading to an expansion in trade surplus.
About the Company:
Eastman Chemical Company (NYSE:EMN) is a US-based chemical company, engaged in the manufacture and sale of chemicals, fibers, and plastics. Its market-driven approaches take advantage of world-class technology platforms and leading positions in attractive end markets such as transportation, building and construction, and consumables. Eastman focuses on creating consistent, superior value for all stakeholders. The company has 44 manufacturing sites all around the globe, distributing its products throughout the world. Founded in 1920 and based in Kingsport, Tennessee, Eastman is a Fortune 500 company. In July 2012, Eastman completed the acquisition of Solutia Inc. for $4.8 billion. The company currently employs around 13,500 people around the world.
Historic Performance:

The above chart shows the stock price performance of Eastman Chemical Company with respect to its competitors, Dow Chemical Corp. (NYSE:DOW), Air Products & Chemical (NYSE:APD) and Celanese Corporation (NYSE:CE), since June 2012. You can clearly see that the company's stock price greatly outperformed its competitors with price appreciation of 50.95 percent. The important point to note here is that despite tough market conditions in 2012, Eastman managed to outperform its competitors.

The above graph shows the trailing total returns of Eastman compared with the chemical industry and the S&P 500 total returns. You can clearly see that Eastman outperformed the industry returns and the S&P 500 total returns, not only in the short term, but in the long term as well.
Fundamental Analysis: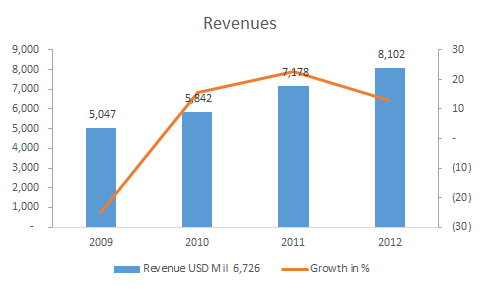 The above graph shows the company's revenues along with growth for four years. As you can see, the company has been able to generate consistent growth over the years. Despite tough economic conditions and a slowdown in China, the company still manages to generate reasonable revenues even with a slow revenue growth.
First Quarter 2013:
Eastman posted earnings of $1.57 per diluted share in first quarter 2013, versus $1.13 per diluted share in first quarter 2012, as shown in the table below.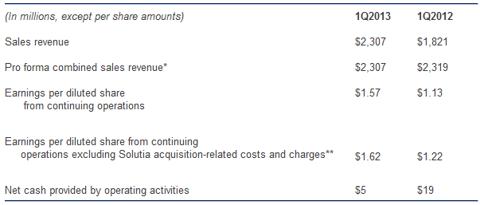 Revenues for first quarter 2013 were $2.3 billion, a 27 percent increase compared with first quarter 2012. First quarter 2013 included revenues from the acquired Solutia businesses.
Outlook for 2013:
Jim Rogers, Chairman and CEO said in a statement that for the full year 2013, the company will remain on track to achieve a fourth consecutive year of double-digit earnings growth while generating strong cash flow. The company also expects a leading position in key end markets, as well as a broad geographic base from which it can continue to position itself to facilitate strong earnings growth.
However, considering the global uncertainty factor, the company is expected to generate 2013 earnings per share between $6.30 and $6.40.
Conclusion:
Eastman , with a strong financial position and recovering chemical industry, can achieve a higher growth margin in the near term. Despite a slump in 2012, the company's impressive performance is evidence that it has the ability to deal with tough conditions. As the industry overall is reviving, its chances of earning hefty revenues and margins are quite bright. So my recommendation for this stock is to buy.
Disclosure: I have no positions in any stocks mentioned, and no plans to initiate any positions within the next 72 hours. I wrote this article myself, and it expresses my own opinions. I am not receiving compensation for it (other than from Seeking Alpha). I have no business relationship with any company whose stock is mentioned in this article.