Valero Energy Corporation (NYSE:VLO) is one of three well known independent oil refiners in the United States. The other two being Marathon Petroleum Corporation (NYSE:MPC) and Phillips 66 (NYSE:PSX) both spin-offs from their original companies. Valero operates 16 refineries around the world. Valero has multiple brands including Beacon, Diamond Shamrock, Texaco and Ultramar.
Valero posted $136.59 billion in revenue in the past 12 months. According to Valero's first-quarter balance sheet, the company has $45,501,000,000 in assets and $27,158,000,000 of liabilities.
Valero has paid a dividend since 1989. The current annual dividend is at $0.80 at a yield of 2%. The past couple of years Valero increased its quarterly dividend from $0.045 in 2011, to $0.20, a 444% increase.
Current earnings are $5.69 for the past 12 months. Valero's Graham Number is $65.46. Earnings for the past seven years are as follows.
| | | | | | | | | | | |
| --- | --- | --- | --- | --- | --- | --- | --- | --- | --- | --- |
| Year | 2012 | 2011 | 2010 | 2009 | 2008 | 2007 | 2006 | | AVG | 25 P/E |
| EPS | $3.75 | $3.68 | $1.62 | -$0.51 | -$2.20 | $7.40 | $8.36 | | $3.16 | $79.00 |
Starting in 2000, but mainly between 2005 and 2008, Valero aggressively expanded operations. In 2005, it bought Premcor a refining company on the east coast. In 2005, Valero started converting Diamond Shamrock gas stations into Valero branded gas stations. In 2008, Valero bought Albertson's gas stations. We are starting to see the rewards of this expansion in the earnings.
Returning Value
I'm a stickler for a solid share buyback program. Unfortunately, Valero does not have one. In fact, Valero has increased its outstanding shares by over 140% in the past 20 years, diluting your ownership by more than half. Even though Valero has paid constant dividends for 24 years; the dividends have been all over the place.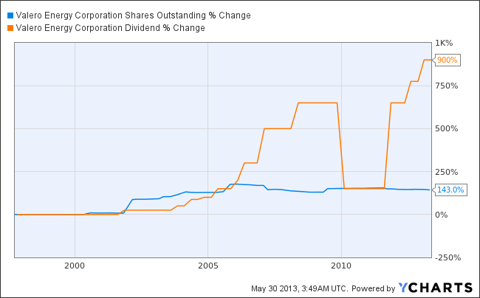 VLO Shares Outstanding data by YCharts
Fourth-quarter 2012 earnings had CEO Bill Klesse say this about returning value to share holders of Valero.
Returning cash to stockholders remains a priority. We bought back shares in the fourth quarter, and last week, our Board of Directors approved a 14 percent increase in our quarterly dividend to make it 20 cents per share. We intend to maintain our investment grade credit rating, fund selective growth opportunities, and achieve one of the highest cash yields among our peers through regular dividends and share repurchases.
Conclusion
Valero has done almost everything it can to expand its operations to become a national company. Valero wants to be one of the major brands and compete with the big boys. At this juncture, I do not see Valero's ability to return shareholder value in the way of dividends and share buybacks, just yet. I would like to see a plan made out on how, exactly Valero plans on returning value. If you are looking for an oil refiner that returns value, right now you will have better luck with Marathon Petroleum or Phillips. If you are looking for a company that should see an increase in earnings and in share price then Valero would be better. It looks like the aggressive expansion starting in 2000 is starting to pay off.
So if you are the investor that wants the stock price to go up without much of a dividend, Valero is for you. Once earnings have proven themselves, we may see a substantial increase in dividends and share buybacks. For me, I need to see it first.
Disclosure: I am long IBM, KO, MPC, WMT. I wrote this article myself, and it expresses my own opinions. I am not receiving compensation for it (other than from Seeking Alpha). I have no business relationship with any company whose stock is mentioned in this article.