OCZ Technology (NASDAQ:OCZ) received long-awaited news that the NASDAQ has drawn a line in the sand. It should either produce the numbers or be delisted. On one hand, it is a positive decision vs. being delisted outright (in June or July per the NASDAQ schedule) but on the other hand ... the company still has to produce the numbers and straighten out its mess.
It makes you wonder - just how deep does the rabbit hole of questionable accounting extend? If OCZ delays till the very end then it will be approaching almost one year of delayed earnings, which is simply mind boggling.
However, given the extension, we honestly would be shocked if OCZ manages to not put out some form of numbers before the deadline of September 16, 2013. The real question to ask is just how much of a mess are the books at OCZ? We should know in 3 ½ months. If a company cannot get its books in order given almost an entire year, it has no business being listed on the markets.
Lawsuits
Short or long, it is always sage advice to keep track of legal actions via PACER. It is a rich source of information that is often overlooked. The lawsuits against the company by shareholders took an interesting turn of events as OCZ requested a delay and the prosecution agreed to give OCZ a break.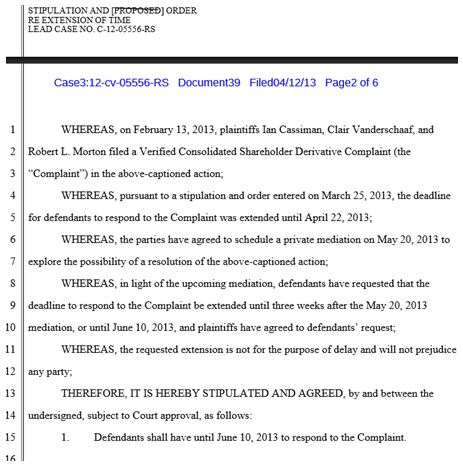 Per the court order OCZ has until June 10, 2013, to respond to this shareholder lawsuit. At this point we should start to get juicy details from OCZ per its defense arguments.
Hercules STILL Wins Either Way
While the news should make the stock pop in the short term, long term the company still faces a shrinking PC market and intense competition. On top of this, OCZ has a very limited amount of capital to work with. Currently, the company is surviving off of a $30 million loan and security agreement with Hercules Technology Growth Capital (NASDAQ:HTGC). Once we peel back the onion though, we realize it only has access to $20 million of the $30 million. Inside the March 12th 8-K we learn:
OCZ has put up the entire company as collateral.
"The Lender (Hercules) was granted a security interest in substantially all of the personal property of the company and its domestic subsidiaries, whether now owned or hereafter acquired."
The interest rates are high on the new loan at 15.5%.
"During the first year, the term loan will bear interest in cash at an annual interest rate equal to the greater of 12.50% or prime plus 8.75%. In addition to cash interest, the term loan will accrue payment in kind ("PIK") interest at a PIK interest rate of 3.0% per year."
Interest rates will expand to 17.5% if OCZ does not raise $10 million by the May 31st deadline.
"Upon the occurrence and during the continuation of an event of default under the Loan Agreement, the interest rate applicable to all obligations there under (including the term loan and the revolving loans), shall be increased by 2% per annum."
OCZ must raise 10 million by May 31st or be in default of the loan.
"Per the financial covenants, the Company must raise a minimum of $20 million in new equity or subordinated debt no later than January 31, 2014, of which $10 million in new equity or subordinated debt must be raised no later than May 31, 2013."
Warrants issued to Hercules Capital are floating and can adjust if the price moves downward, resulting in increased dilution.
Access to Cash
If OCZ can manage to get an additional PIPE loan for $10 million they might gain access to part of the $30 million loan from Hercules Capital. Per the 8-K above we learn:
"The Loan Agreement provides for an initial term loan advance of $10 million, which closed on March 11, 2013, and an additional term loan advance of up to $5 million, which is contingent upon the Company being current in its SEC filings and achieving certain revenue levels for two consecutive quarters."
So if OCZ can release its numbers soon and maintain unknown revenue benchmarks for two quarters, an additional desperately needed $5 million will be available.
If certain benchmarks are met:
"An additional $5 million of the revolving loan facility will be available to the Company upon the Company obtaining additional financing of at least $10 million."
Interestingly enough, no time frame is attached to this clause in the 8-K. Even if OCZ missed the May 31st deadline to obtain the $10 million in funding, technically they should be able to tap this $5 million by consummating the funding clause down the road.
Conclusion
The NASDAQ news is a mixed bag. The market might react favorably to it or it might not, but it raises additional red flags to us. Delistment is off the table for now. We cannot simply see any company delaying for a full year. Yet, when we do see the numbers - just how painful is it going to be? It certainly sounds messy and today's news reminds us of the kid who cried "the dog ate my earnings" to the teacher. Just how nasty will earnings be? It's anyone's guess. Anything that takes this long to sort out cannot be good. Lucky for OCZ, the NASDAQ is a forgiving teacher but only up to a point. The May 31st deadline looms for additional funding. If the company is funded they have a history of announcing after market hours so the most likely time would be Friday night for an announcement if one occurs.
We still think in the end OCZ will be bought out due to its inability to fight against the NAND manufacturers on the consumer front. The company has shifted its focus to enterprise and announced a few positive developments and we will see if it can carve out a slice of pie for itself in this arena. OCZ is still a gambler's stock, treat it as so.
Disclosure: I am short OCZ. I wrote this article myself, and it expresses my own opinions. I am not receiving compensation for it (other than from Seeking Alpha). I have no business relationship with any company whose stock is mentioned in this article.
Additional disclosure: I own some Puts.