It's no secret that the metals sector has suffered in the last few years, but could a recent turn in trend continue on increased bullish sentiment? Will technology be a major catalyst for a rebirth in the market? Silver has an abundance of uses, from simple relays and switches to essential components in the Army's Apache helicopter; the uses for this metal seem infinite. Since the bubble burst following the 2011 highs (April 15 '11: intra-day high of $49.63), silver and gold have gotten a bad rap.
A recent trend may have begun to spark a rebirth in the market despite the lows that have recently been seen. When prices drop, bargain hunters take aim, looking for opportunities to catch the early deals and reap the reward on the next run-up.
This year, the price of silver has dropped from a high of $29.34 in March, to $20.26 in mid-May. Many stocks involved with this market have followed suit and have seen similar patterns. In other words, there may be a "Silver Lining" to all of this.
Silver mining and processing companies have begun adhering to the new trend that its "hard resource" has begun. Following the Memorial Day Holiday, several standouts continued to show bullish movement. Based on Tuesday's intra-day high of $23.1501, Silver Wheaton Corp (SLW) has come up 8% since the May 20th lows of $21.45.
Silver Wheaton operates as a worldwide silver and gold streaming company which has 20 long-term purchase agreements associated with silver and gold and relate to 23 mining assets. Its principal portfolio includes silver and precious metal streams on the Barricks Pascua-Lama project, Hudbays Constancia project, as well as Vales Salobo and Sudbury mines.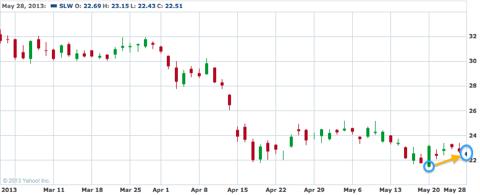 More examples of this new trend include, Coeur Mining, Inc. (NYSE:CDE) and First Majestic Silver Corp. (NYSE:AG). These companies showed an 8% and 12.65% jump in price, respectively. CDE has gone from $12.92 on May 17, to Tuesday's high of $13.98, while AG moved from lows of $9.40 on May 17, to highs of $10.59 during the Tuesday session.
Also following this trend was Silver Standard Resources Inc. (NASDAQ:SSRI). This stock fell 43% from March to May. On Tuesday it saw a continuation of the sector's new up-trend. During this recent market session, the stock saw highs of $7.19, which marked a move of 15% since silver started to rebound.
Ultimately, the question is: Could this trend continue?
Disclosure: I have no positions in any stocks mentioned, and no plans to initiate any positions within the next 72 hours. I wrote this article myself, and it expresses my own opinions. I am not receiving compensation for it (other than from Seeking Alpha). I have no business relationship with any company whose stock is mentioned in this article.