By Jason Napodano, CFA
Earlier in the week, Neuralstem, Inc (CUR) announced the publication of preclinical data in the journal of Stem Cell Research & Therapy demonstrating that rats transplanted with its spinal cord-derived human neural stem cells, NSI-566, three days after a spinal cord injury at L3 (lumbar 3), showed improvement along several measures of motor function and a reduction of spasticity. The paper, "Amelioration of Motor/Sensory Dysfunction and Spasticity in a Rat Model of Acute Lumbar Spinal Cord Injury by Human Neural Stem Cell Transplantation," was led by principal investigator, Martin Marsala, MD, of the University of California, San Diego School of Medicine.
Results show that intraspinal grafting of NSI-566 led to a progressive and significant improvement in lower extremity paw placement (Figure A), amelioration of spasticity (Figure B), and normalization in mechanical and thermal pain/escape thresholds (Figure C) at eight weeks post-grafting.

Source: van Gorp et al, 2013
Results also showed statistically significant improvement in MRI-defined cavity and scar volume (Figure D). This suggests a cavity-filling effect by grafted cells, partially or completely, assessed by MRI.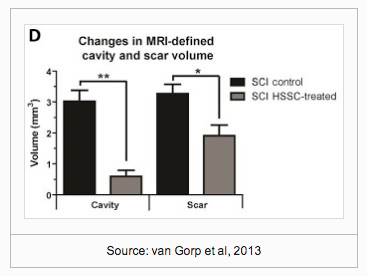 We remind investors that back in September 2012, preclinical data was published in Cell. The study, "Long-Distance Growth and Connectivity of Neural Stem Cells After Severe Spinal Cord Injury: Cell-Intrinsic Mechanisms Overcome Spinal Inhibition," demonstrated that NSI-566 can induce regeneration of injured spinal cord axons into the graft and serve as a bridge to reconnect to gray matter motor neurons for many spinal cord injuries.
In the study, rats with surgically transected spinal cords, which rendered them permanently and completely paraplegic, were transplanted with Neuralstem's NSI-566. Similar to the data above, results showed that the animals recovered significant locomotor function, regaining movement in all lower extremity joints. Transplanted neural stem cells turned into neurons which grew a "remarkable" number of axons that extended for "very long distances" over 17 spinal segments, making connections both above and below the point of severance (from C4 to L1). Researchers found that the majority (57%) of neural stem cells grafted into neurons, and also sent out new axons which made new synaptic connections with the host motor neurons in the gray matter below the injury.
Based on the rat data, such cell therapy in humans may provide both qualitative and quantitative benefits and lead to significant long-term improvement of the structural integrity of a trauma-injured spinal cord (van Gorp et al, 2013).
...Human Trials Up Next...
In January 2013, Neuralstem received FDA approval to commence a phase I safety trial of NSI-566 in chronic spinal cord injury patients. The open-label, multi-site study will enroll eight patients with thoracic spinal cord injuries (T2-T12), designated American Spinal Injury Association (AIS-A) level of impairment, between one and two years after injury.
The treatment will consist of removal of spinal instrumentation (in order to allow monitoring of the cell grafts by serial MRI for long-term), followed by laminectomy or laminoplasty of 1-4 vertebral segments overlying the region of spinal cord injury. The dura will be opened mid-line and six direct injections into spinal parenchyma performed (2 bilaterally at rostral and caudal edge of the injury site and 1 into approximately one segment length inferior to the injury site).
Each injection in the first 4 subjects of Group A will consist of 1 x 105 cells in 10μL volume. In the second 4 subjects of Group A, each injection will consist of 2 x 105 cells in 10μL volume. Post-operatively, subjects will receive routine standard of care for laminectomy subjects who undergo an intradural procedure. Prior to and after the transplant, subjects will be required to remain on immunosuppressive therapy for 3 months. The decision to continue immunosuppression therapy will be at the discretion of the site Principal Investigator. We note the trial will have a Safety Monitoring Board (SMB) convening at approximately 4 week intervals after the first subject and will review the available safety data of all treated subjects, including continued use of immunosuppression therapy.
Subjects will be followed post-op at 2 weeks, monthly for 6 months during the study and at every 6 months thereafter in post-study safety follow-up for total 60 months post stem cell treatment. The primary objective of the study is to determine the safety of human spinal stem cell transplantation for the treatment of paralysis and related symptoms due to chronic spinal cord injury (SCI), with the primary outcome measure at 60 months post-op reported in incidence of adverse events. Secondary endpoints include an evaluation of graft survival in the transplant by MRI, pain and infection, motor function, and quality of life. Additional assessments will be made to measure any post-op changes from baseline in neurologic deficits, neuro-physiology, bladder or bowel function, allodynia, neuropathic pain, and evoked sensory and motor potentials.
The study is expected to take place at four centers all in the U.S., located in Florida (University of Miami), Georgia (Shepard Center in Atlanta), Pennsylvania (Thomas Jefferson University Hospital in Philadelphia), and Wisconsin (Medical College of Milwaukee). We are expecting the trial to start this summer, and offer data in the third quarter 2014. If positive, we suspect that Neuralstem will seek to reproduce the results in chronic spinal cord injury patients with cervical injuries.
We note that Neuralstem is also seeking to study NSI-566 is patients with acute spinal cord injury. The company is working with CJ CheilJedang to begin a phase 1/2 study in Seoul, South Korea. The trial will be similar in design to the chronic spinal cord injury trial noted above, only enrolling 8-10 patients with acute injury hours after the traumatic event. We expect Neuralstem to file the investigation new drug (IND) application in South Korea in June 2013, and hopefully start the trial sometime during late summer / early fall 2013. If positive, we suspect that Neuralstem will seek to reproduce the results in the U.S.
A Big Opportunity
Incidence of spinal cord injury occurs at about 40 cases per 1 million persons. In the U.S., we estimate there are approximately 12,200 new cases per year. Prevalence of SCI is around 250,000 individuals in the U.S. According to data from the National Spinal Cord Injury Center, the mean age of an acute SCI is 34 years, with over 80% of the patients male. Vehicular accidents account for the largest percent of injuries (46%), followed by falls (22%) and violence (16%).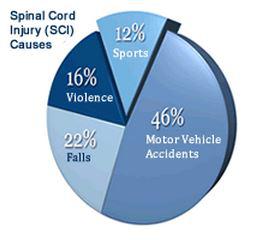 Life expectancy (for persons that survive the first 24 hours) decreases with the severity of the injury. Below are statistics from the National Spinal Cord Injury Statistic Center on life expectancy vs. SCI severity: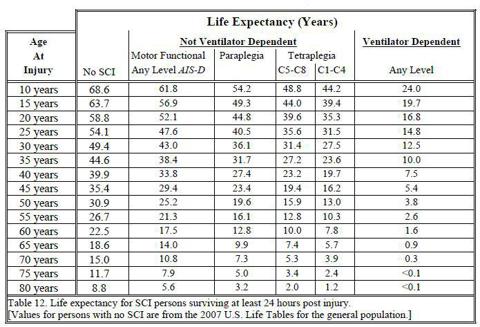 Depending on the severity of the injury, the average patient can expect to spend two to five weeks in the hospital / rehab unit post injury. Of course, level of rehab and symptoms vary greatly with the severity and location of the injury. The severity of the symptoms depends on whether the entire cord is severely injured (complete) or only partially injured (incomplete). Below is a table showing the ASIA impairment level at discharge from the hospital.

A complete injury frequently means that the patient has little hope of functional recovery. The relative incidence of incomplete injuries compared to complete spinal cord injury has improved over the past half century, due mainly to the emphasis on better initial care and stabilization of spinal cord injury patients. Incomplete SCI accounts for approximately 62% of all SCI cases, up from below 45% in 1970. Most patients with incomplete injuries recover at least some function.
The acute care market for SCI is significant. Below are estimates of what it costs, per year, to treat and care for an SCI patient by severity, and what lifetime costs are for SCI patients ages 25 and 50.

Combining our stats from above - the average age at injury, average severity of injury, average life-expectancy post injury, and yearly cost of care post injury, we calculate that each year, in the U.S., nearly $30 billion is spent for the care of patients with SCI ($8 billion for acute care and $22 billion for chronic care). It's an enormous market opportunity and one where significant new medical breakthroughs are necessary. These costs include hospitalizations, nursing homes, new catheters, rehabilitation, wheel chairs, etc. Yet, even with this significant amount of money being spent, there are no approved pharmaceutical or medical device treatments to cure paralysis. The statistics are shocking:
Roughly 3% of individuals with complete injury are on a respirator.
Half of individuals have no bladder control or are dependent on others to perform bowel function.
Three-quarters of individuals cannot walk 150 feet.
Two-thirds are confined to a wheelchair.
One-quarter cannot use a computer or cellular phone.
Approximately 35% of individuals will be re-hospitalized within a year post-discharge from the primary injury.
Approximately 6% of individuals with any injury report being "severely depressed"
Almost 15% of individuals report their quality of life "worse" or "much worse" than the previous year, even as far out as 10 years post injury.
Nearly 20% have sexual dysfunction.
We see the opportunity for Neuralstem, and other players in this area, including StemCells, Inc. (STEM) and InVivo Therapeutics (NVIV), as significant. Simply based on the size of the market, the lack of any real breakthroughs in treatment for patients with chronic injury, and the ability to command premium pricing - a product like NSI-566 has billion-dollar potential in spinal cord injury alone. We remind investors that Neuralstem is also pushing forward with NSI-566 in amyotrophic lateral sclerosis (see recent press release). With a market capitalization of only $90 million, we believe Neuralstem is a very attractive long-term investment.
Disclosure: I have no positions in any stocks mentioned, and no plans to initiate any positions within the next 72 hours. I wrote this article myself, and it expresses my own opinions. I am not receiving compensation for it. I have no business relationship with any company whose stock is mentioned in this article.
Additional disclosure: PropThink is a team of editors, analysts, and writers. This article was written by Jason Napodano, CFA. We did not receive compensation for this article, and we have no business relationship with any company whose stock is mentioned in this article. Use of PropThink's research is at your own risk. You should do your own research and due diligence before making any investment decision with respect to securities covered herein. You should assume that as of the publication date of any report or letter, PropThink, LLC and persons or entities with whom it has relationships (collectively referred to as "PropThink") has a position in all stocks (and/or options of the stock) covered herein that is consistent with the position set forth in our research report. Following publication of any report or letter, PropThink intends to continue transacting in the securities covered herein, and we may be long, short, or neutral at any time hereafter regardless of our initial recommendation. To the best of our knowledge and belief, all information contained herein is accurate and reliable, and has been obtained from public sources we believe to be accurate and reliable, and not from company insiders or persons who have a relationship with company insiders. Our full disclaimer is available at www.propthink.com/disclaimer.